Breaking News!!
11/29/15

The final race in the USATF/CT 2015 Cross-Country Grand Prix was well attended. The 4th Annual Huffing Off Stuffing Cross-Country 5K in Newington had fast times on a fast course and a great crowd to help and support the Lupus Foundation of America. William Sanders lead his men's open team from Sound Runner to victory.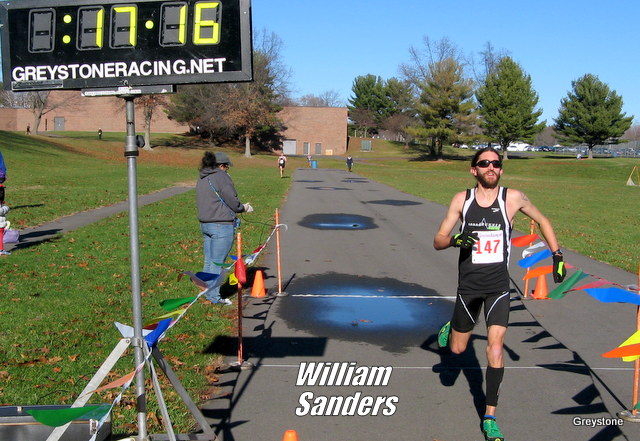 Sanders shattered his old course record from 2014. And Brittany Heninger won her fifth consecutive race. Heninger swept all five of the USATF-Connecticut 2015 Cross-Country Grand Prix races. That's the first time anyone has ever accomplished such a feat in USATF-Connecticut history!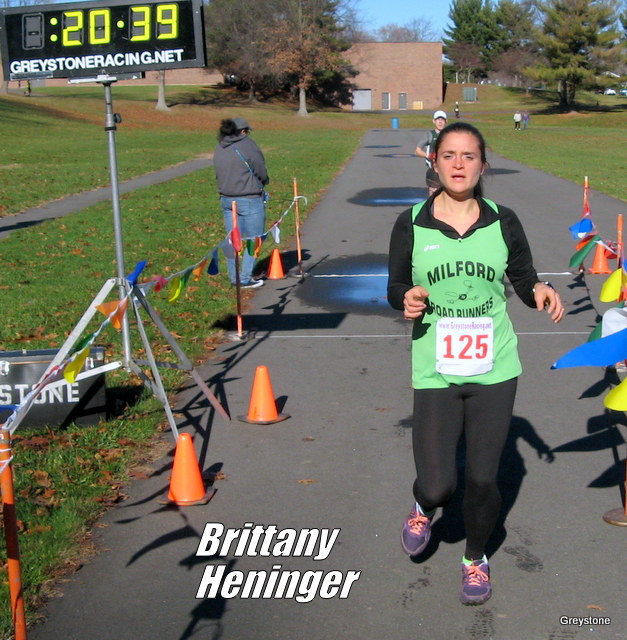 The team scores from today's race are as follows: Men's Open; 1st Sound Runner, 2nd Woodbridge-Brookfield, Men's Master; 1st Milford Road Runners, 2nd Woodbridge-Brookfield, 3rd Hartford Track Club, Women's Open; 1st Milford Road Runners, 2nd Woodbridge-Brookfield, Women's Master; 1st Woodbridge-brookfield. Congratulations to all the runners and many thanks to the Lupus Foundation of America, the organizers, sponsors, and spectators. Results are posted!
Pictured below are the winners of each of the 5 races in the USATF/CT XC GP: Heninger won all 5 women's races, Stoliker won the Crothers 5K and the HTC 8K, Sanders won the Sunny Brook 5k and the Huffing Off Stuffing 5K, and Rosenberg won the Age Before Beauty 5K. Stoliker, Sanders, and Rosenberg all run for a USATF/CT Team called Sound Runner. The USATF is happy to help sponsor the Sound Runner Racing Team to travel to San Francisco this December 12th to compete and represent Connecticut in the USATF National Championship for Cross-Country Teams. Go get 'em guys!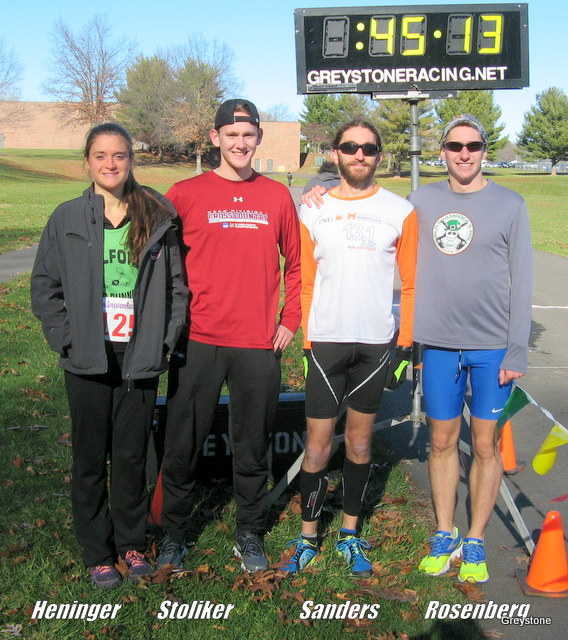 11/26/15

It was Steve Dowsett and Jacquelyn Pierce making it to the table first. Results for the Western Massachusetts Athletic Club's Turkey Trot Thanksgiving Day 5K Road Race from Adams, Mass. are posted! Happy Thanksgiving!
11/22/15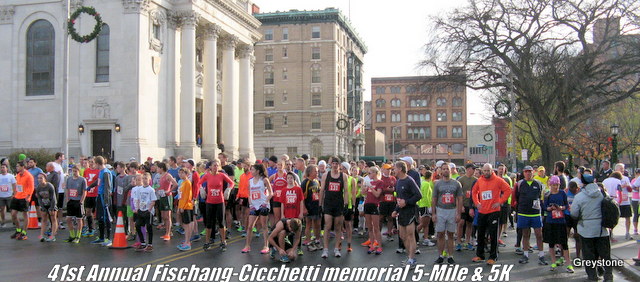 Great turnouts in both the 5K and the 5-Mile. New Course records for the 5K and 5-Mile. Demetre Carrot was all alone as he shattered the old record of 19:37 set by Bill Ferrare in 2014.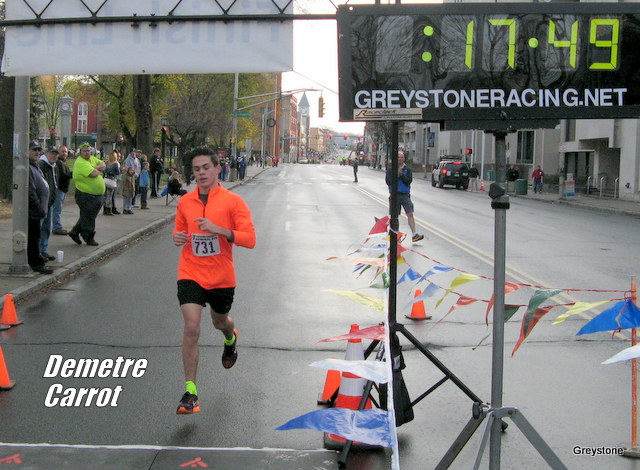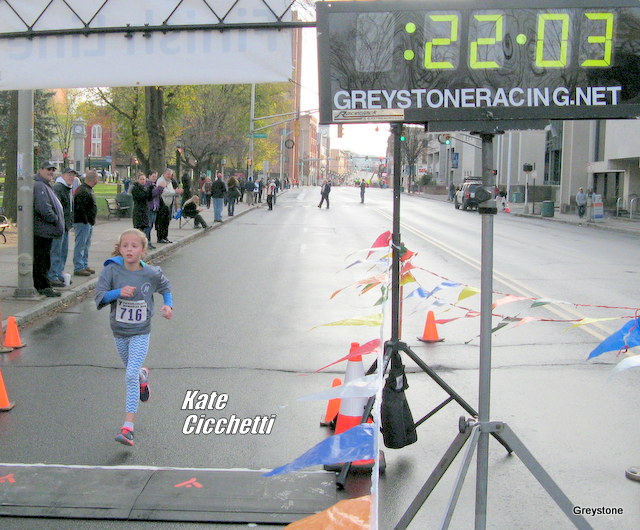 William Sanders, Chris FitzSimons, and Nicholas Migani, all run for a USA Track & Field Connecticut Club called Sound Runner. All three finished under the old course record of 25:38 set by Abebe Dagne in 2013.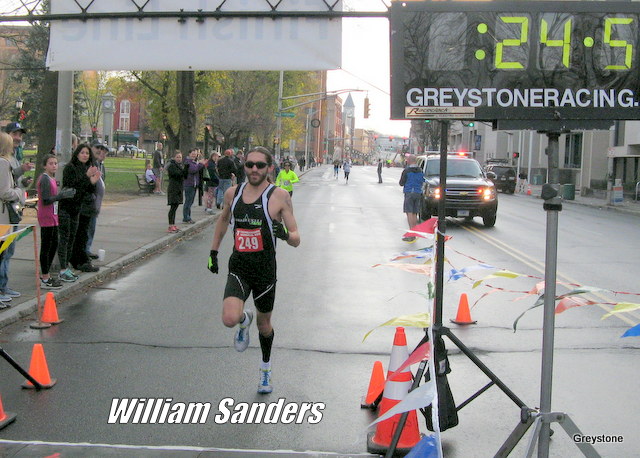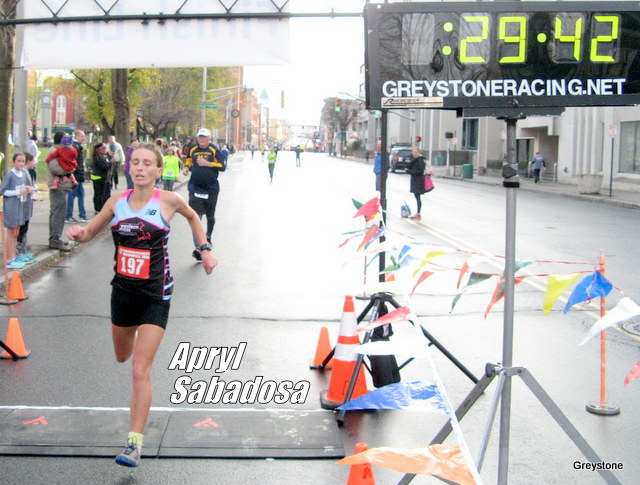 Results for the 41st Annual Fischang-Cicchetti Memorial 5-Mile and 5K Road Race from Waterbury, CT are posted!
11/18/15
Big races this weekend. Race #4 in the USATF/CT Cross-Country Grand Prix is Saturday: The Hartford Track Club's Cross-Country Challenge 8K at the MDC Reservoir in West Hartford.
On Sunday it's the 41st Annual Fischang-Cicchetti Memorial Race in Waterbury. This is one of the oldest races in Connecticut and they offer the traditional 5-Miler along with a 5K. The race starts at 9:00 AM in front of the YMCA in downtown Waterbury.
The post race festivities continue just up the road from the Waterbury Y at a restaurant called Redzepis. Redzeppis is located directly across from the police station with ample parking at 234 East Main Street. Doors open at 11:00 AM. The first 50 runners, and their guests, can turn in their bib number for a free beer!
11/15/15

A record turnout and a record run. Cross-Country reigns supreme in Litchfield and Sound Runner rules the roost. There was a fairly tight group through the first mile in 5:20.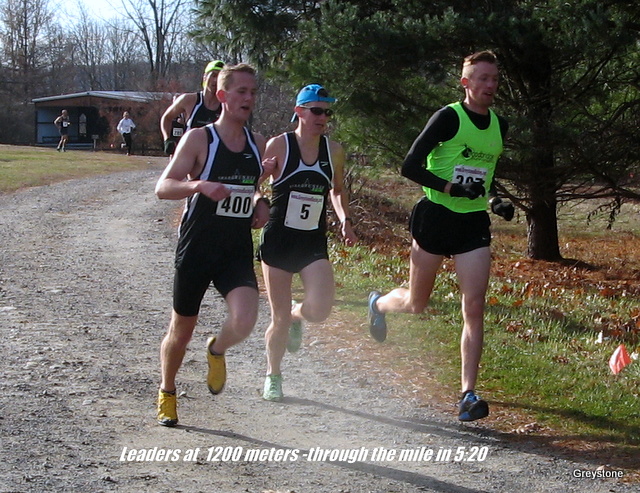 Chris Rosenberg (#5) managed to seperate himself by two miles.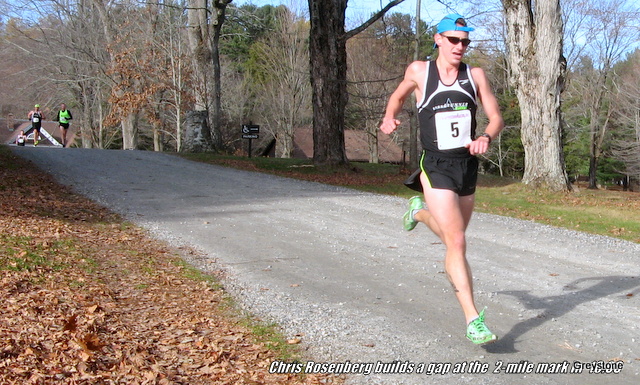 Rosenberg sets new record as he leads Sound Runner to an Open Men's Team victory. Meanwhile, Brittany Heninger ran 5:55's to lead the Milford Road Runners to a Women's Open Team victory.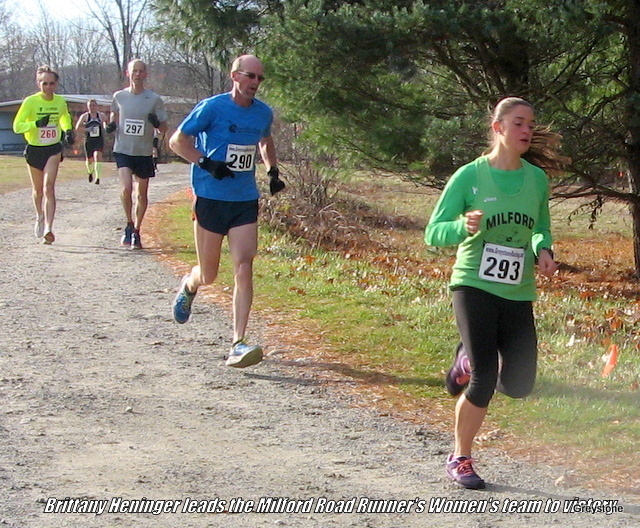 This was a hotly contested cross-country meet for the USA Track & Field Connecticut Cross-Country Grand Prix. The 3rd race out of 5 to determine the State Champions. In the Men's Open, Sound Runner took first (16 points), Woodbridge Running Company second (51 points), Hartford Track Club third (76 points), and Milford Road Runners fourth (79 points). The Men's Masters had Woodbridge (13), Hartford (16), and Milford (17). One place can mean one point, and the difference from first to last... The Women's Open had Milford (10) beating Woodbridge (12), and in the Masters it was Woodbridge uncontested. Results for the 10th Annual Age Before Beauty Cross-Country 5K are posted!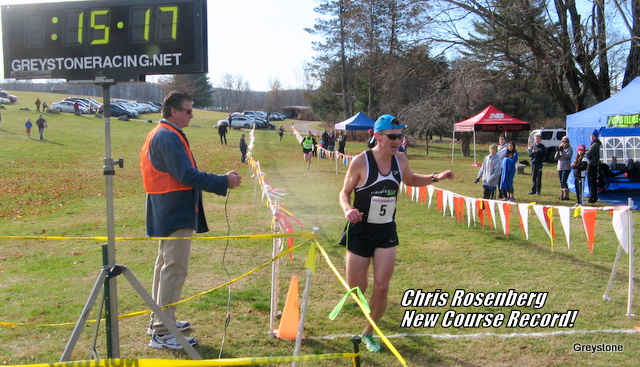 Race #4 in the USATF/CT XC Grand Prix is next Saturday 11/21; The Hartford Track Club's Cross-Country Challenge 8K at the MDC Reservoir in West Hartford at 10:00 AM. Get your race on!
11/14/15

The kids took on the adaults today in Bloomfield. It was Melissa Stellato on a lean for the win over Adam Haywood. Results for the Warhawk Warior 5K and Kids Fun Run are posted.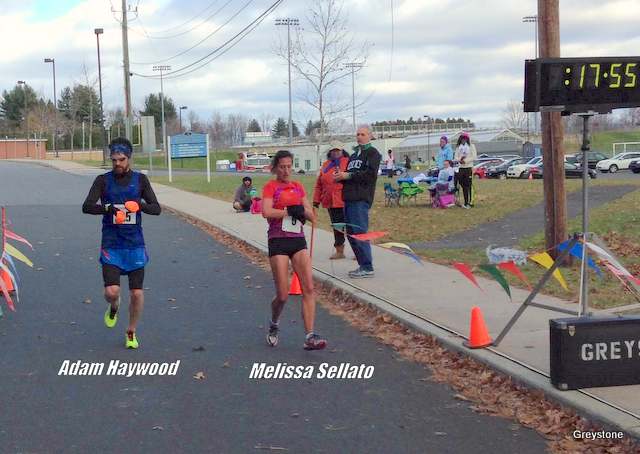 New Record for Men. New Record for Women. Ryan Acey was easing up as he came to the finish in 16:30, beating Mario Longo's 17:12 set in 2014. The 43 year-old Longo finished second to the 20-year old Acey, in 17:25. Nice run. For the women; the top three females were all under the old mark set by Kateri Danay in 2013. Madeleine Marecki went 6:07, 6:14, and 6:04 on her mile splits to set a new women's record. Odell is on a hot streak. Results for the Sacred Heart High School Veterans' Day 5K Dash are posted!
11/11/15
Great race line-up for the weekend. Saturday the Warhawk Warrior 5K at 10:00 AM at the Bloomfield High School. Toward the other end of the state is the Veteran's Day 5K Dash at 10:00 AM at Sacred Heart High School in Waterbury.
On Sunday, Cross-Country is the course du jour. The Age Before Beauty XC 5K kicks off a full day of races at White Memorial in Litchfield. ABB goes off at 9:00 AM and is open to everyone; followed by. the USATF/CT Junior Olympic Association Championships.
11/8/15
Fast Times in Thomaston...

A record number of registrations. A record number of finishers. The winner, Brian Famigletti ran the second fastest time on the course. Brandon LeClair ran the third fastest time on the course and finished 2nd. Brittany Heninger set an age-group record last year. She defended her title this year, set another age-group record, and ran the second fastest time on the course for women. Awesome! Congratulations to all the runners and walkers. Results for the 14th Annual Diane Burr memorial 5K Flag Run/Walk are posted!
11/7/15

The heat and humidity let up and the runners let out. A great turnout for the run and walk in Falls Village. With 10-year old Tyler Schumacher hot on his tracks, Ryan Goyen didn't dare look back. Goyen pushed a hard finihing kick to capture the victory at the 15th Ed McGuire memorial Cannonball Run 5K. 12-year old Josh Schumacher finished third. In the women's race, it was Sherri Odell finishing fifth overall and taking home the title. Results are posted!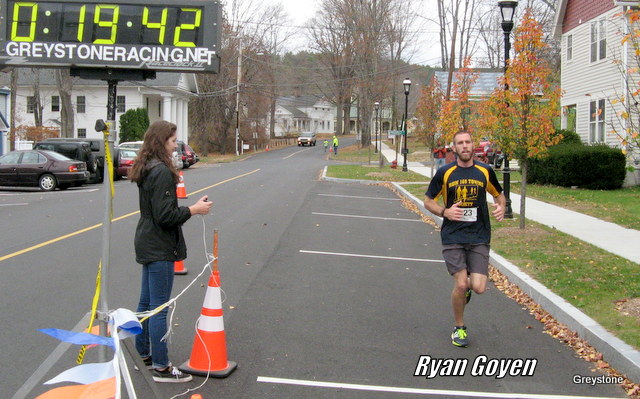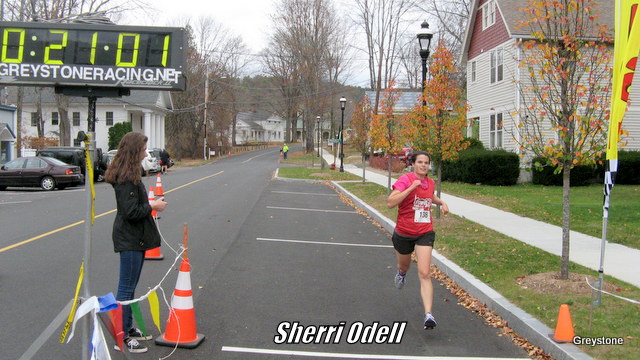 The Northwestern Regional High School presented the "Run Like A Deer" 5K along the Farmington River in Pleasant Valley this morning. Well attended, it was 15-year old, Connor Spencer defeating the 25-year old, Ryan Goyen. Goyen made up for the loss a couple hours later in Falls Village (see above). There were several runners that took on the Barkhamsted/Falls Village double. Congratulations to Christina Gubetta on winning the women's race. Results are posted!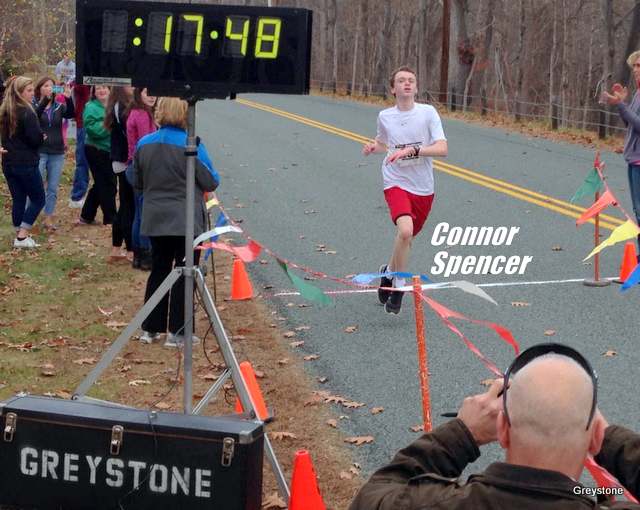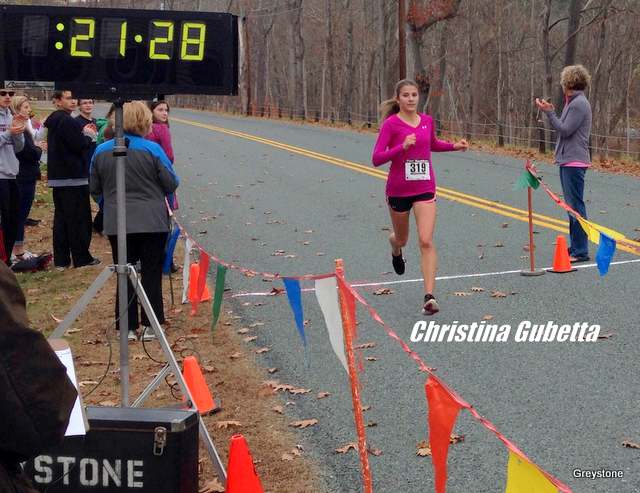 11/1/15

A fantastic turnout for the 14th Annual Sunny Brook Cross-Country 5K. This was race number 2 in the 5 race USATF/Connecticut XC Grand Prix. This was also race number 4 of 4 in the Northwest Y/Greystone Grand Prix. William Sanders continued his winning ways, as did, Brittany Heninger. They both lead their teams to victory: Sound Runner Racing and the Milford Road Runners, respectively. Sound Runner took the top 4 spots while 52-year old, Jim Harron in 5th, and 55-year old, Peter Lofink finished in 6th place, to vault the Woodbridge Running Company-Brookfield into second place for the men's open team catergory, just ahead of the Hartford Track Club. Lofink is having an outstanding season. Champions were also crowned in the Northwest Y/Greystone Grand Prix. The four races include; the WYLD Mud Run in June, the Canaan 5-Miler in July, the Highland Lake 10K in October, and the Sunny Brook XC 5K in November. Across the four races it was Chris Morse, Alec Brochu, and Annalisa Paltauf, as having consistant top performances. Congratulations to all the runners and many thanks to the Northwest Y, the volunteers, sponsors, spectators, and friends who helped to make this race, and the series, a success. Results are posted.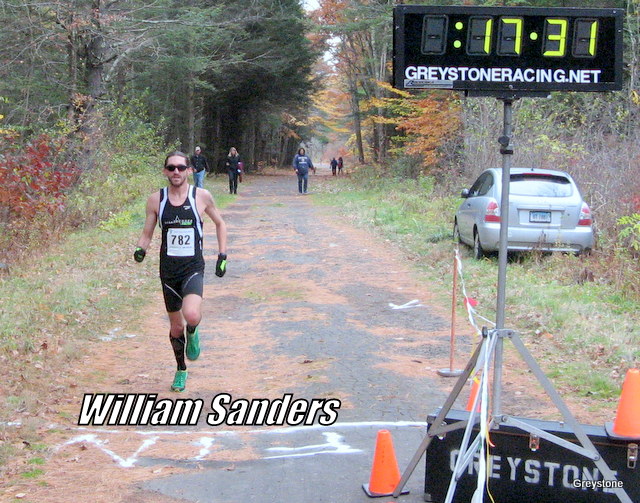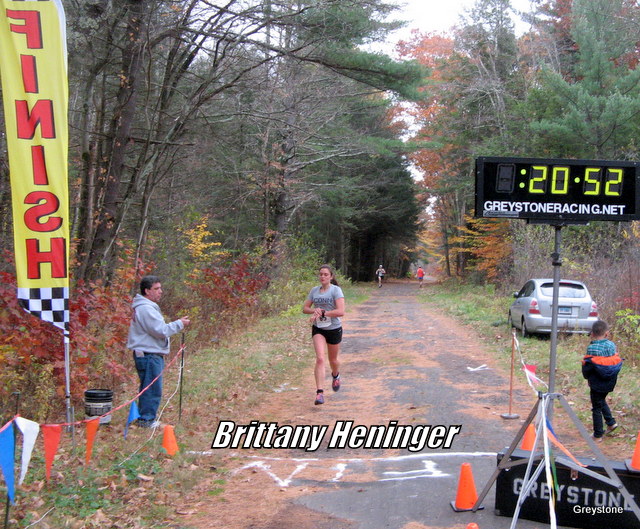 10/27/15
This Sunday is race #2 in the USATF/CT Cross-Country Grand Prix. The Sunny Brook 5K XC starts at 11:00 AM and is sure to draw some of the top cross-country runners from around the state. The race is open to everyone and the course is in great shape. Download the race application.
The United States Track and Field- Connecticut Association announces the 2015 Cross-Country Grand Prix
These races are open to everyone; however, USATF/CT Eligibility Rules apply for prize money.
Each Race has Team Prize Money for: 1st and 2nd Open Men (5 score by place, an additional 2 will displace), 1st and 2nd Open Women (3 score plus 2 displace), 1st Master Men (3/2), and 1st Master Women (3/2).
The Connecticut Team and Individual Champions for m/f Open and Master will be determined based on overall performance. The teams will earn points based on appearance and performance against the other attending teams for each race. Scores will be posted during the season. The tie-break is determined at the Huffing Off Stuffing 5K in Newington.Each team must provide: participants name as it appears on the USATF membership roster, age, and overall finish place in the race. Send the scoring roster within 24 hours of the event; including the displacement runners, via email to: wgraustein@snet.net Master runners may score for both open and master teams.The nearly $3,000.00 in prize money will be determined based on compliance, attendance, participation, and performance.

2015 USATF/CT Cross-Country Grand Prix
9/26/15 Sat. 9:00 AM, Stanley Quarter Park, New Britain, 7th Annual Ray Crothers Memorial 5K

11/1/15 Sun. 11:00 AM, Sunny Brook State Park, Torrington, 14th Annual Sunny Brook XC 5K

11/15/15 Sun. 9:00 AM, White Memorial, Litchfield, 10th Annual Age Before Beauty XC 5K
11/21/15 Sat. 10:00 AM, MDC Reservoir, West Hartford, HTC Cross-Country Challenge 8K
11/29/15 Sun. 11:30 AM, Middle School, Newington, 4th Annual Huffing Off Stuffing XC 5K
10/25/15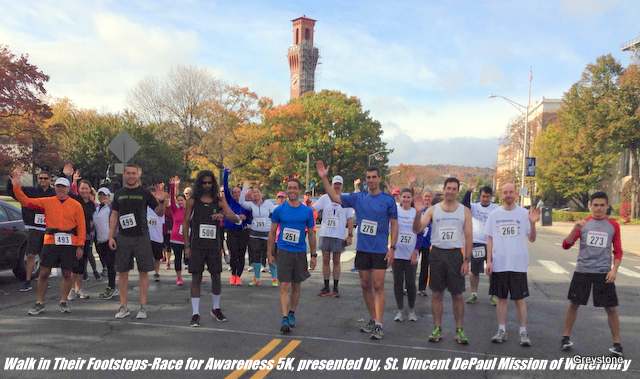 The skies were clear in the afternoon. The roads were dry and a new course record was set in downtown Waterbury. The St. Vincent DePaul Mission of Waterbury puts on a tremendous event to raise much needed funds in order to help people. Ryan O'Connor didn't need any help as he opened up the first mile in 5:24. It took him almost the entire first mile to reel in the 15-year old speedster, Demetre Carnot. This is O'Connor's 4th overall victory in his short, 2-year, running career. Congratulations to all the runners, walkers, spectators, volunteers, and organizers. Thank you to all, and especially the sponsors. We appreciate your support. Results are posted!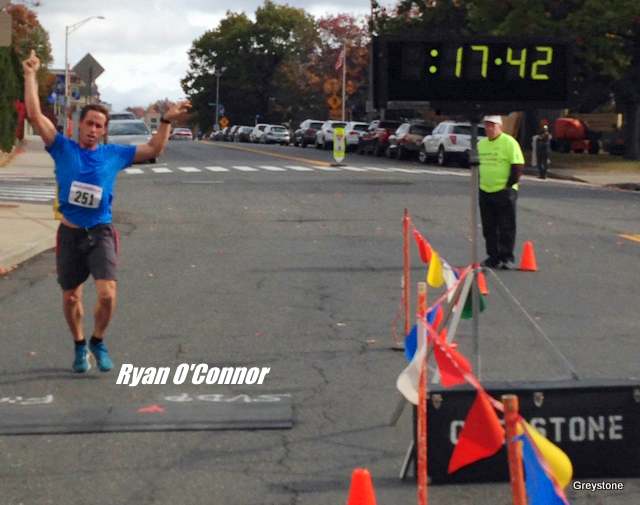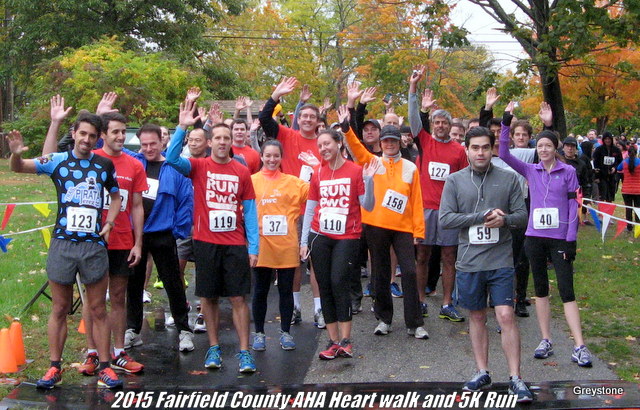 The rain let up and the runners set out. Sherwood Island State park is the home of the September 11th Memorial here in Connecticut. It's a beautiful park with scenic views of Long Island and the sound. The wind was a challenge in spots. The rain wasn't much of a factor other than it made some of the sections along the course slick with fallen leaves. Alvaor Sanchez Lopez lead the entire race follwed by Carlos Sanchez Lopez in second place. It was tracey Doucette (just a few place behind Jim Doucette) in 9th place overall for the women's victory. Results for the 2015 Fairfield County American Heart Association Hear Walk and 5K Run are posted!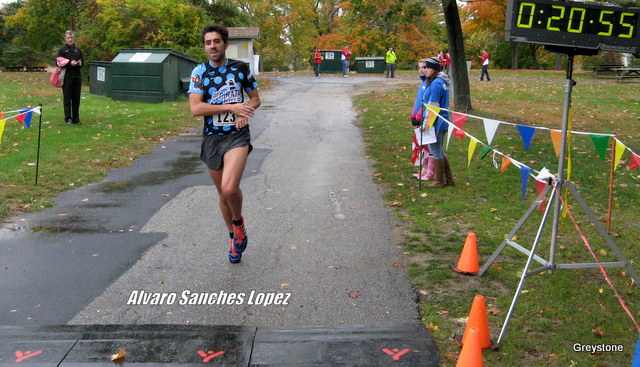 10/18/15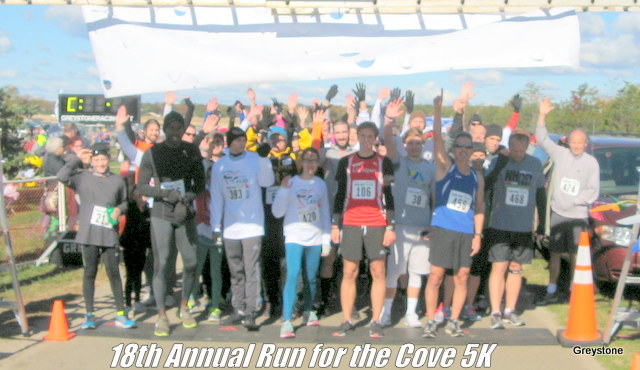 Despite the State of Connecticut's first freeze of the Fall, hundreds of runners showed for the 18th Annual Run for the Cove 5K. The Cove is an organization that acts to serve grieving children and traumatized kids and teens. They put on a great race on a beutiful course for a noble cause. It was a youngster from Hamminkeln , DE, Sascha Hubbert, that took top honors. While local girl, Courtney Carroll put down a solid time to take the women's race. Congratulations to all the runners, walkers, spectators, family, and friends. Results are posted!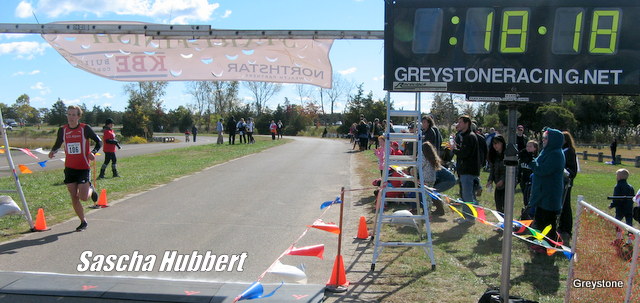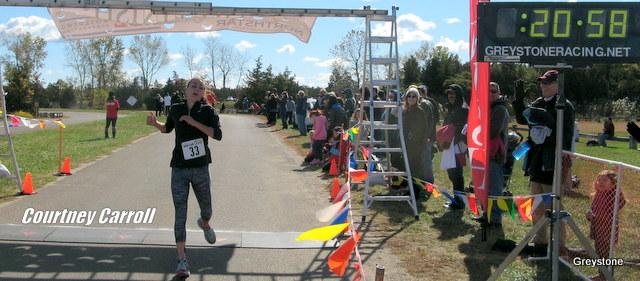 10/17/15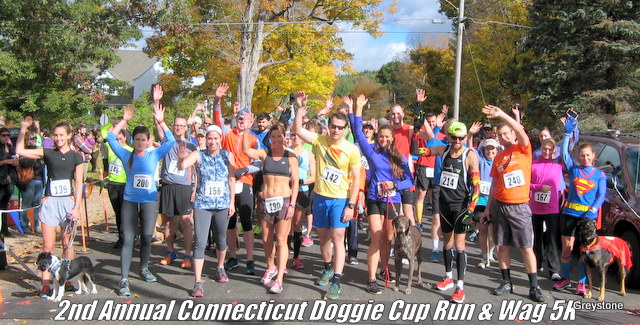 A spectacular autumn day in the mountain hamlet of Cornwall, CT. There were dogs of all shapes and sizes, people of all shapes and sizes, and all for a good cause; to help The Little Guild.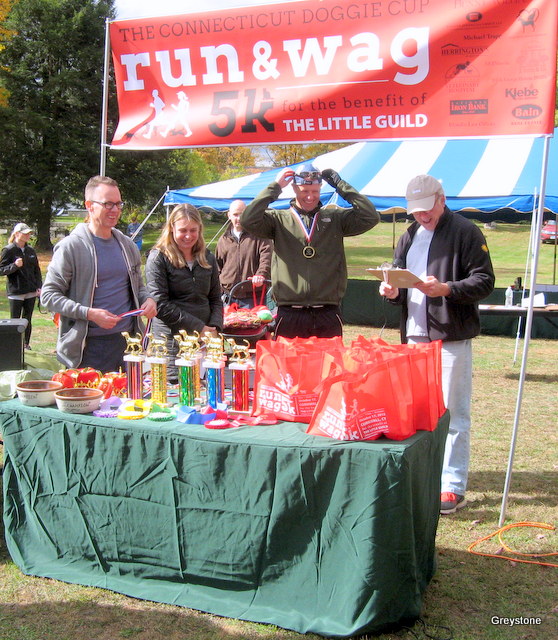 There were celebrities, dignitaries, purebreds, and top notch competitors from around the region. The Run & Wag has got the swag. Trophies, treats, ribbons, medals, hand made pottery, crowns, and cash!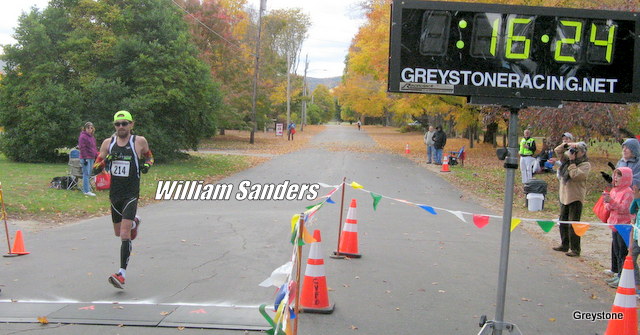 It was Will Sanders from Wethersfield who took an easy day for the win. It was Brittany Heninger with Katie Greystone (German Short Haired Pointer) who lead the Team category. Heninger was urged on by Katie, who really wanted to catch Sanders. The Group passed through the first mile in 5:21. Sanders set a new course record.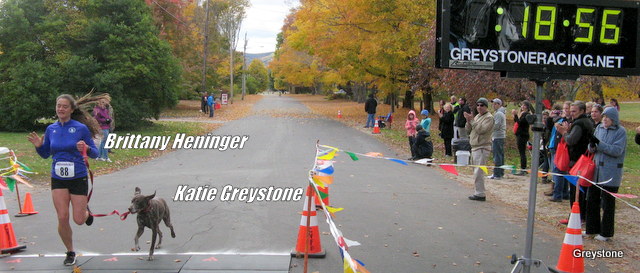 Heninger set a new female record while she was being pressed by Sarah Ports and Bailey.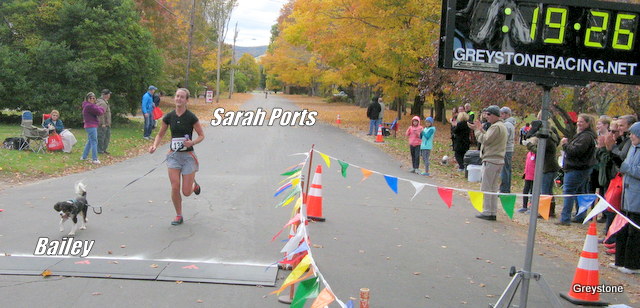 It was an awesome day. An awesome race! Thank you to the title sponsor, Bunny Williams, and to all the sponsors, volunteers, organizers, runners, spectators, Town of Cornwall, and to all the four legged friends. Results for the 2ns Annual Connecticut Doggie Cup Run and Wag 5K are posted!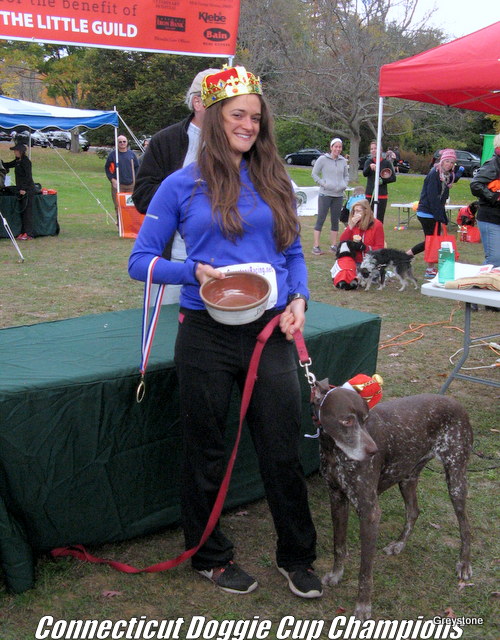 good girl Katie
10/15/15
Fall is at its best! Our colors are at peak now and the events are aplenty - come celebrate fall with us this weekend!!
Cornwall: This Saturday, October 17th, The Little Guild of St. Francis will be hosting the "Run & Wag 5K". The 5K race is open to humans running or walking with or without dogs, and there will also be a kids' one mile fun run at 10:30AM. All proceeds from the race will benefit the Guild in their efforts to save, rescue, and shelter animals in need. Registration is still open and can be found online at http://littleguild.org/runandwag5k/ or you can register the day of the event. The event will be catered by Freund's Farm Market and is open to all event participants. There will be a puppy tent, photo booth, plus many pet related vendors along with the event's main sponsors. Join local celebs Mark Dixon, Bunny Williams and Richard Schlesinger and support this wonderful cause!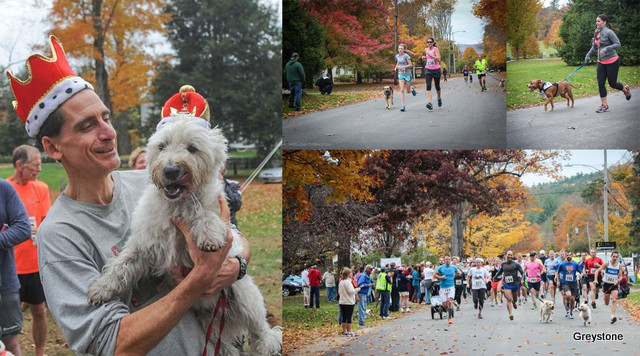 10/4/15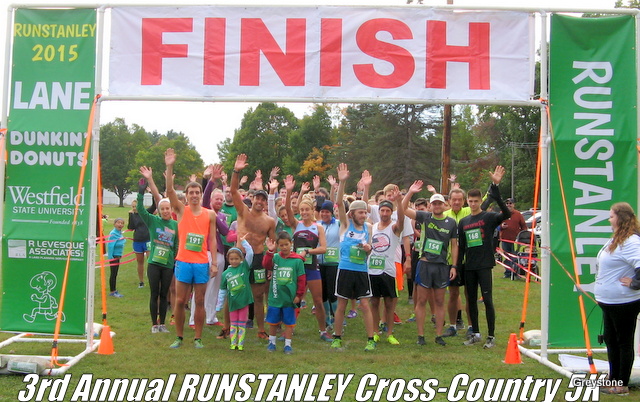 The weather was perfect for a cross-country race. Stanley Park in Westfield, Massachusetts, is famous for cross-country. There was a great crowd and some great times from people and puppies. Yes, there was a K9 division; and they were very happy. Chas Hodgdon took top honors for the overall, while Matt Pomeroy, 4th overall, was first in the K9 division with his happy dog, Cooper, leading the way. Apryl Sabdosa took the women's title in 5th place overall. The Western Mass Distance Project took the team title. Results for the 3rd Annual RUN STANLEY Cross-Country 5K are posted. Don't forget to check out the 2nd Annual Run and Wag 5K on 10/17.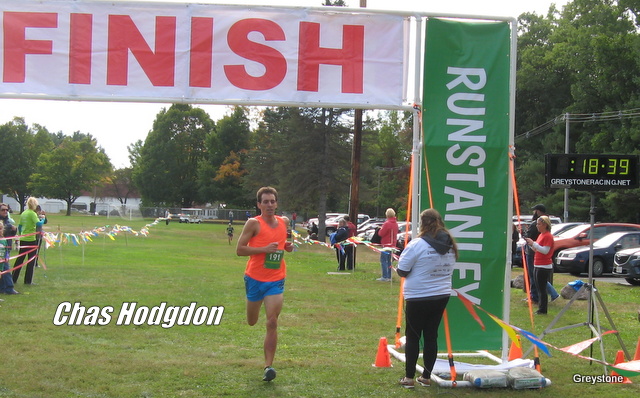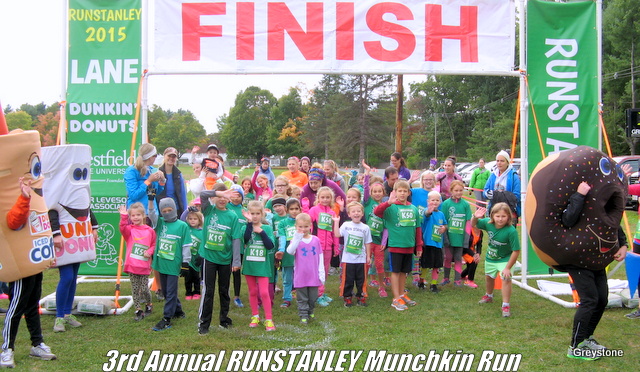 10/3/15

Rain did not dampen spirits. There was an enthusiastic crowd for the 33rd Annual Highland Lake 10K. With the exception of one young gun, it was the Grand Masters that ruled the roost. John Minervino comes through with a quality run on a raw day. Everyone should deduct 3 minutes from their time today. The cold wet wind is not ideal for a personal best... Annalisa Paltauf was all smiles as she took the women's race. Results are posted.