Table of Contents
Greystone times races. For a free quote, contact timing quote.
Breaking News!!
8/24/15
Check out all the new race applications and on-line registrations on the Greystone Race Application page.
Only 54 days until The 2nd Annual Run and Wag - The Bunny Williams Connecticut Doggie Cup!
Will Kareem Mabrouk be back with Abe, his energetic yellow lab to vie for the title? or; will the all elusive mountain runner Eric Morse and his super fast Highland Terrier Murdock be back again to break a new course record? Might us see Letitia Garcia-Trip and Swiper her lab mix take the crown again? All these questions and more will be answered on race day so register today.The pageantry, the drama, when the Connecticut Doggie Cup is on the line!
8/22/15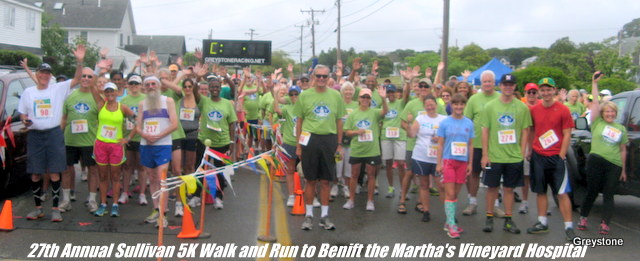 It was rainy and it was hot. Humidity was 100%. I thought that might keep numbers down, but the runners on the Island love to run in any weather. The 5K race walk is one othe most competitive race walks in New England. For years, Marston Clough and Jill Zamarro have been battling each other down to the wire. They have been first and second in this race since 2007. Marston began winning this race in 2004. He was never really challenged until Jill started in 2007. 2007 was the largest margin of time seperating the two: 39 seconds. Since 2008 the seperation between first and second has been one (1) second or less six out of seven years! Jill has taken the victory three times: 2009 (less than 1 second), 2010 by 14 seconds, and 2011 by one (1) second. This year was no exception. Clough held off a charging Zamarro to capture victory by 1 second! A great rivalry for a great race. Their statistics are truly fun to study. Results for the 27th Annual Sullivan 5K Walk and Run are posted.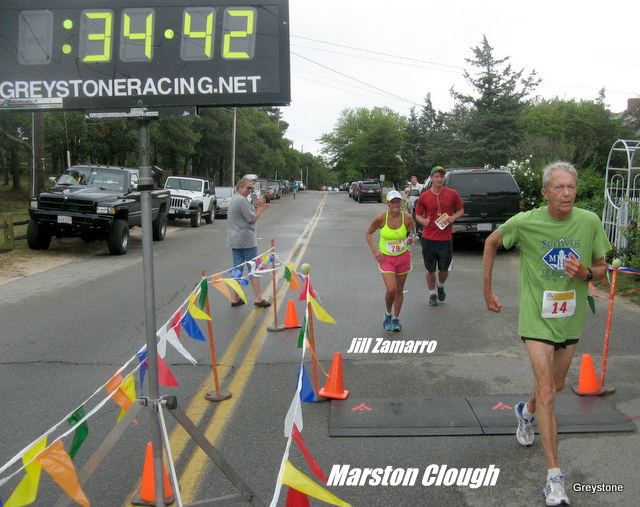 8/9/15
There's Cross-Country in the air...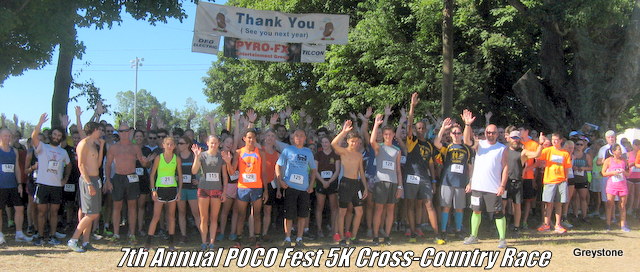 The kids are catching the fever.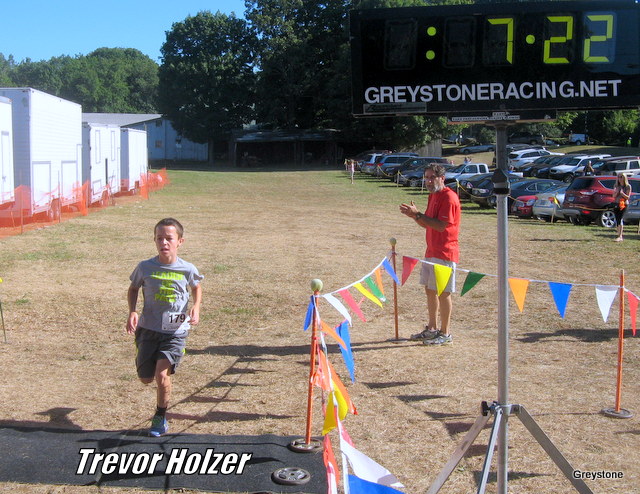 Trevor Holzer succesfully defended his title; just missing his course record by three sceonds. Kristina Ponzio overtook Avery Kendall with an all-out sprint to the finish. Results for the Tator Tot 1-Mile XC Fun Run from the Potato Festival are posted!
In the 5k, it was Zachary Williams defending his title and taking his own course record down. Ryan Brennon was also under the old mark. Very often, a good runner needs another good runner in order to break a record. There were a lot of good runners here in North Branford. This was a record year on an absolutely beautiful cross-country course. Race Director, Floyd Parness did an fantastic job setting up and monitoring the 5K and 1-Mile cross-country courses. This race is a strong candidate for the 2016 USATF-Connecticut Cross-Country Grand Prix! Kaleigh Roberts defended her title and took her own women's record down by 17 seconds. Congratulations to all the runners, the 169'ers, and thank you to the many volunteers, spectators, sponsors, and friends of running. Results for the 7th Annual POCO Fest 5K Cross-Country Race are posted!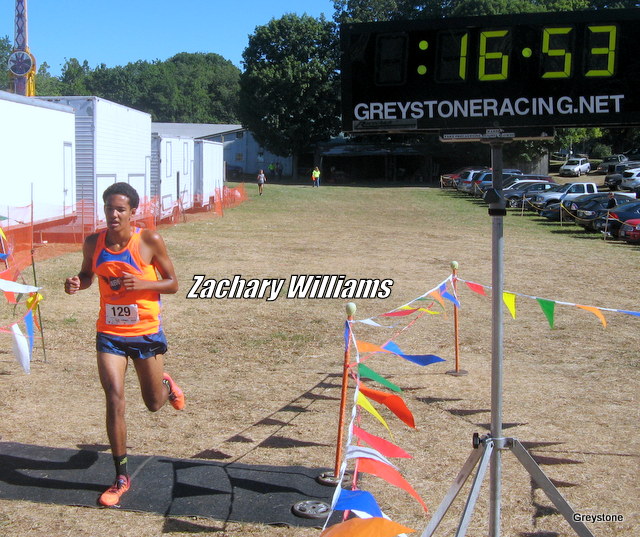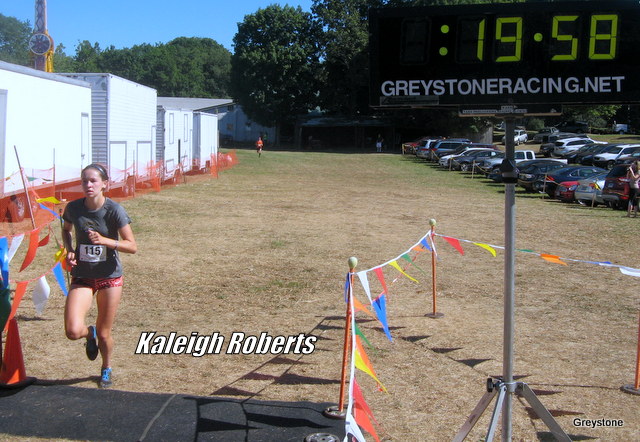 8/8/15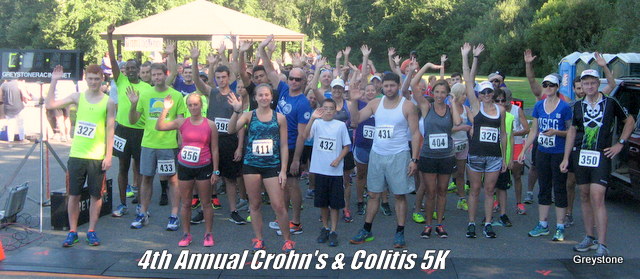 Great weather, great course, great people, a fun time. 16-Year Old, Connpr Croke was a ll alone in the home stretch as he took the course record down eleven seconds. It was a day for the kids. 17-Year Old, Sara Tarascio was a minute ahead of master, Rachel Crean. Results for the 4th Annual Crohn's & Colitis 5K from Watertown, CT are posted!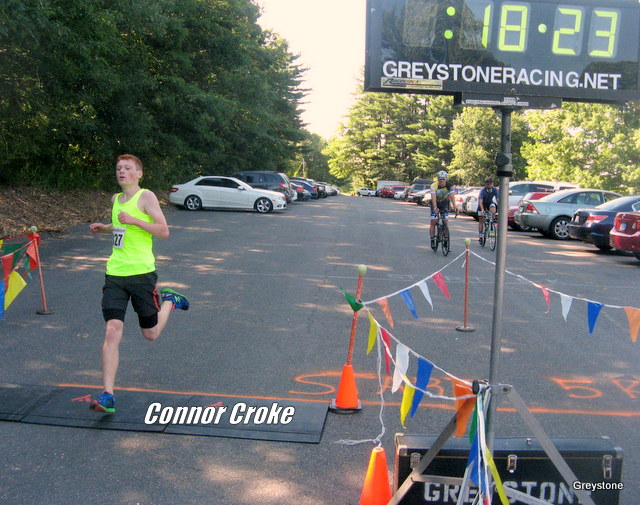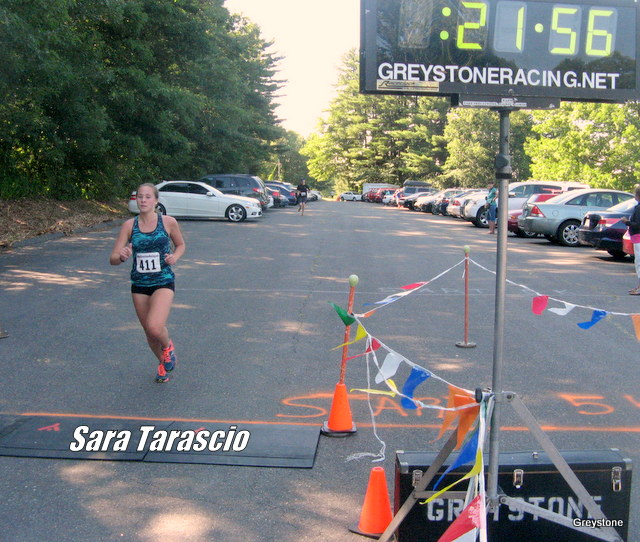 8/1/15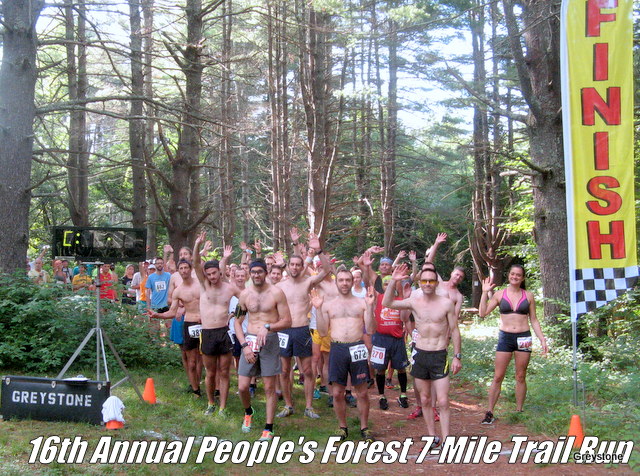 The weather was perfect and the trail conditions ideal for the 16th Annual People's Forest 7-Mile Trail run. There was a record turnout for this State of Connecticut USATF Championship event. Marc Robaczynski has the open record of 43:16 set in 2011. This year Robaczynski returned as a Master and he may be a little older, but he was fast enough to set a new Master's record. Mark Hixson's record of 48:34 set in 2006 fell by nearly three minutes!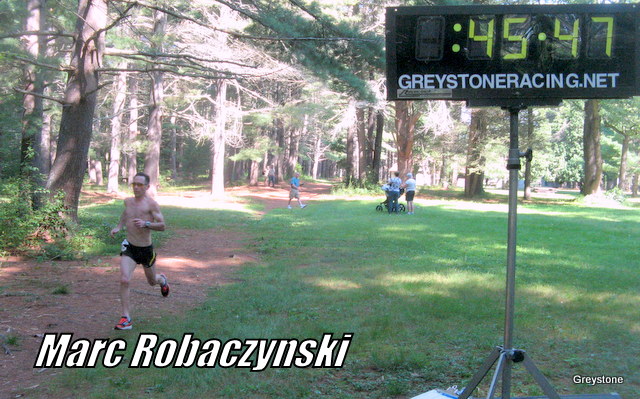 It was Martha Santandreu taking the women's victory in a hard fought battle with team mate, Brittany Heninger. Congratulations to Marc Robaczynski and Martha Santandreu: USATF-Connecticut Trail State Champions! This was also the team championship. Santandreu, Heninger, and Kate Lapinski lead the Milford Road Runners over the Woodbridge-Brookfield team of Rudinski, Fagan, and Fox. In the men's competition, it was the team of Brian Nelson, Joseph Hallisey, and Mathew Maynes from the the Manchester Running Company taking the title over the Hartford Track Ckub team of; Robaczynski, Cowles, and Molson. Congratulations to the Milford Road Runners and the Manchester Running Company; 2015 USATF-Connecticut Trail Champions! For their efforts, the first place team wins $90 and the second place teams take home $75. Well done!
Cairo has been a steady competitor in this event for eight years! Way-to-go Cairo! thank you to all the competitors and spectators. The post race food and party was great. Results are posted.
7/31/15
The Connecticut Trail Championship is tomorrow! The course is in great shape and the weather looks like it's going to be perfect. The People's Forest 7-Mile Trail Run starts and finishes at Matheis Grove, People's Forest, in Barkhamsted. Race day registration opens at 8:00AM. The race starts at 9:00. Bring some food to share with the group afterwards. There's usually a lot of great home made items. See you there!
7/25/15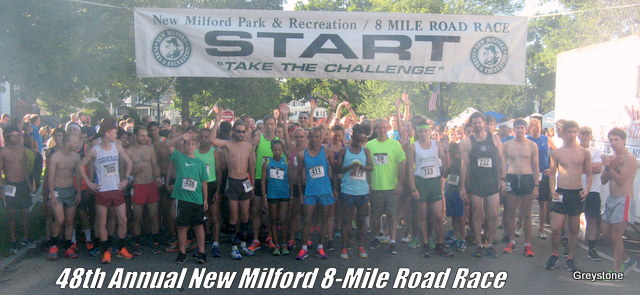 The weather was fairly reasonable for this perennial event. The third oldest race in Connecticut, the 48th Annual New Milford 8-Mile Road Race and the 13th Annual Fair Days 5K, had a great turnout and some notable performances. Kevin Bourghan and Morgan Meaney took the 5K honors. Mengistu Nebsi of New York and Annmarie Tuxbury from New Hartford took top billing in the 8-Miler.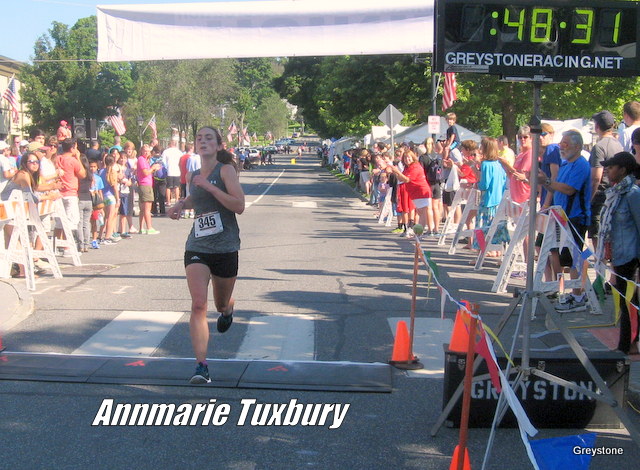 Thank you to the New Milford Parks and Recreation Department, the sponsors, volunteers, spectators, and runners. Results are posted!
7/19/15

It was overcast, calm, and the temperature was fairly low at 71 degrees. The humidity was oppressive. Brandon LeClair took it out from the beginning. None went with him and he never looked back. Alyssa Cole made the trek up from Woodbury and she lead the women by a wide margin. Tip of the hat to John Minervino with a strong third place finish at 51 years of age. The kids race was a hoot.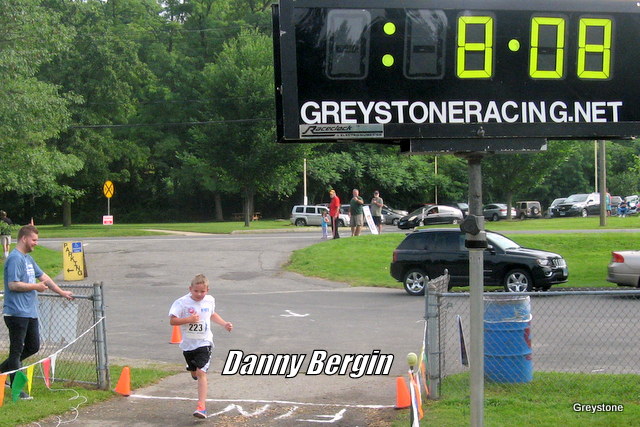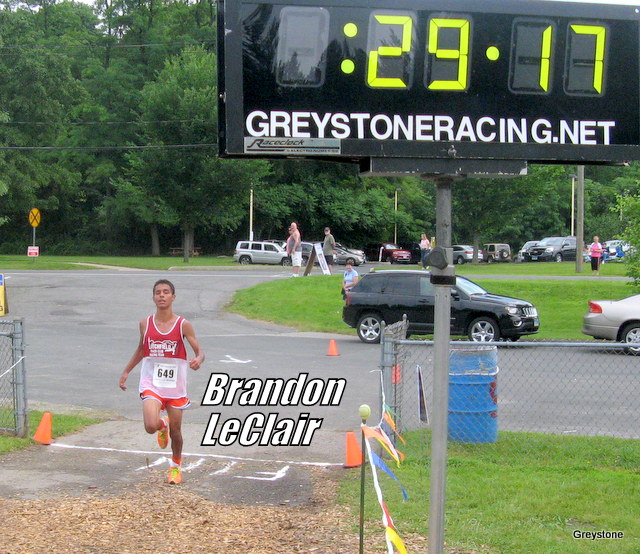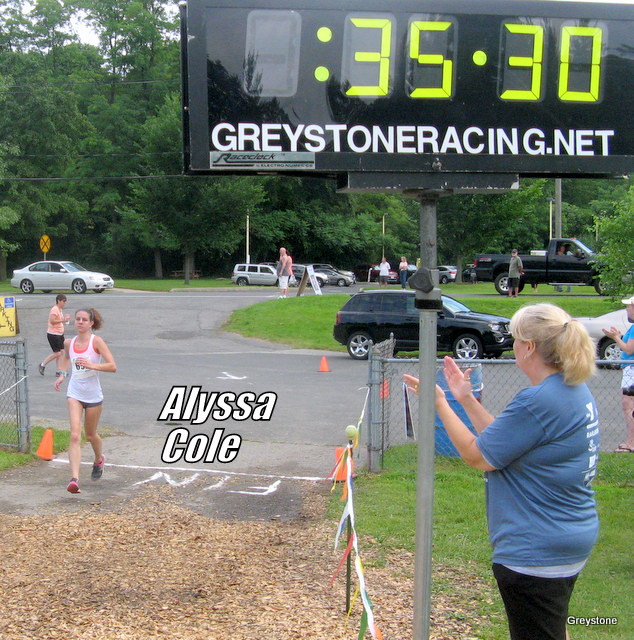 Many Thanks to the sponsors, organizers, spectators, volunteers, and runners. Results for the Canaan Road Race are posted!
7/18/15
Beat the heat. The Canaan 5-Mile Road Race starts at 9:00 AM tomorrow at the Lawrence Field Pavilion. Well-marked, certified course with 3 water tables, and prompt, accurate results. See you there!
7/8/15
Ready, Set, Run in The Norfolk Land Trust's Second Annual Trail Race
One of the Norfolk Land Trust's (NLT) greatest assets is its beautiful trails, open to the public and accessible to all. Our goal has always been to encourage more people to enjoy our extensive and diverse walks.
This goal was underscored by the publication of NLT's new trail guide last year which features updated trails maps and new hikes from recently acquired property, such as Pine Mountain. It also offers detailed information not only about the trails, but also about the flora and fauna a hiker will see. The guide, which was the culmination of work by land trust volunteers spearheaded by Susannah Wood, is available at Town Hall.
Last summer's scavenger hunt kicked off NLT's program to encourage people to use the trails, especially families. Families joined in the fun scouring Barbour Woods to photograph natural "treasures" and even taking time out for a selfie with our leader, Libby Borden. At the end of the hunt, each child went home with a book about nature. Our winter adventure for families was truly an adventure--a ski or snowshoe through deep snow and in bitter cold temperatures for the reward of hot chocolate and s'mores at the remote Dennis Hill Gazebo. We also had a spring bird walk and participated in the Connecticut Forest and Parks Association's trails days with a public hike up Pine Mountain.
The centerpiece of our efforts was the first annual 5k trail race in last October, with 25 participants running the Barbour Woods' trails. The trail race, with very little promotion, was a success. Roger Johnson of Norfolk took top honors for the men and Mary Bazzano Reeve, also of Norfolk, was the first woman to cross the finish line. The day was cool and damp, but runners found the woods beautiful in the fall.
We hope to build on that success this year when the trails in Barbour Woods will come alive with even more runners in our second annual 5K trail race on Sept. 27 at noon. The trail route will be the same as last year. This year's race will be officially timed by Greystone Timing and will feature a post-race celebration and awards ceremony at Infinity Hall with every runner receiving a bowl of chili. The Trail Race sub-committee, led by Kate Johnson, is hard at work hammering out details and looking for sponsors for this event.
The Barbour Woods race offers a challenging course, with scenic views, bridge crossings, open fields and some steep inclines. Part of the race traverses the old railroad bed where the last freight train travelled in 1938.
The Norfolk Land Trust has plans for the annual trail race to become a larger and more extensive event: races of varying length, highlighting the land trust's most picturesquetrails including Pine Mountain, Billings Trail and Haystack Mountain; a tower-to-tower event (Dennis Hill to Haystack); a half marathon on NLT trails; and possibly a marathon someday that will encompass other trails in towns. The Land Trust's goal is for the trail race to become an integral part of the community's annual happenings.
Of course, the trails are not magically maintained. It takes a lot of work to keep them clear of fallen trees and debris. We've scheduled three trail work days annually, with the next two in July and September. Watch for more details to volunteer.
Print out an app and mail it in, or register on line.
6/27/15

A hidden gem. Just ten minutes from downtown Norfolk, CT is the town of New Marlborough, MA. New Marlborough is separated into 5 hamlets: New Marlborough Center, Clayton, Mill River, Hartsville, and Southfield. Not too far off route 272, tucked up in the Berkshire foothills is a YMCA Camp named Wa WA Segowea in the section of Southfield. This is the ideal setting for a 7K trail run around a mountain pond with 38 different types of obstacles to conquer. It was Alex Hill that lead the way along with Paula Brunetto for the women. The team competition was strong: Wellness Squad took first place, Crossfit Torrington was second, and Muddy Buddies third. Congratulations to all the runners and many thanks to the sponsors, the organizers, and the spectators. Results for the 4th Annual WYLD Obstacle Run are posted.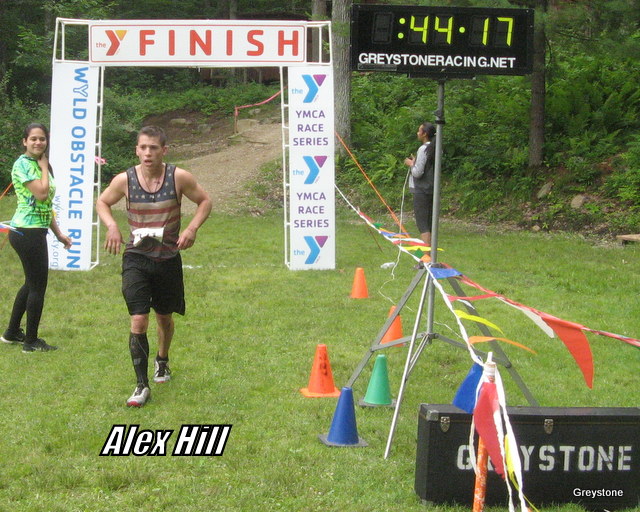 6/20/15

Jeffrey Schuman, 58, from Salisbury , Vermont, made it look easy. Results are posted.
Results are posted for the 5th Annual Jewell 5K Trail-Road Run/Walk.