Breaking News!!!
12/9/16
It is interesting to see the formidable Dave Dunham's name move to the bottom of the list and wonder if Jeff Niedeck's Master record will hold for another year. There is Open, Master and Grand Master prize money. Will a woman ever break 60 minutes at Norfolk? Claudia Camargo (Nero) dominated from 2004 to 2007 and Shannon McHale's masters record seems pretty safe...
Top Fifteen Times for Men in Norfolk Pub 10-Miler (CT00003DR). Greystone offers $100.00 for a new course record and $50.00 for a new Master's record!
1. Chris Zablocki 23, 53:09, 5:19's, 1st in 2011
2. Chris Zablocki 24, 53:35, 5:22's, 1st in 2012
3. William Sanders 24, 53:54, 5:24's, 2nd in 2011
4. Chad Johnson 26, 54:40, 5:28's, 1st in 2001
5. Peter Oviatt 32, 55:38, 5:34's, 2nd in 2001
6. Marc Robaczynski 37, 55:58, 5:36's, 3rd in 2011
7. Kevin Curley 26, 56:21, 5:39's, 1st in 2006
8. Eric Blake 24, 56:37, 5:40's, 1st in 2003
9. Eric Blake 26, 56:54, 5:42's, 1st in 2005
10. Brian Nelson 31, 57:16, 5:44's, 4th in 2011
11. Jon French 24, 57:24, 5:45's, 1st in 2007
12. Zack Schwartz 21, 57:42, 5:47's, 1st in 2009
13. Brian Nelson 30, 57:44, 5:47's, 1st in 2010
14. Joseph LeMay 38, 57:47, 5:47's, 1st in 2004
15. Dave Dunham 36, 57:57, 5:48's, 1st in 2000
16. Jeff Niedeck 45, 58:24, 5:51's, 2nd in 2009 (Master's Record)
Top Fifteen Times for Women in Norfolk Pub 10-Miler (CT00003DR). Greystone offers $100.00 for a new course record and $50.00 for a new Master's record!
There was no shift in the men's top 15 in 2015; however, there were several changes for the women. Melissa Stellato became only the second woman to break 65 minutes. Who will be the first woman to break 60? Could Stellato crack the Camargo top 4? Annmarie Tuxbury is new to the list. Tuxbury is young. Talented, youthful inexperience on the Norfolk 10 will measure strength, stamina, speed, guts, and intelligence.
1. Claudia Camargo 35, 1:00:33, 6:04's, 3rd in 2006
2. Claudia Camargo 36, 1:01:58, 6:12's, 4th in 2007
3. Claudia Camargo 33, 1:03:51, 6:24's, 5th in 2004
4. Claudia Camargo 34, 1:04:46, 6:29's, 4th in 2005
5. Melissa Stellato 33 1:04:55, 6:30's, 8th in 2015
6. Shannon Mchale 40, 1:05:07, 6:31's, 18th in 2011 (Master's Record)
7. Melissa Stellato 32, 1:05:32, 6:34's, 7th in 2014
8. Bess Ritter 24, 1:06:32, 6:40's in 2011
9. Melissa Stellato 31, 1:06:59, 6:42's, 10th in 2013
10. Donna Kay-Ness 50, 1:07:31, 6:46's in 2013
11. Annemarie Tuxbury 21, 1:07:49, 6:47's, 13th in 2015
12. Brittany Heninger 23, 1:08:23, 6:51's in 2011
13. Liz Fagan 28, 1:09:06, 6:55's in 2003
14. Kate Lapinski 41, 1:09:17, 6:56's in 2006
15. Brittany Heninger 21, 1:09:44, 6:59's in 2009
Saturday, December 17, is the big day! On-Line Registration is still open and you can register at the race!
Parking , registration, the start, and finish are located at the Town Hall on Maple Ave. Race-Day registration closes at 10:45 AM. Gun time is 11:00 AM. Current USATF mebership is required for cash awards. Awards (must be present to win) will take place at The Wood creek Bar and Grill at approximately 1:05 PM. See you there!
12/3/16
Th 34th Annual Litchfield Jingle Bell 5K with Santa!

11/28/16
Year-End Races and 1/1/17!
The Litchfield Jingle Bell 5K is Saturday 12/3 at 11:00 AM. This race draws about 300 runners in a runner friendly town with holiday costumes, fun, and fast times on a certified course. Download the race application. There is race-day registration!
The 18th Annual Norfolk Pub 10-mile Road Race on Saturday 12/17 at 11:00 AM. This race draws about 300 runners in a runner friendly town. The course is certified. It's a challenging race with plenty of spectacular scenic vistas. Prize money for overalls. PEZ awards in 5-year age groups. The party at the Woodcreek Bar and Grill is a lot of fun! Take advantage of the on-line registration price or download the race application.
The Norfolk Pub 10-Mile Road Race will offer an early start for those runners who plan on running 100 minutes or more.
The Competitive start is at 11:00 AM.
The early start is at 10:30 AM.
Those runners who choose to run in the early start shall have a minimum time of 100 minutes and must declare their start time upon pick-up of their bib number.
The estimated time for awards will be 1:00 PM
New Year's Day has plenty of races.
The Milton Resolution 5-Mile Run will be timed with the BibTag chip system this year. This is a challenging 5-Miler run on some very pretty back roads in one of the country burroughs of Litchfield.
The Brookfield 4-Miler is a great race with nearly 400 runners.
Westfield Massachusetts offers a certified 5K or a certified 10K.
11/24/16
Happy Thanksgiving!
The WMAC puts on a great 5K Turkey Trot at a low, low, price! The crowds turnout and the party begins in Adams, MA!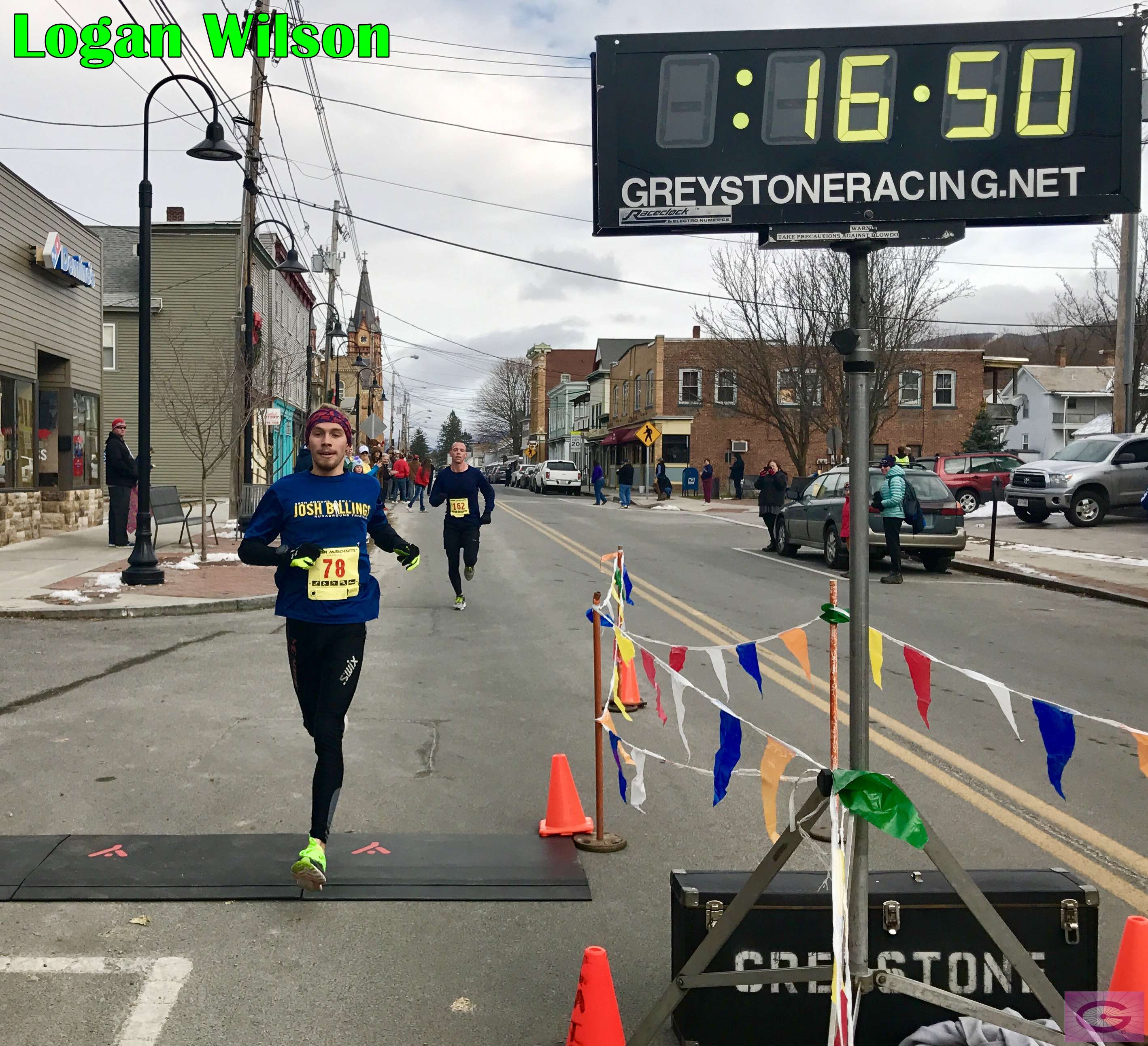 11/20/16
Wind and snow. The 42nd Annual Fischang Ciccetti 5K and 5-Mile draw good crowd and great runners.
11/13/16
Women's record falls at Age Before Beauty Cross-Country 5K!

11/12/16
The Sacred Heart High School Veteran's Day 5K

11/5/16
It was a great Saturday for fall racing in The Constitution State.
The Forman School hosts a top notch HVAL Cross-Country Championship. Runaways take top honors. Grimes is only a junior. A tie breaker for the boys' second step on the podium. Wilder can run. Four (4) points for first in the girls!
Solid runners at The Falls. Longo preps for Fischang. Zolty making a solid recovery after some time off recovery from the effects of living la vita local. The Ed McGuire Memorial Cannonball Run 5K in Falls Village, CT. The cannon blast. The crowd jumps. The start down main street.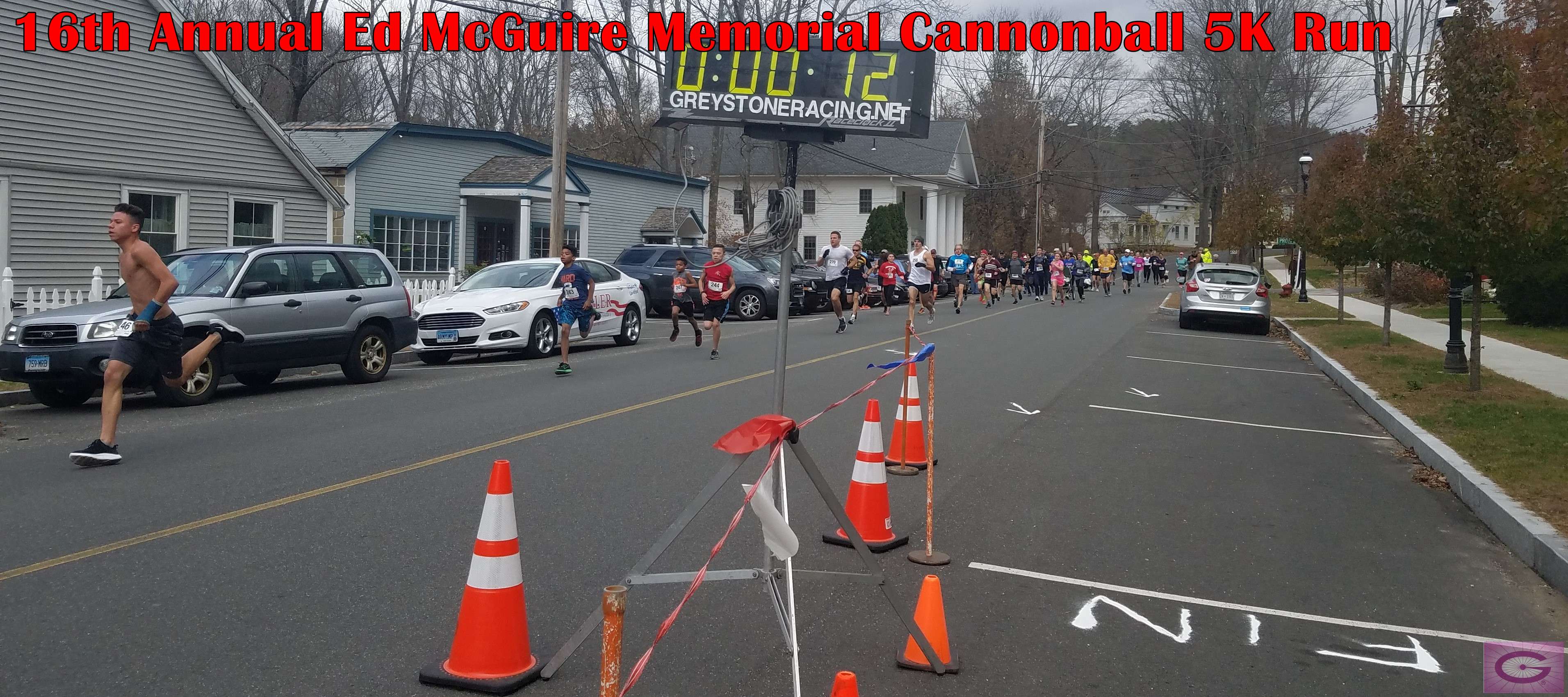 Douaihy record falls at the Run Like a Deer 5K in Barkhamsted, CT. Several runners competed in the Deer and then the Falls.

10/25/16
On-Line Registration is available for Age Before Beauty Cross-Country 5K
On-Line Registration is available for the 18th Annual Norfolk Pub 10-Mile Road Race.
10/22/16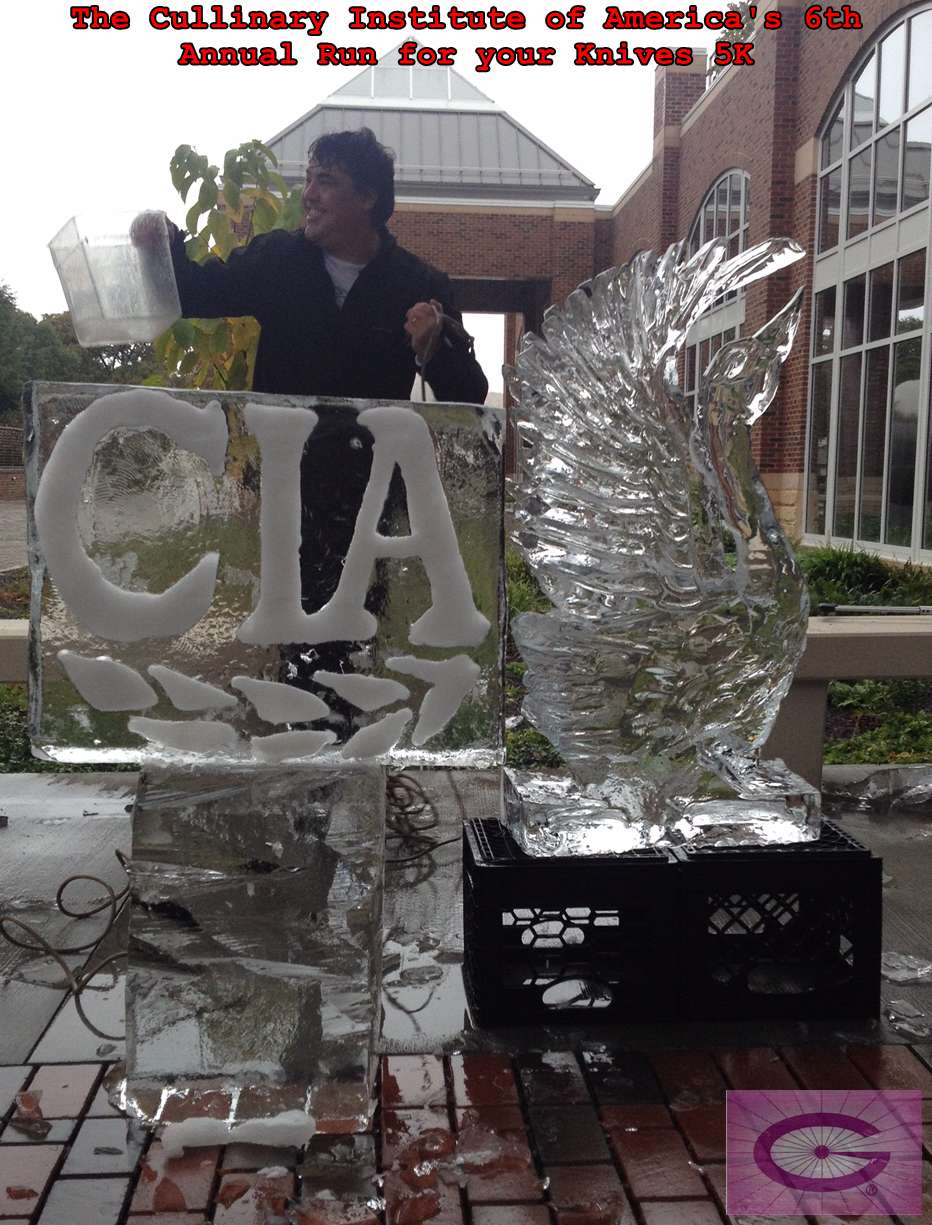 CIA 5K - Today's Results!
10/16/16
Walk in their Footsteps-Race for Awareness 5K, Waterbury, CT! Today's Results!
Run for the Cove! Today's Results!
10/8/16
It's a perfect day at Sherwood Island State Park. The American Heart Association has its 2nd Annual Hear Walk and 5K Run!
10/5/16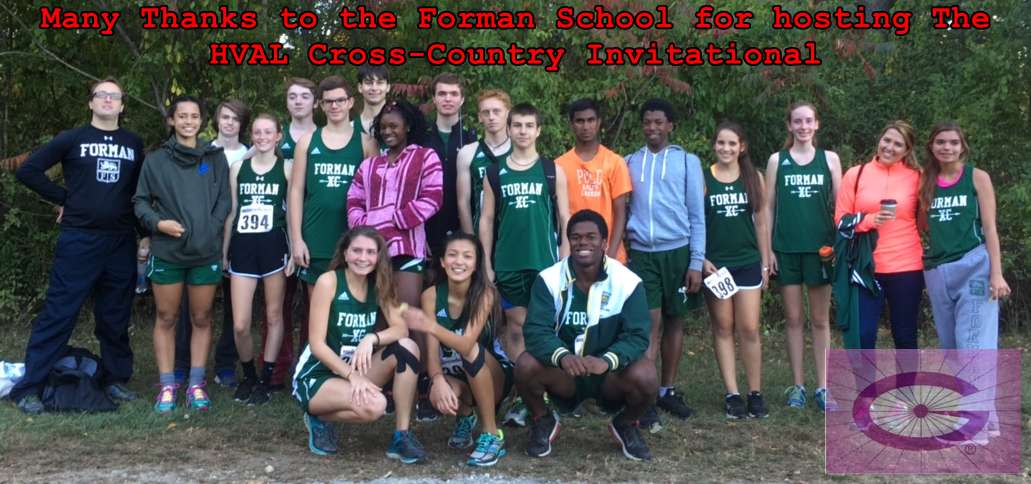 Results are posted!
10/2/16
K-9's lead the way at the 4th Annual Run Stanley Cross-Country 5K!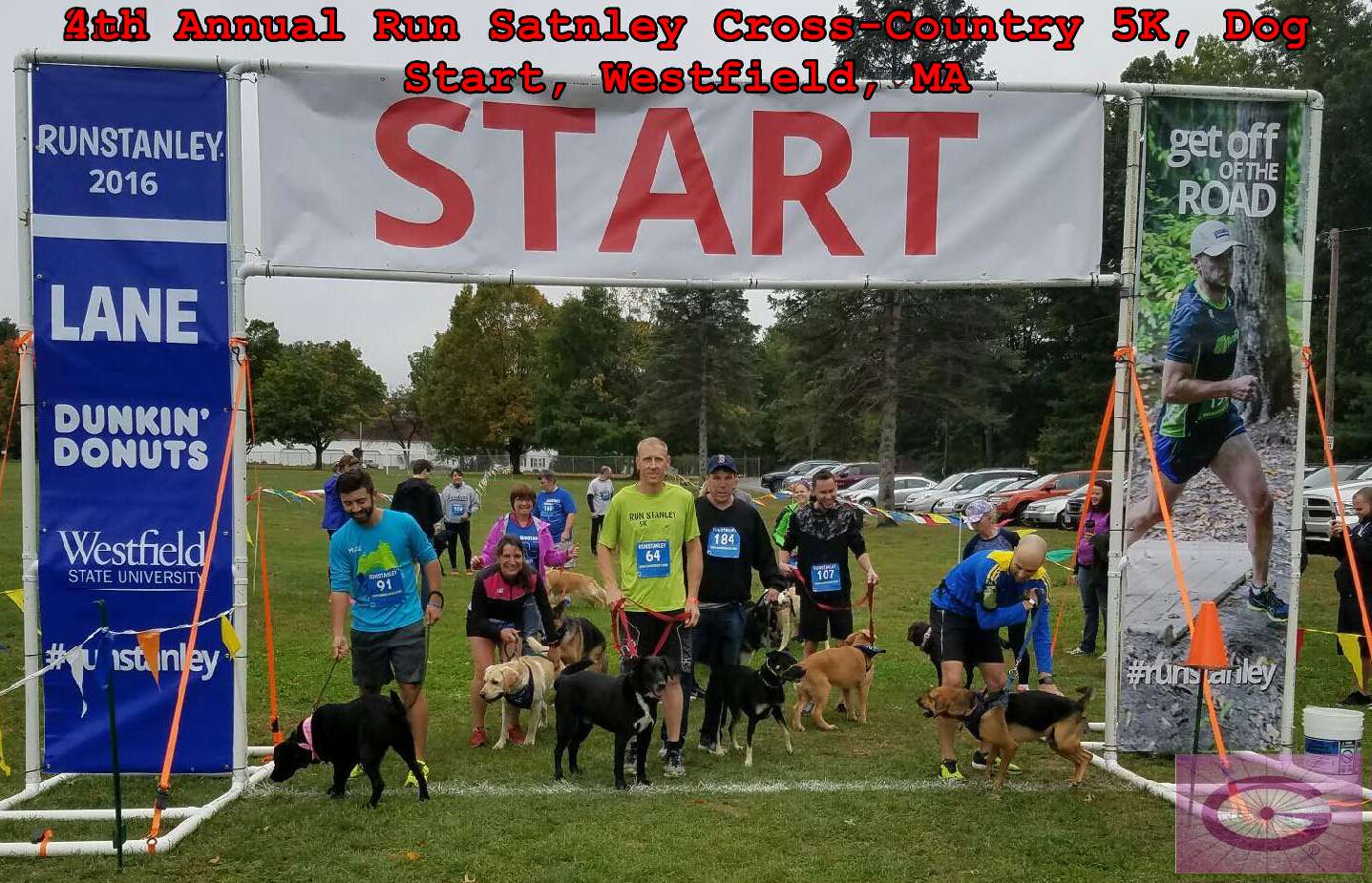 10/1/16
Veillette cruises!

Results for the 11th Annual Bob Veillette Memorial 5K are posted!
34-Years around the lake. When it started, there weren't that many races. There were a lot more 10K's back then; today, 10K's are rare. The 35th should be a douzy!