Breaking News!!!
11/11/18
Happy Veteran's Day!
Hats off to the Sound Runner Men's and Women's Cross-Country teams. They won the 13th Annual Age Before Beauty 5K Cross-Country in Litchfield.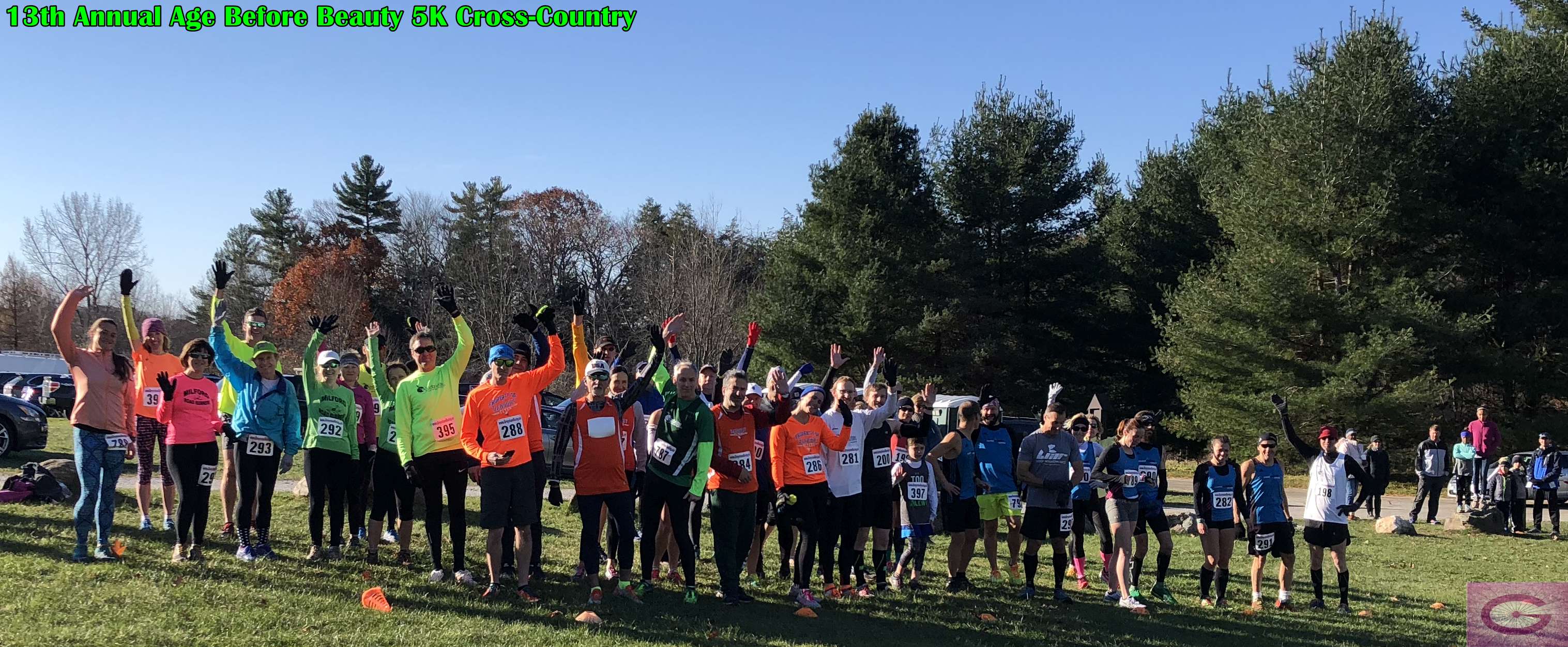 11/3/18
Dodge the rain and wind. Temperatures are mild.
The 6th Annual Veterans Day 5K was presented by the Sacred Heart High School today and they had a great turnout.

10/28/18
The rain and heavy winds has stopped. Dampness and cool temperatures still remain. The spirits at the annual Walk in their Footsteps-Race for Awareness 5K , hosted by St. Vincent dePaul Mission of Waterbury, were in good form.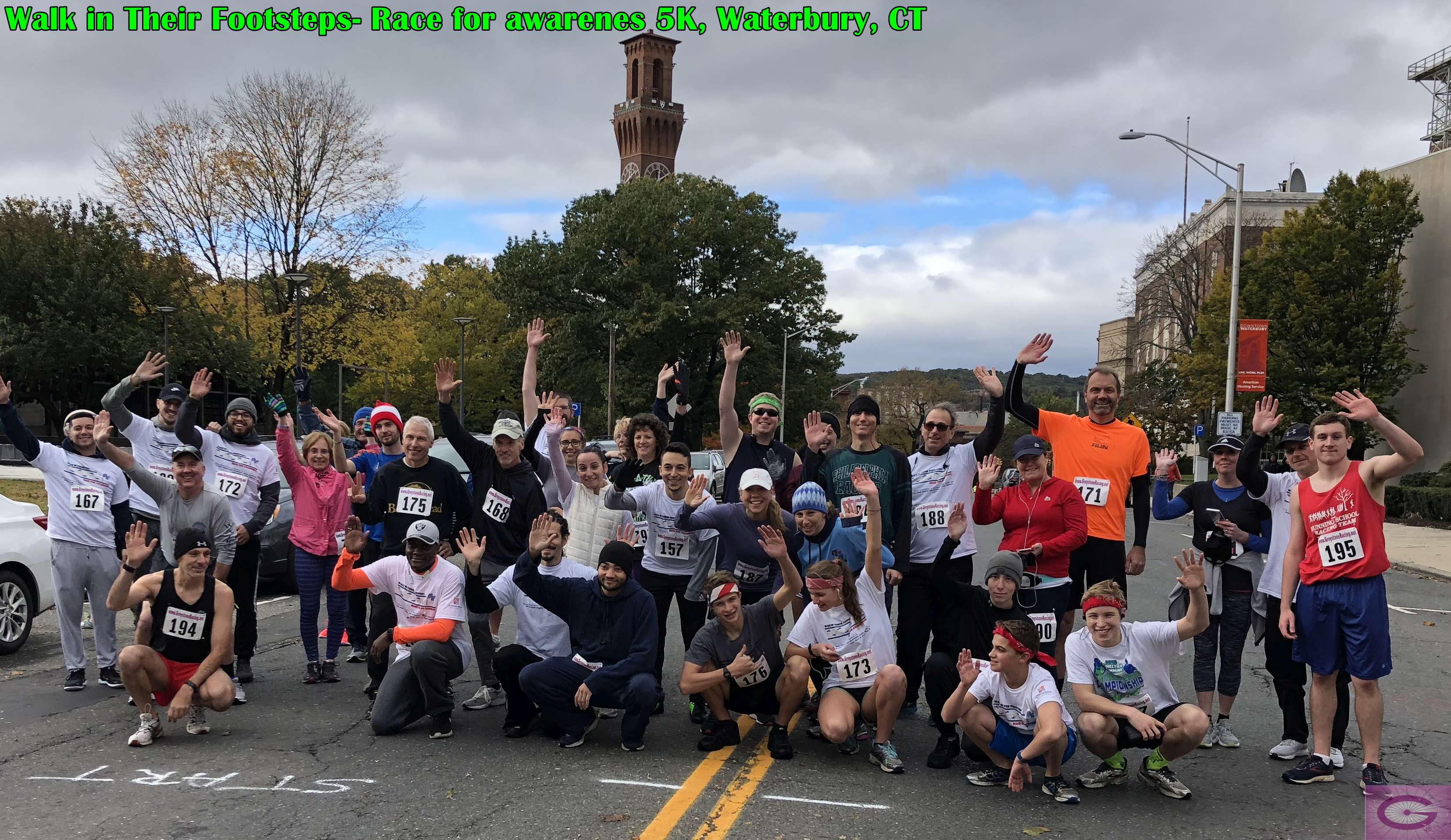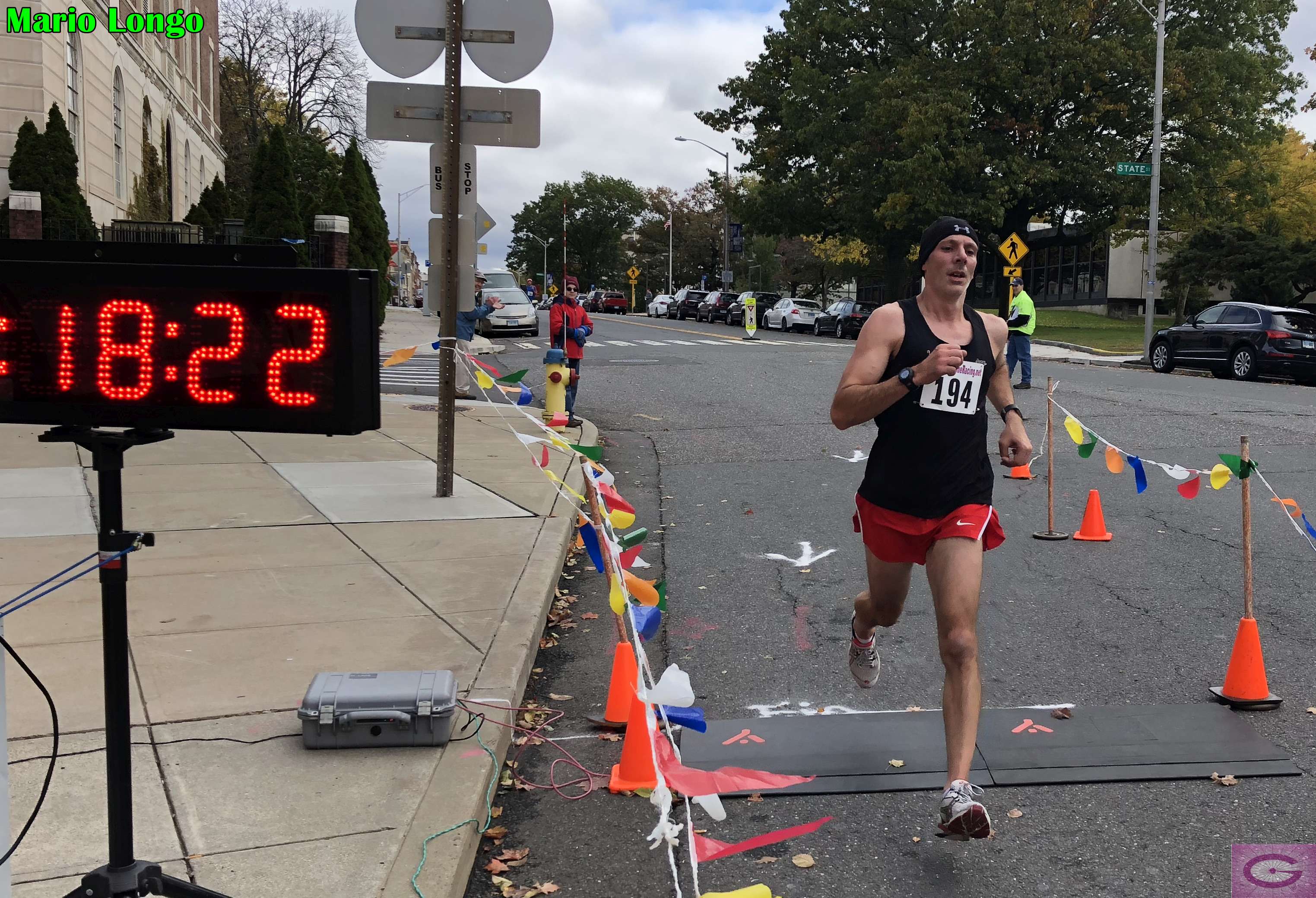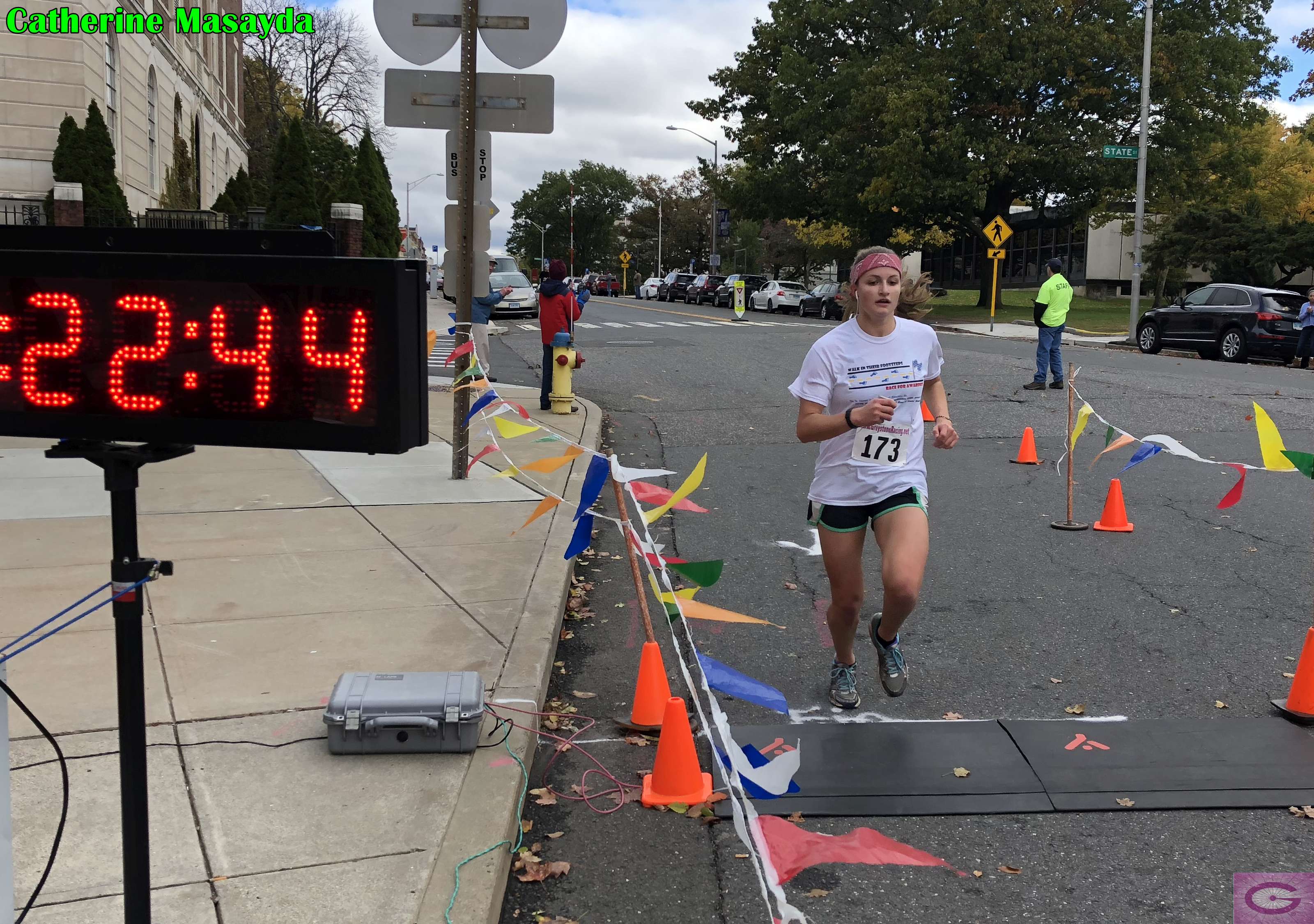 10/21/18
21st Annual Run for the Cove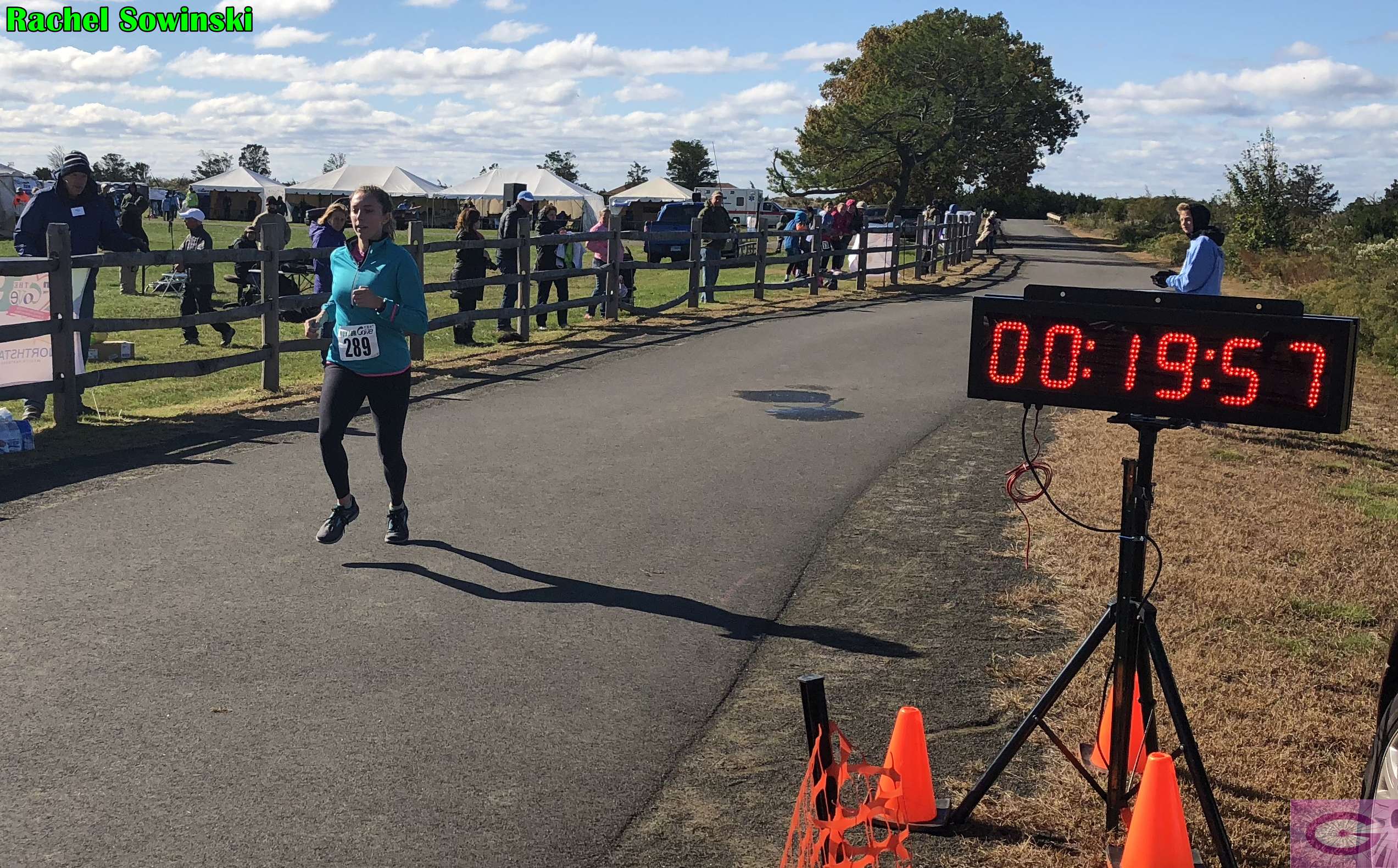 10/20/18
The rain stopped, the skies cleared, and the 3rd Annual "Run for a Cause" 2-Mile Run/Walk was underway. 2-Milers used to be more prevelant during the 70's and 80's. They have all but disapeared. It's nice to have a road race where speed is the ultimate factor. There is one big hill at the end, so hill repeats play a big role.
10/13/18
The 5th Annual Run & Wag 5K is always alot of fun. The rain didn't dampen any spirits and the dogs had a great time!
10/6/18
Ideal racing conditions on the only certified course in Winsted. The 36th Annual Highland Lake 10K had a small turnout with a lot of fun.
10/3/18
The rain stopped. The tornados settled down. The skies cleared and the temperatures increased. Plenty of mud for cross-country. The Annual HVAL Cross-Country Invitational at the Forman School in Litchfield had some great performances. Just a reminder, the team scores are not official until the coaches have had a chance to review.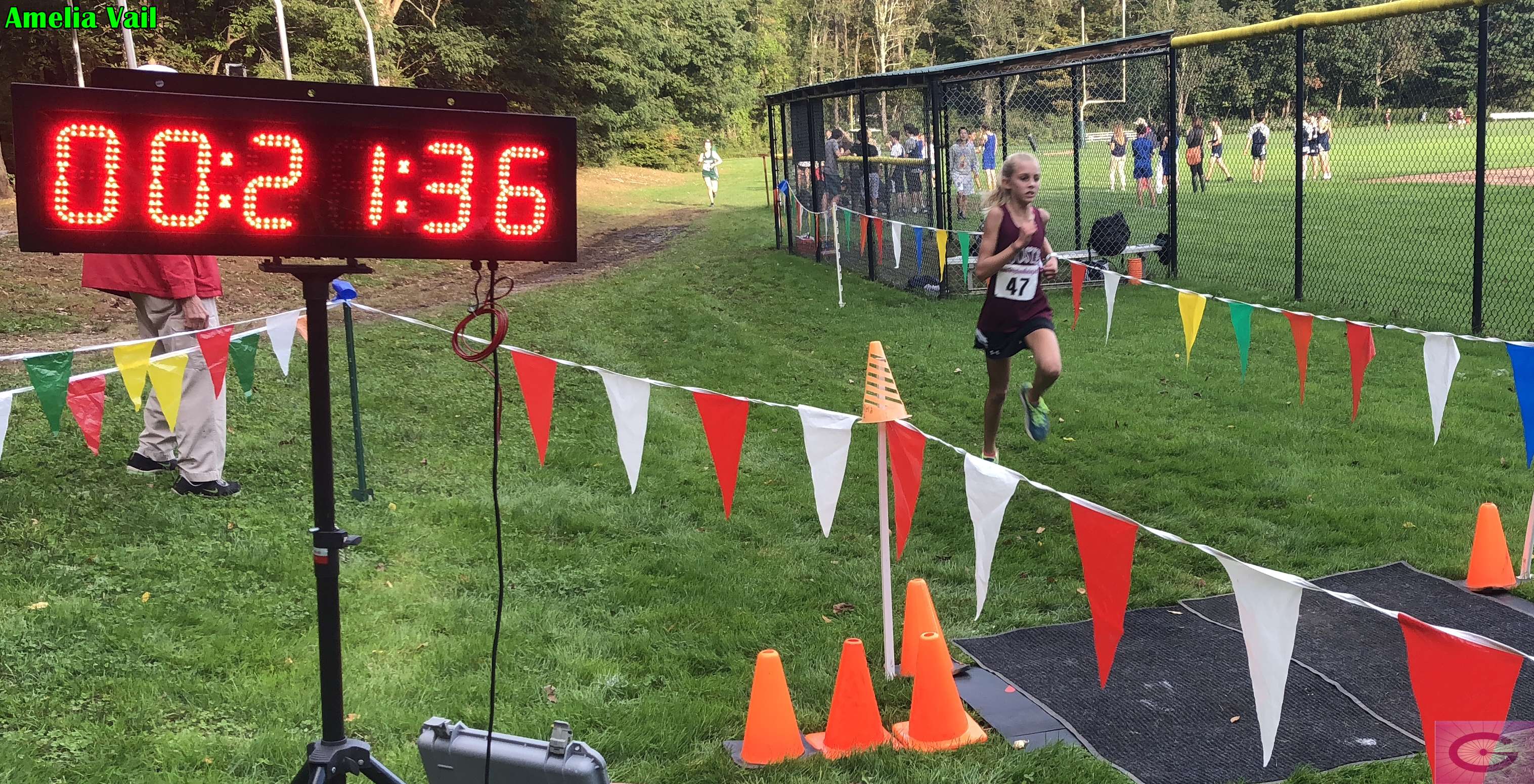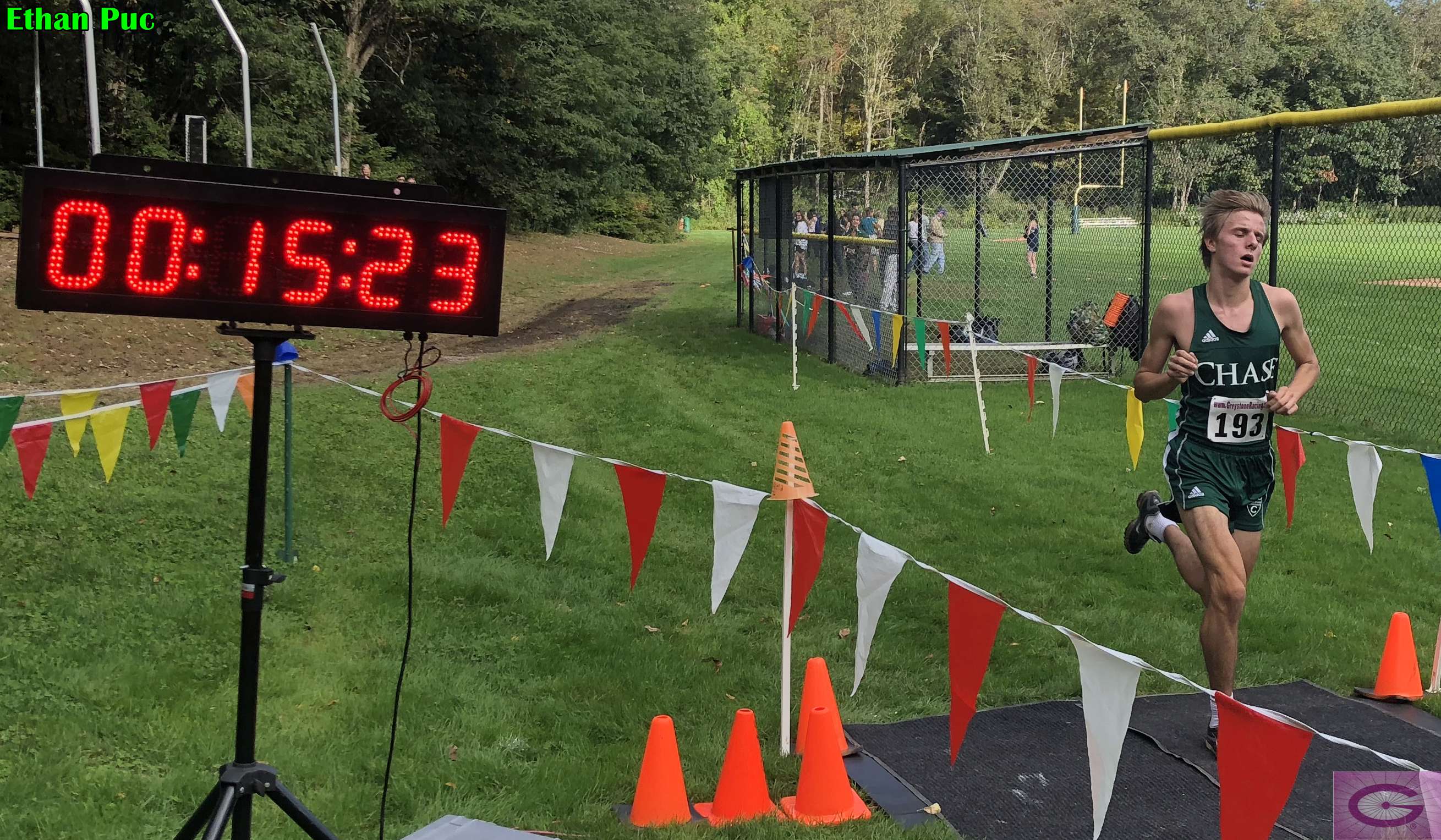 9/30/18
The last day in September brought fantastic running weather and a gret turnout for the 5th Annual Ta Ta Trot 5K hosted by Pies and Pints in Middlebury, CT
9/23/18
Happy Fall!
Temperatures have cooled. The weather is dry, overcast, and calm. Perfect racing weather. The 5th Annual Run Back to School 5K in Simsbury had a great crowd and some fast times.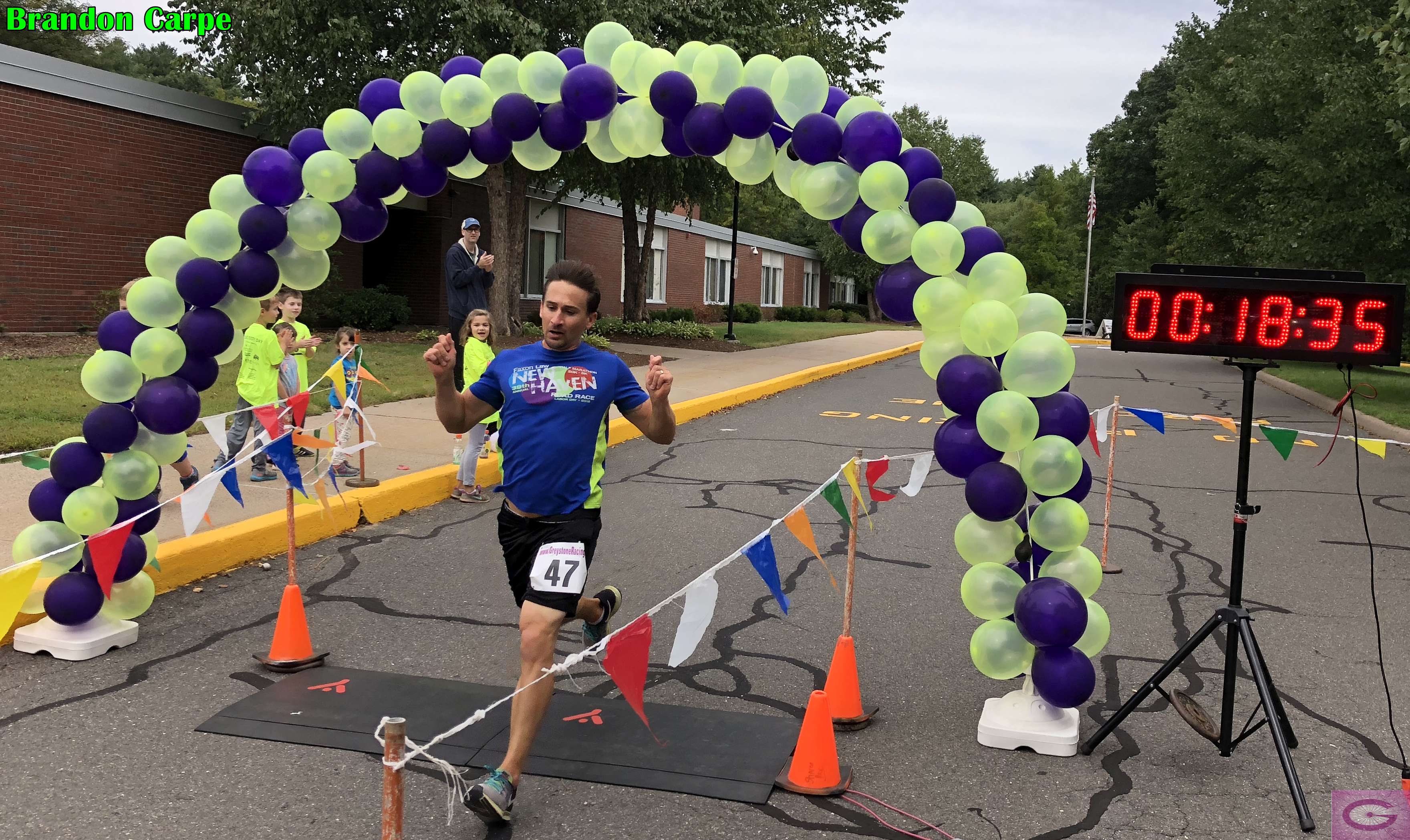 See You at The 36th Annual Highland Lake 10K!
9/22/18
Autumn starts this evening. Can you Go the Distance? The Go the Distance for Scholars 5K in Woodbury, CT, had spectacular Autumn weather for a great race; for a great cause.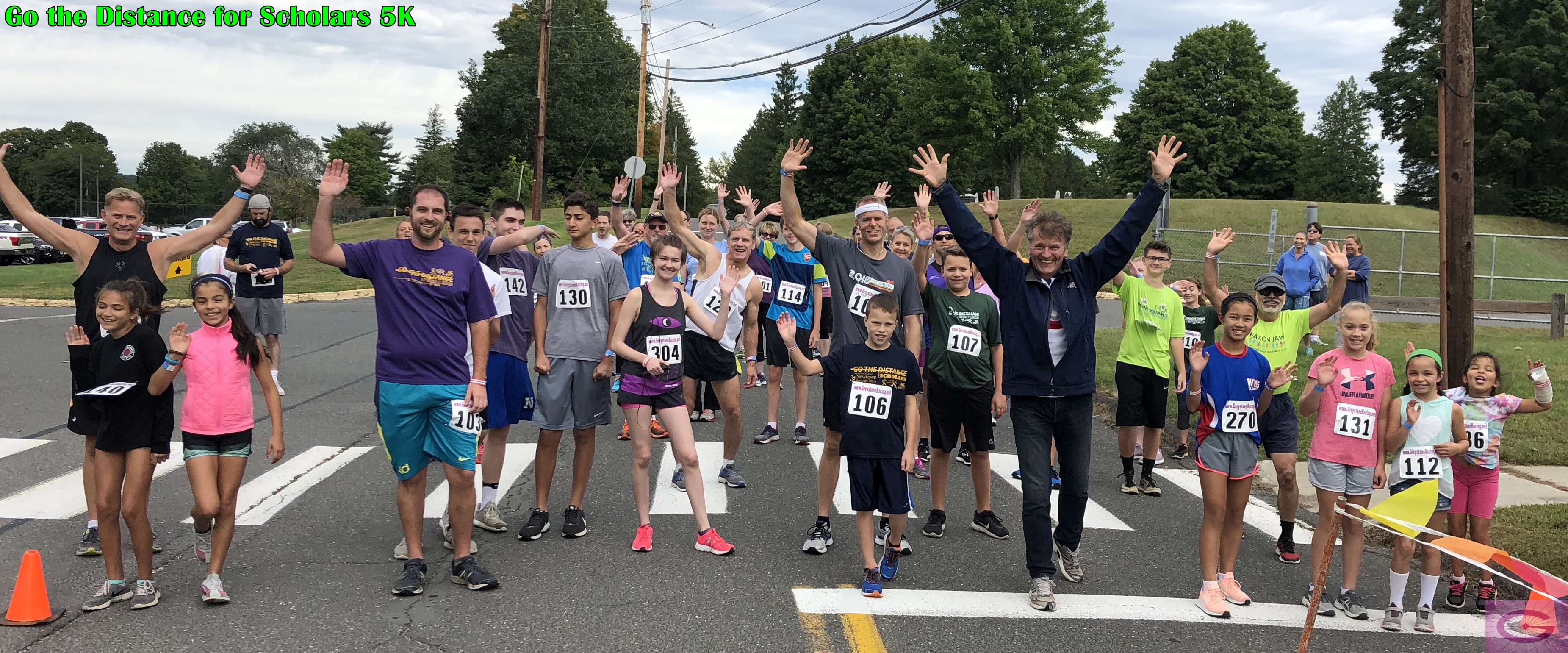 9/15/18
Dads Matter Too! The weather was perfect for this Waterbury staple. The Annual Dads Matter Too 5K, hosted by the Waterbury YMCA had a great turnout.

9/2/18
Pinkyup! Today was the 1st Annual Pinkyup 5K located at Platt Hill State Park in Winchester, CT. The course was accuraely measured and ready for certification as a 5K from the USA Track and Field (certification pending). Very pretty country roads and yes, Platt Hill.

Pinky Up!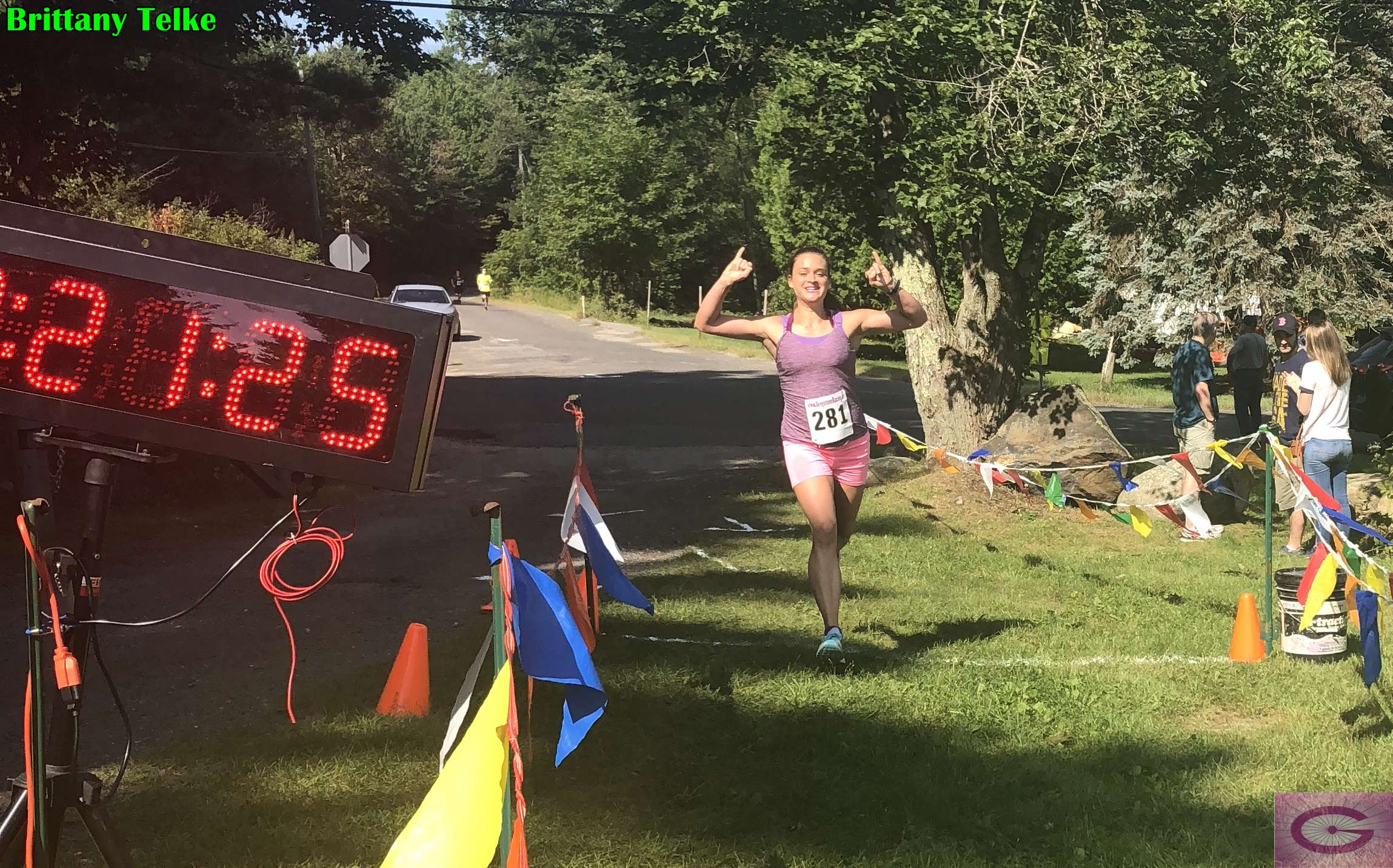 8/30/18
It's a hot one. The 4th Annual F.A.D.E. 5K Run/Walk in Shelton had a great turnout despite the heat. Some runners love the heat. These runners did well and many thanks go out to the Town of Shelton, the Shelton Police Department, the volunteers, spectators, and the runners. Nice Run!

8/29/18
The 36th Annual Highland Lake 10K is scheduled for the first Saturday in October, 10/6 at 10:00 AM. Pre-registration is $10.00. That's a bargain. Check out the race registration form.
8/28/18
There are a couple of races coming up. This Thursday evening in Shelton is the 2nd Annual FADE 5K starting at 6:00 PM on the Shelton side (Shelton Pavillion) of the "river walk". Sign upp now at RunSignUp.com
This Sunday is the Lauren Bardino, pinky up,Memorial 5K run/walk against opioid addiction at Platt Hill State Park in Winchester. IMPORTANT UPDATE: GREYSTONE WILL BE TIMING THIS. YOU ARE ENCOURAGED TO PREREGISTER....
it comes to $21.83 through Eventbrite ahead of time
On race day Registration will be 25.
If there is a large turn out, pre-registration will take some time,
Please have patience we expect the race to start at 10 AM????
Walkers who are not interested in being timed please register ahead of time through Eventbrite...
DEADLINE FOR EVENTBRITE IS Friday at 8 PM.
The course is as follows: it begins and ends at Platte Hill Park. we do the loop around Platt Hill Park first and then left out of Platt Hill, down the road to the red school House & keep going STARIGHT NO HOLLOW RD. then right onto South Road ,? right onto Newfield Road, and right onto Chapel Road ......( A BIG BEAUTIFUL COUNTRY BLOCK ???? ). across the street from the church in the center. Chapel Road comes out directly across the road from Platt Hill State Park??????
Please email me at pinkyup5k@gmail.com with any ques
Blessings and thank you, Rita
https://www.eventbrite.com/e/lauren-bardino-pinky-up-memorial-5k-runwalk-against-opioid-addiction-tickets-48149667953

8/25/18
The weather was perfect for the 30th Annual Sullivan 5K Run/Walk for Martha's Vienyard Hospital.

8/11/18
Will the torrential rains hold off? How long is the oppresive humidity going to last? It doesn't matter, The Sharon Sprint Triathlon is happening!
8/4/18
Rain. No thunder, no lightning, just rain. Heavy rain had washed out most of the course marking. There was a group of 3 runners who lead the race from start to finish. At each and every interesection, they would pause to get a detailed fix and determine the course direction. Almost everyone succumbed to the washed away course marking. There were some traces; enough for most of the runners to complete the course (many with significant additional mileage) in a competitive challenge to make it to the finish before the next deluge. There was plenty of mud, standing water, and ultra-slick bridges and rocks. More than than half the field ran the course along the edge of safety versus speed. Mark Oliver is a seasoned trail racer and a smart runner. The technical challenges involved with trail racing far exceed those of road racing in both physical and mental capacities. If you've never done a trail race, try it. The People's Forest 7-Mile Trail Run is a great trail race for beginners. Under today's conditions, beginners shouldn't be discouraged, intermediates should grow with this experience, and experts should have felt abit challenged by this beginners course.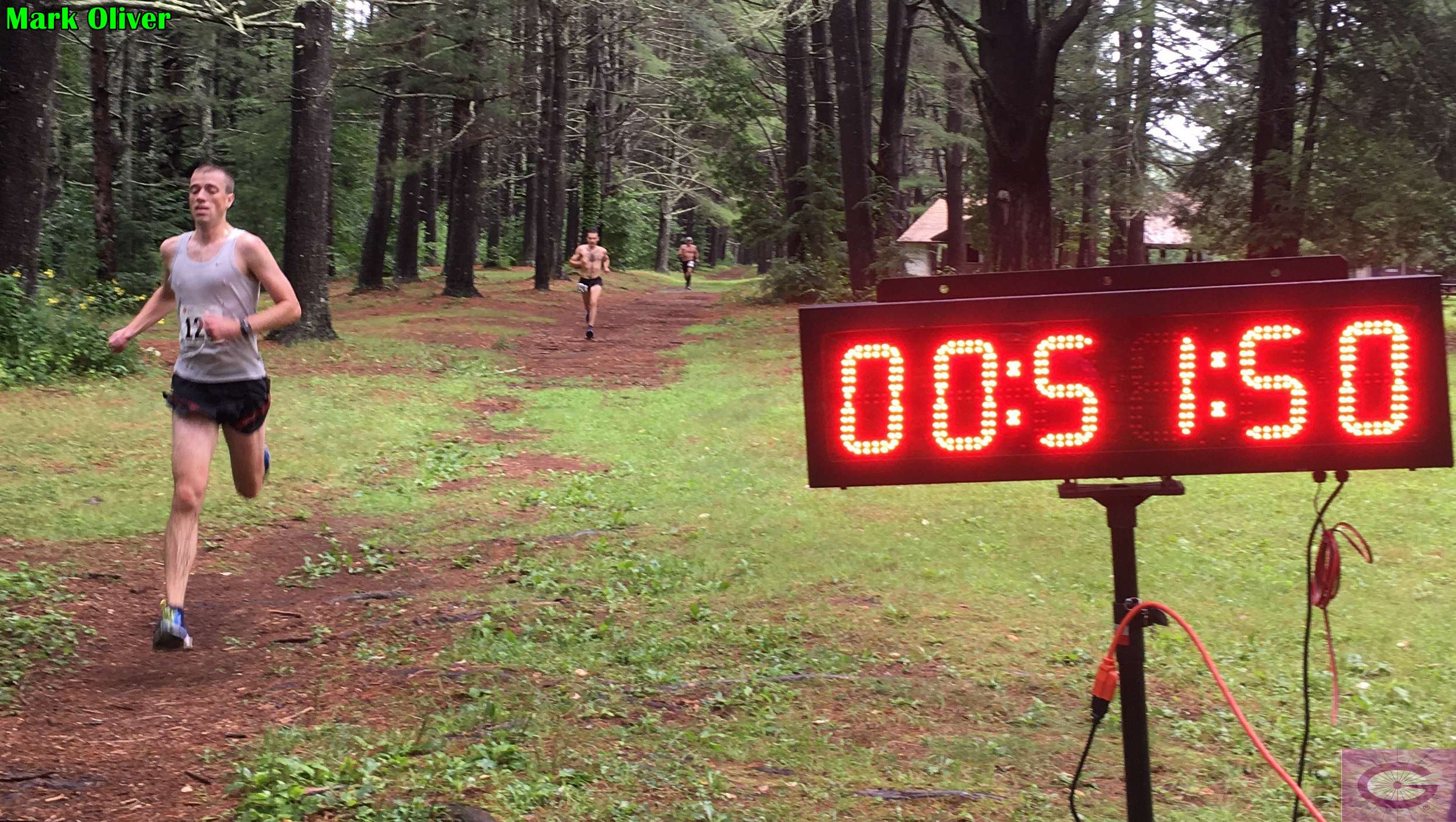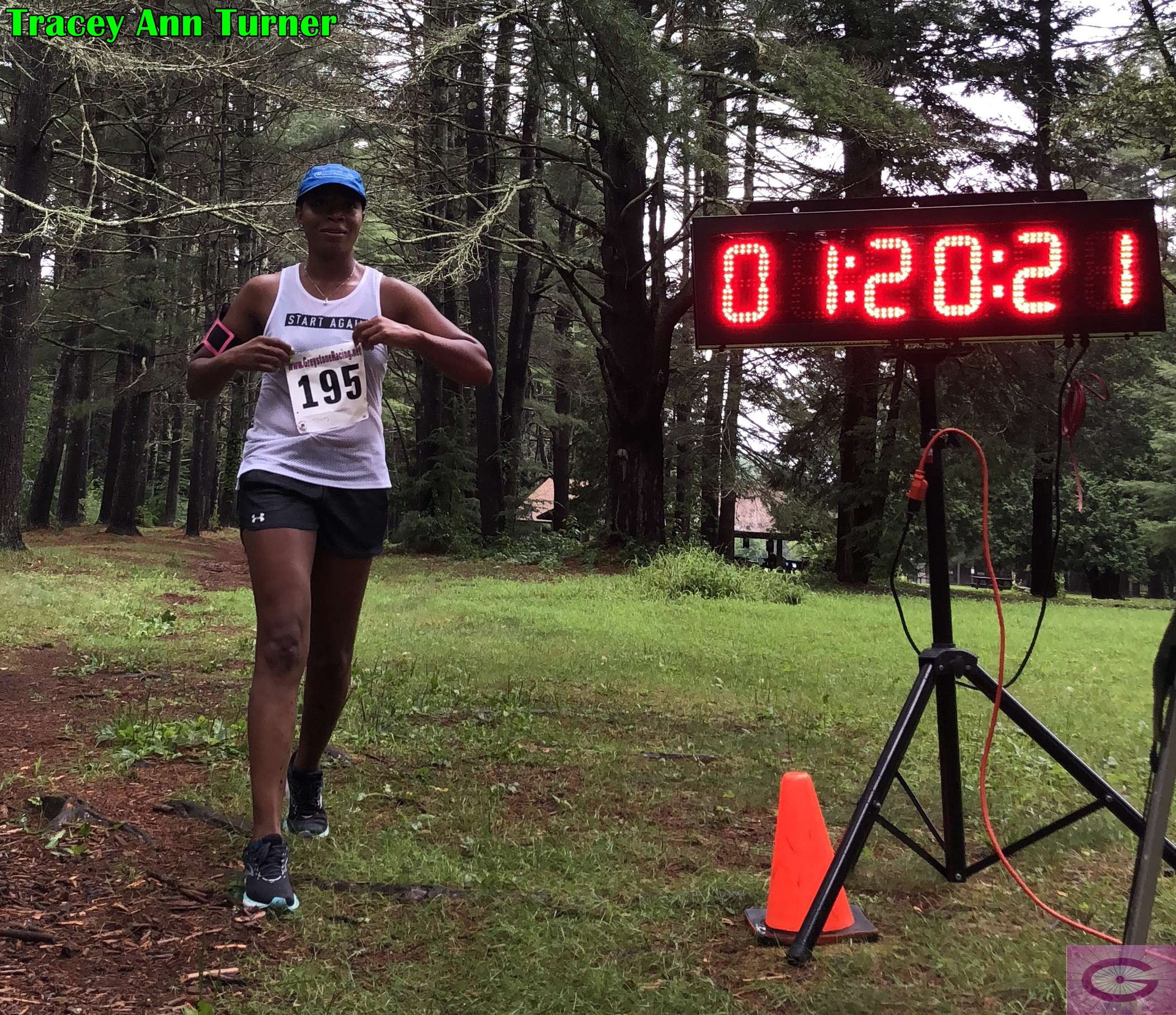 Thank you to the runners, volunteers, and spectators.
7/13/18
Happy Friday the 13th!
The 8th Annual ESPN 5K Run and 2.5K Walk took place in prime summer conditions. A fantastic turnout.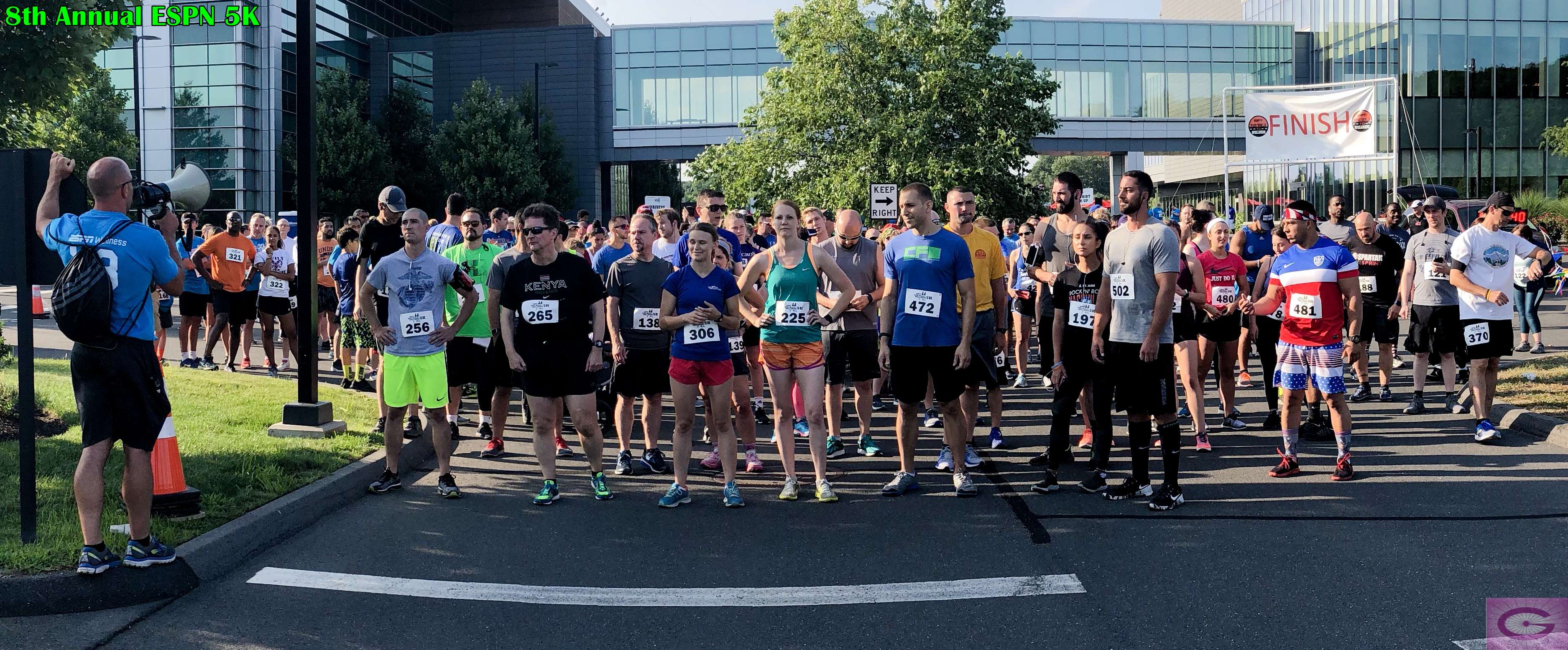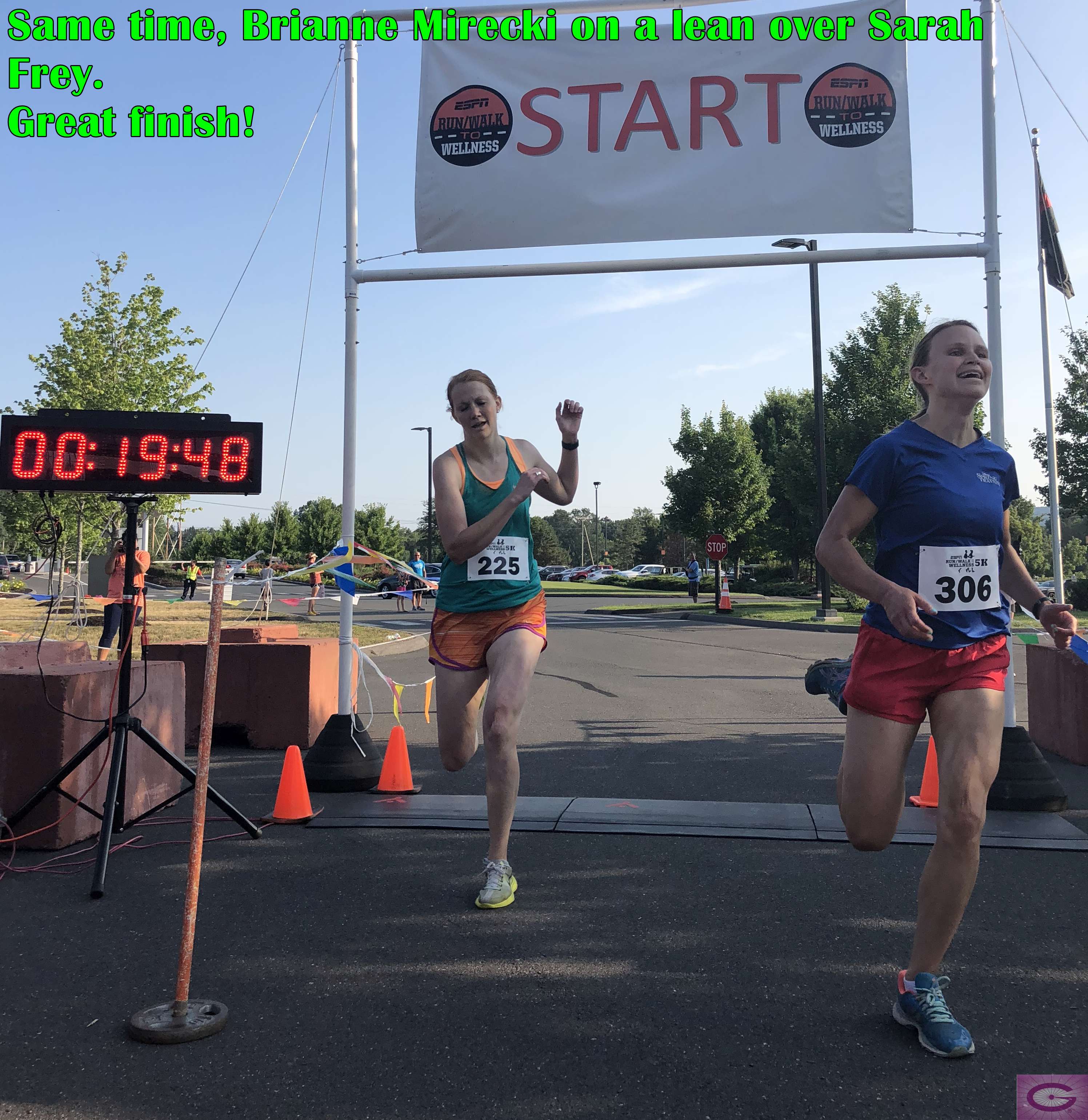 6/16/18
In a near record field, Colebrook runner, Jamie Cowie finished a few seconds slower than last year to succesfully defend his title. Congratulations Jamie! The running wonder from Windsor, Maria Rycerz took the women's top honors.

6/10/18
The 11th Annual Strides to Cure Diabetes 5-Mile Road Race (CT09003JHP) is presented by the Brookfield Lions Club. The Lions Club of Brookield plays host to several road races and they do a fun, fantastic, and proffesional road race event. Mark Lyons has been the race director since its inception. Thank you Mark. Thank you Lions Club. Thank you Brookfeld.

6/9/18
What a great day for a run! Runners are lined up outside the Thirsty Goat in Waterbury for The 4th Annual Great Dash & Bash 5k.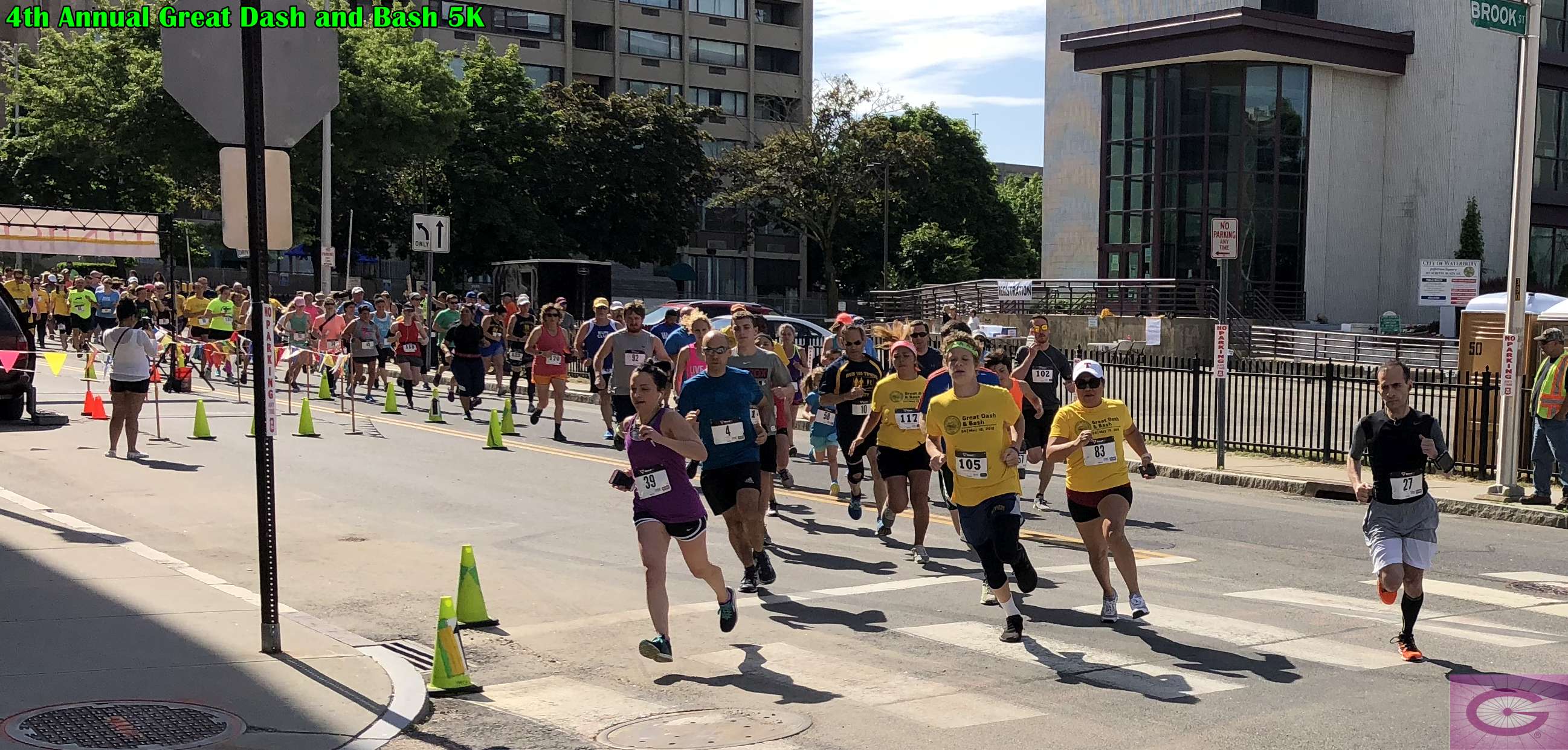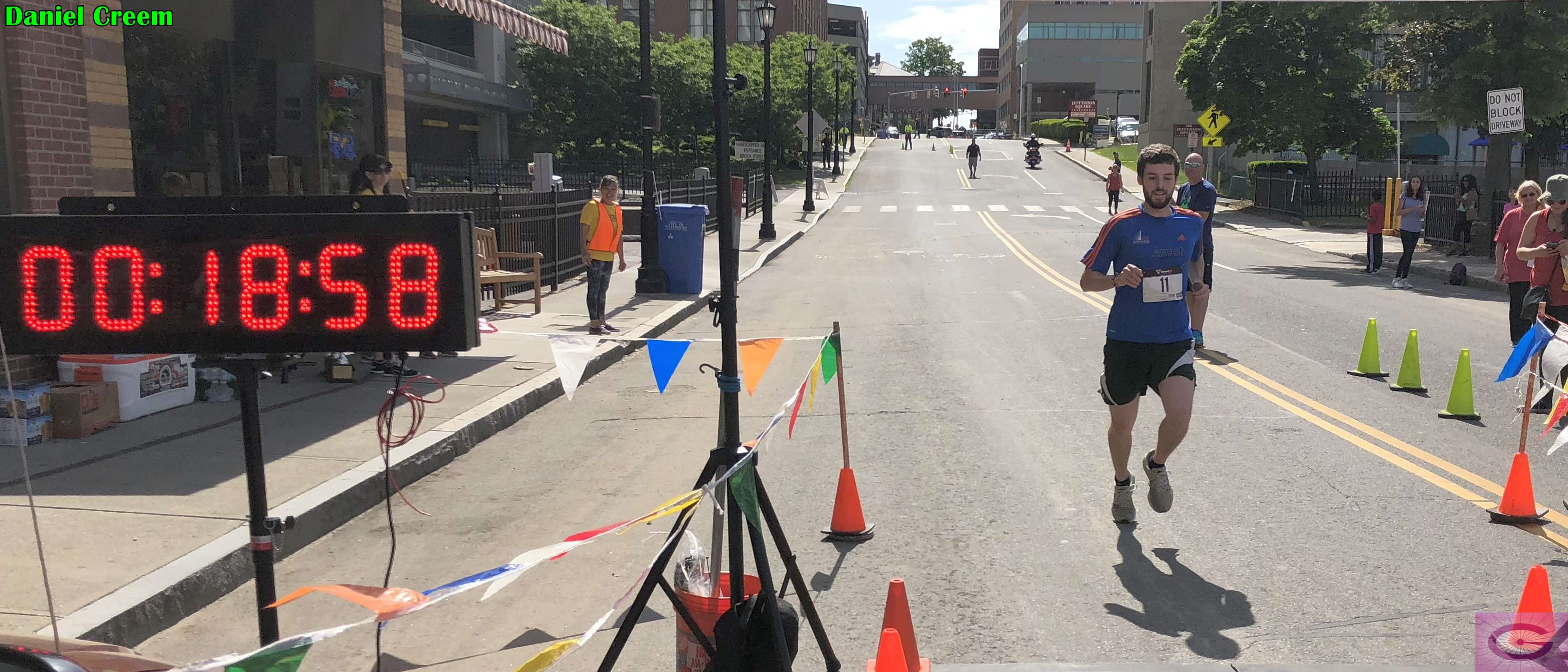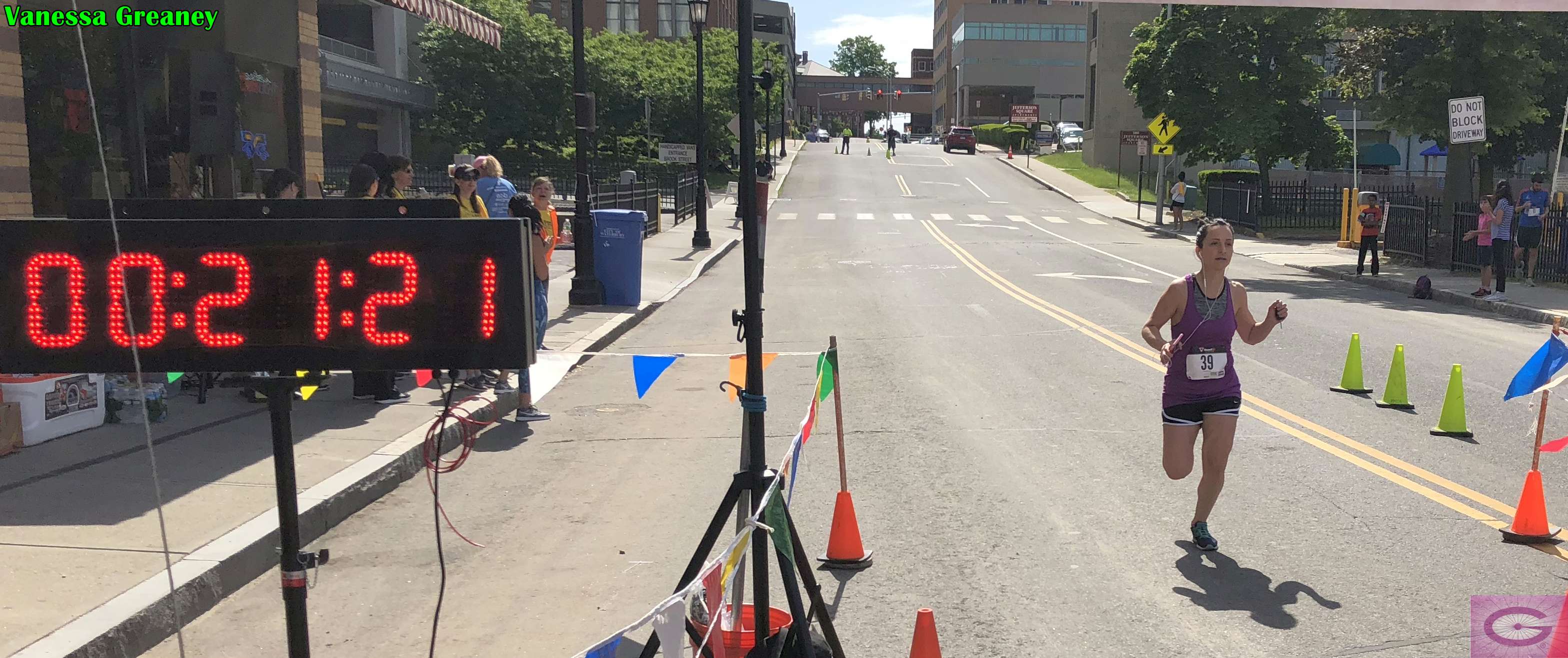 6/3/18
A record turnout for the Rubber Duck 5K in Naugatuck!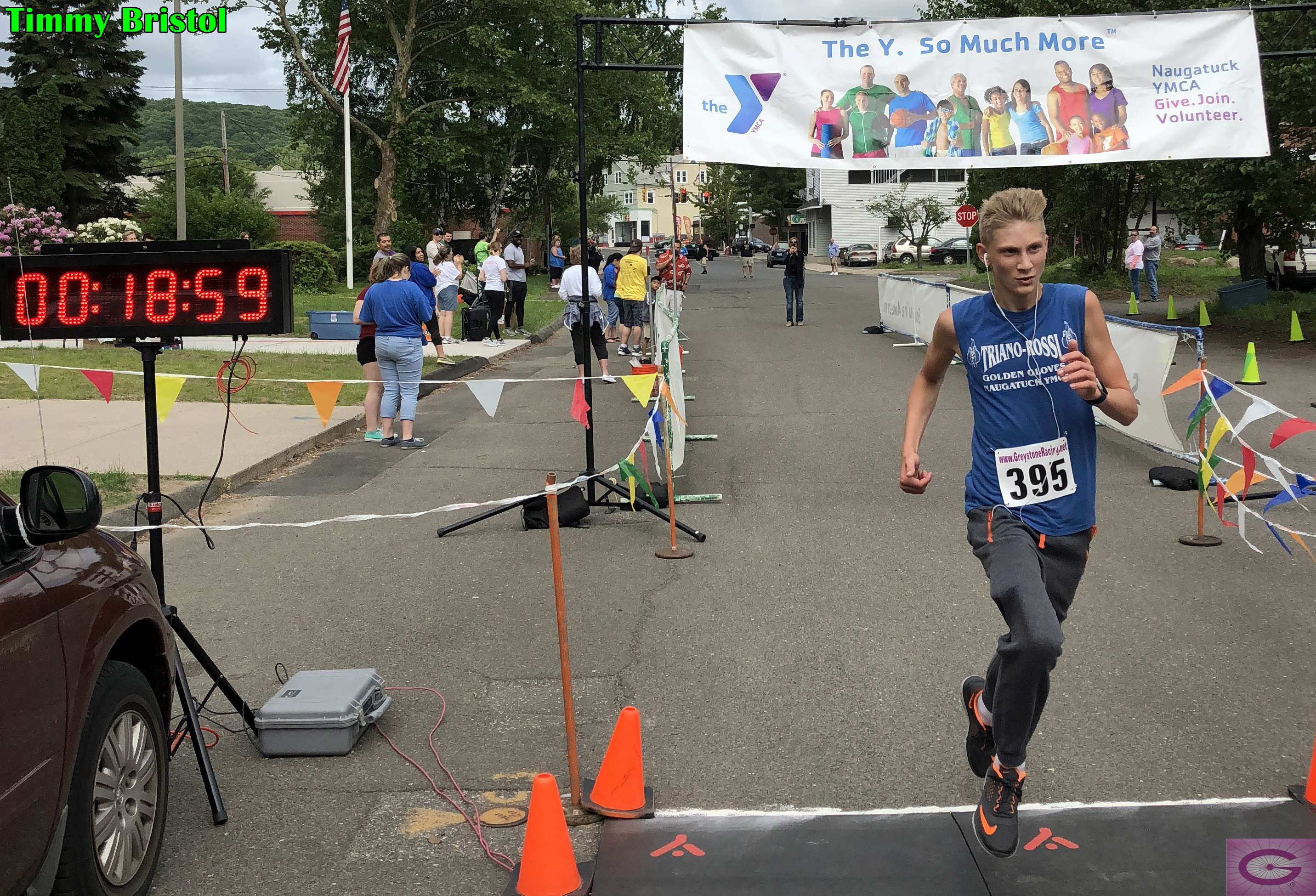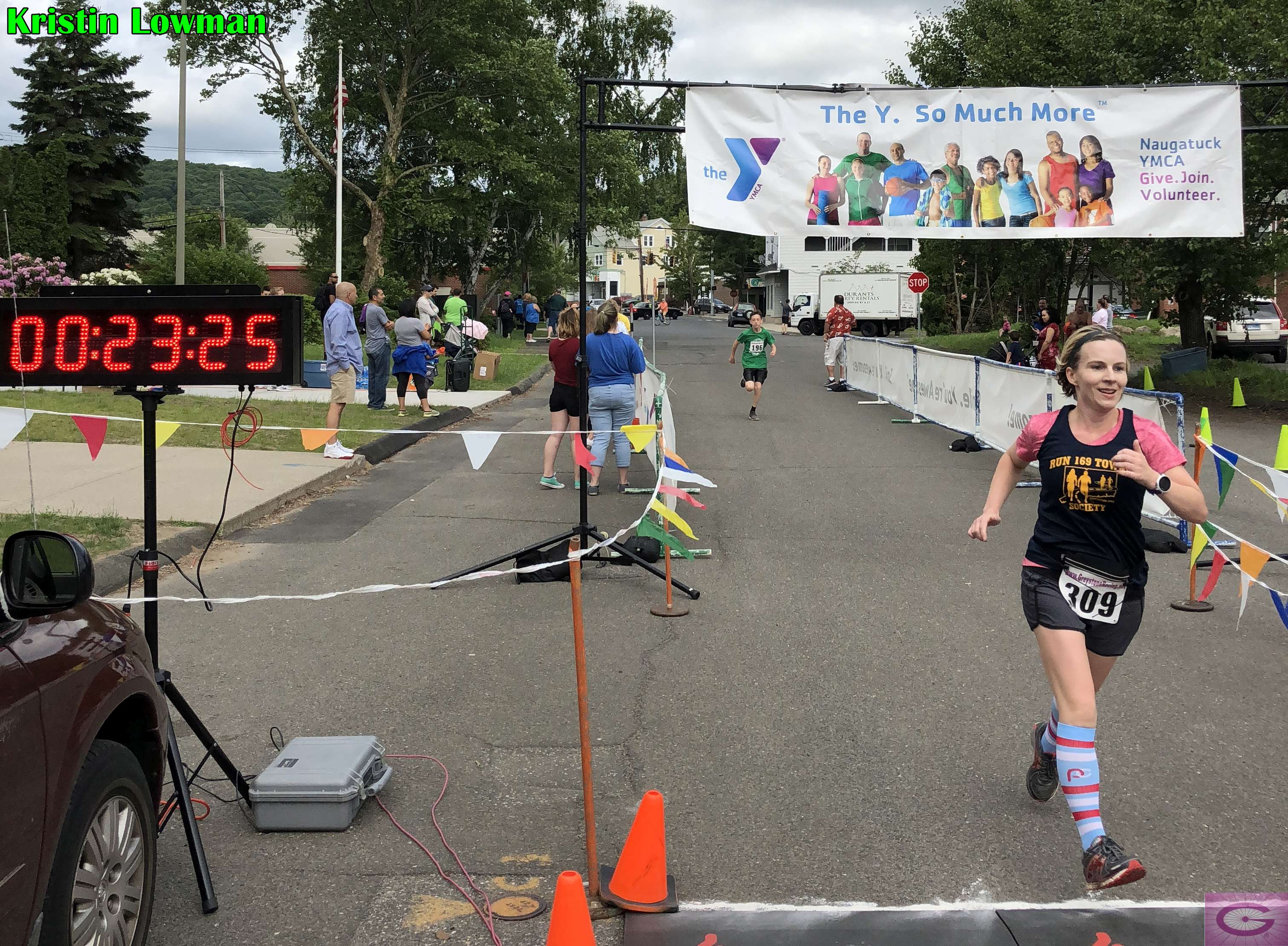 6/2/18
Happy Trails Day!
Fairly humid at 1:00 PM. The 5th Annual Heels and Wheels 5K and 10K (new this year), had a great turnout.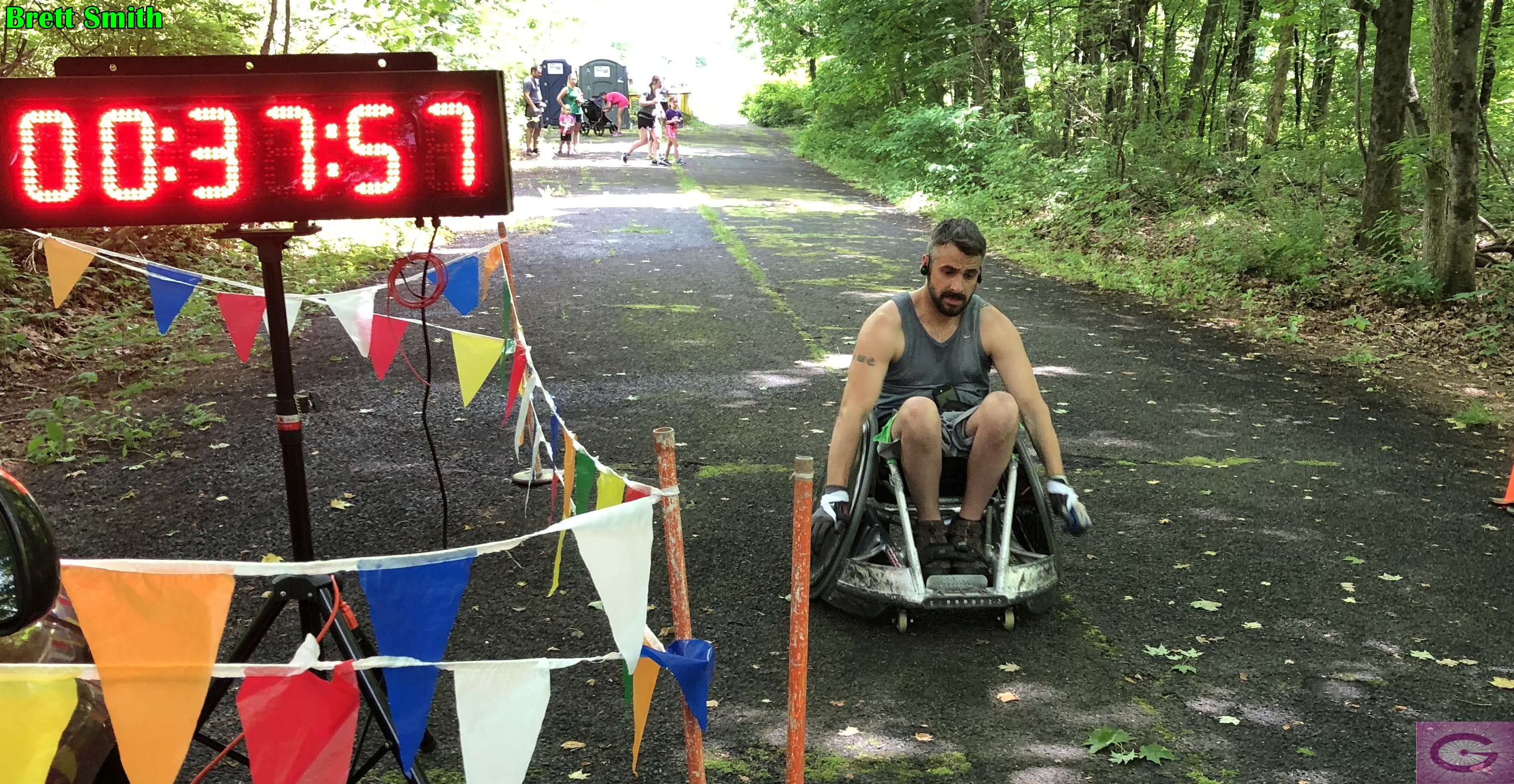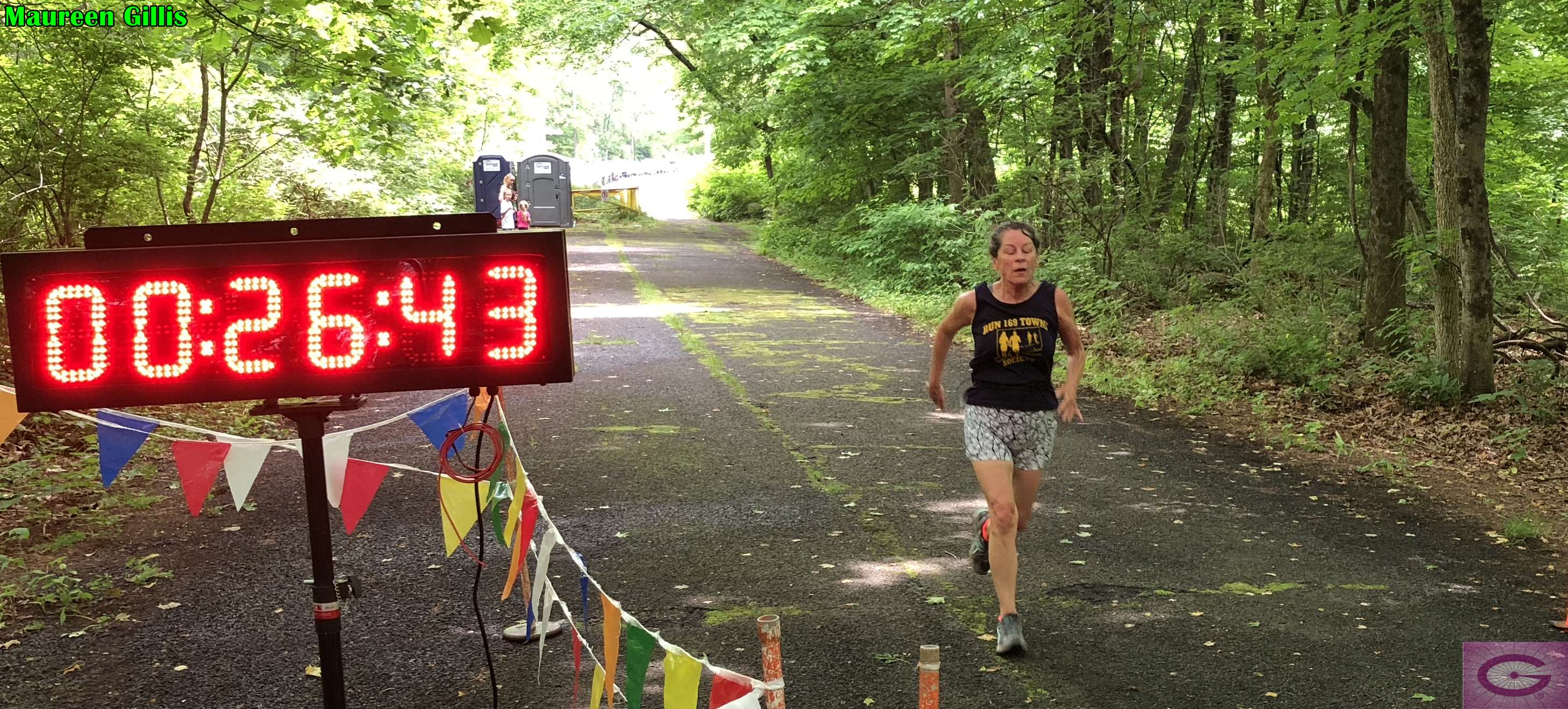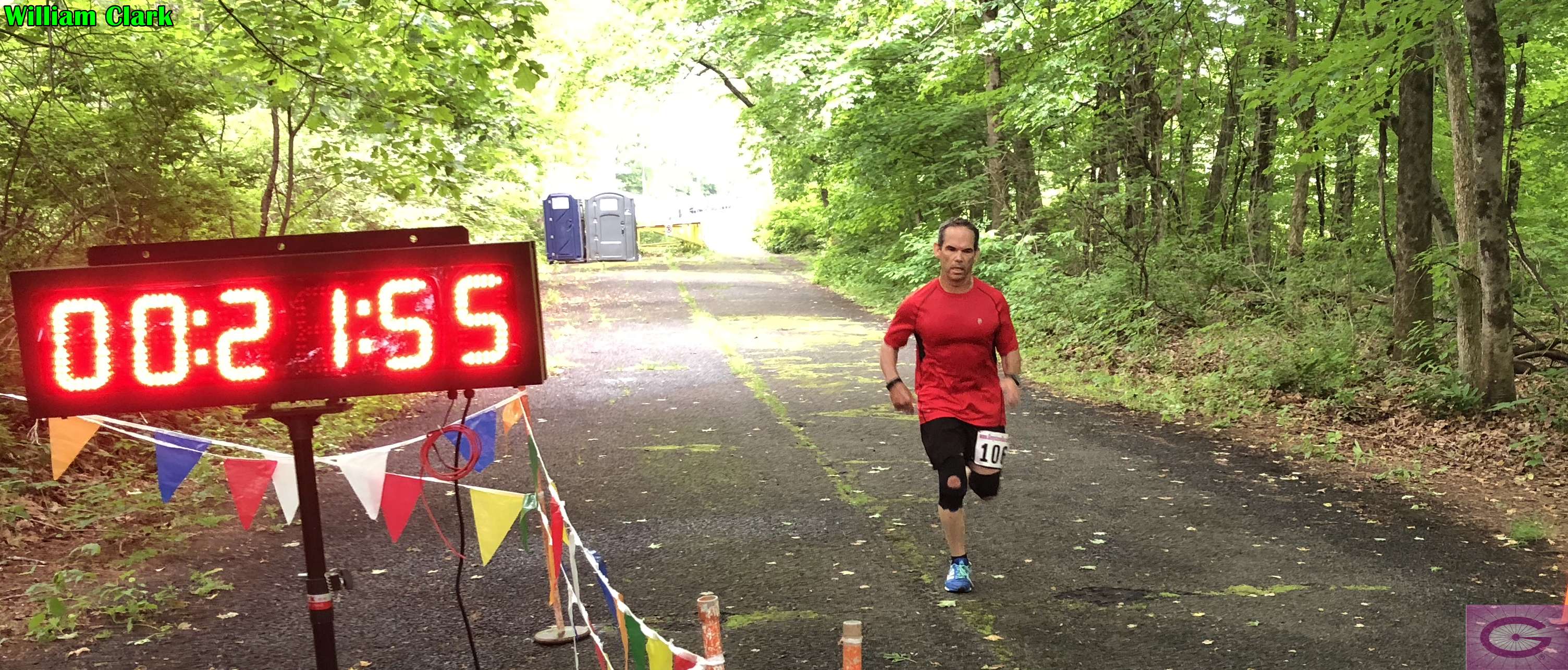 All in the Family!