Breaking News!!
1/21/16
Great races on deck for February. Check out the race application page.
Contact: Paul Schaffer Release date: January 14, 2016
Cell phone: 203-241-4655
Email: paul@danburywesterners.com

DANBURY WESTERNERS ANNOUNCE 4th ANNUAL BIG CHILI 5K
DANBURY, CT (January 14): The Danbury Westerners are pleased to announce that the 4th Annual Danbury Westerners Big Chili 5K is set for Sunday, February 21 at 10:00AM at the Danbury Sports Dome.
The race is part of the Chili Winter Warm Up which is a family festival and chili cook-off also held at the Danbury Sports Dome on Sunday, April 3 at 1:00PM. The course is fast and flat, leaving from the Danbury Sports Dome, rolling into Bethel and back to the Dome.
Runners will be treated with refreshments in the Dome following the race including a hot bowl of chili. Age group awards will be presented in seven different categories and t-shirts will be awarded to the first 150 registrants.
There will also be two free Kids Runs inside the Dome starting at 9:15AM. Children ages 5-8 will run one lap, and children ages 9-12 will complete two laps. There is no entry fee, and all registered children will receive a free sports pack (while supplies last).
Paul Schaffer, President of the Danbury Westerners and a participant in each of the prior three Big Chili 5k road races said, "This is a great event where families can enjoy a nice run on a relatively flat course, and then warm up inside the Sports Dome with some chili. We are grateful for all of the runners who participate each year, and for our sponsors who help us with this event."
Major sponsors include Fairfield County Bank, Berkshire Broadcasting, Durkins Awnings and New Balance of Bethel. Presenting sponsors are the Danbury Westerners and the Danbury Sports Dome.
For additional information and registration for the Big Chili 5k, please visit www.hitekrecing.com or call (203) 788-3408.
For registration for the Kids Run, please email mike@danburrywesterners.com with the name, age and sex of the child, and contact information for the parent.
About Danbury Westerners
The Danbury Westerners compete in the New England Collegiate Baseball League, the premiere summer league for college athletes to play competitive, wooden-bat baseball in the New England region. The mission of the Danbury Westerners is to provide summer professional development baseball entertainment in the Greater Danbury CT and NY area to enhance social and economic development and add value to the quality of summer living and vacationing throughout the region. Funded in part by Major League Baseball, in 2016 the Danbury Westerners will be celebrating 22 years in the New England Collegiate Baseball League. To date 20 former Danbury Westerners have made the Major Leagues, and over 50 former Westerners were playing professional baseball in 2015.
1/10/16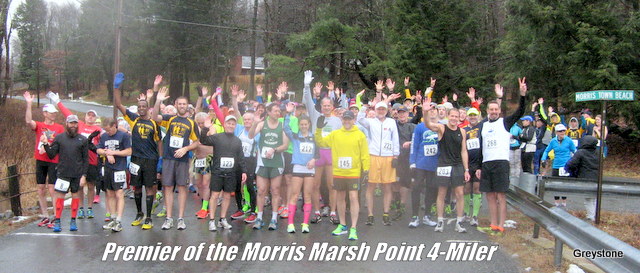 The rain did not dampen the spirits. So far, everyone has kept their New Year's resolution. Bruce Christenson and Alyssa Cole have set the standards. This is a brand new course that is a certified 4-Miler. It has some hills and some very pretty country roads. Thank you to the Town of Morris, the White memorial Foundation, and many thanks to the 169'ers. Results for the Premier of the Morris Marsh Point 4-Miler are posted!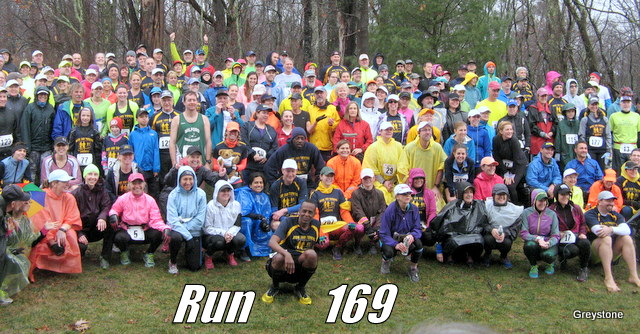 1/9/16
The race in Morris is on!
1/6/16
The weather predictions indicate possible rain with temperatures in the mid 40's. The race will start at 11:00 AM. There is race-day registration. Registration and Number pick up opens at 9:00 AM. Get there early to park and get your number. Parking, registration, restrooms, the finish area, and the awards will take place under the pavilion on Morris Town Beach Rd. Please be respectful of the residents, follow the directions from our volunteers, and get there early. Results will be posted quickly and awards are scheduled to start at 11:50 AM ........Look up your number on the Preregistration List! (updated 1/9 at 19:46)
1/5/16
Just five more days until the Morris Marsh Point 4-Miler. The extended weather forecast looks favorable and the course conditions are good. The course has been measured and certified by the United States Track and Field for an exact distance of 4-Miles. Take a look at the course map! I will post the preregistration list tomorrow. The turnout is fantastic and we will be timing with the chip. Stay tuned...
1/1/16
Happy New Year!

The Brookfield Lions Club puts on a great series of races throughout the year. This is the 29th year for the Annual New Year's Day Brookfield Lions Run for Sight 4-Miler. Once again, the defending champion was successfully in the men's race and the women's race. William Sanders took 30 seconds off from his time in 2015. He's getting closer to a very formidable course record set by Houssine Siba in 1994. There aren't that many long term course records out there. Sara Belles was 3 seconds slower this year. Belles did finish 7th overall in 2016 and 12th overall in 2015. That's a great way to start the New Year! Results are posted.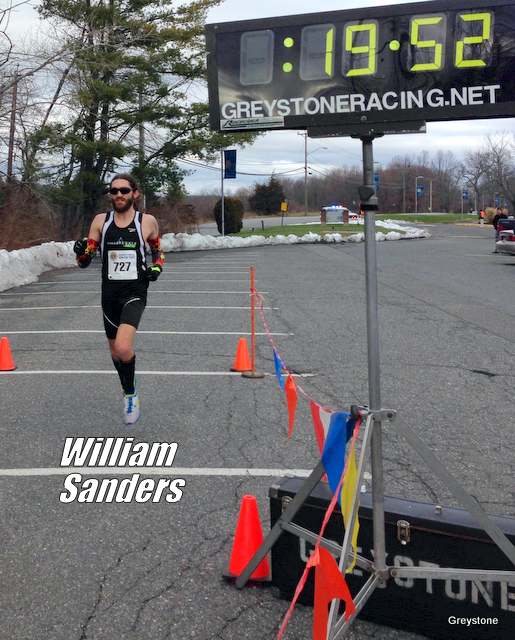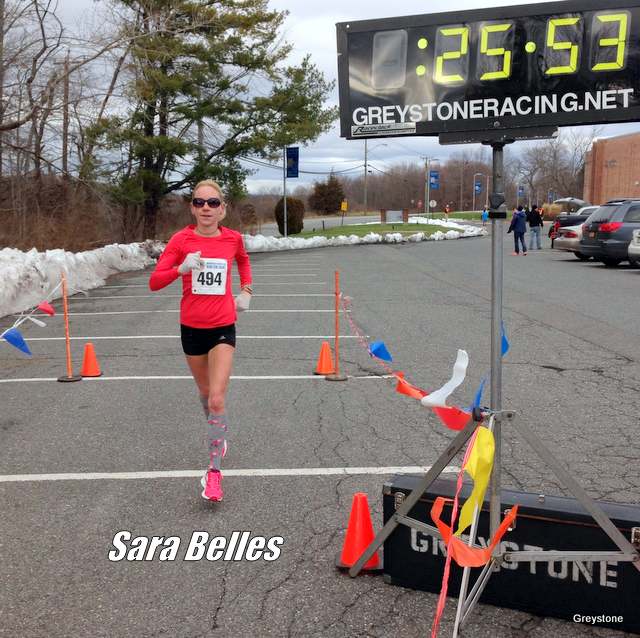 A great way to run in the new year! The 8th Annual Gordon Bates "First Race" in Westfield, Massachusetts. Michael Shea and Lisa Anderson took the 5K. Mark Robasco was all alone in just over 6 minutes a mile. Vanessa Diana was nearly 4 minutes ahead as she cruised to the New Year. Results are posted!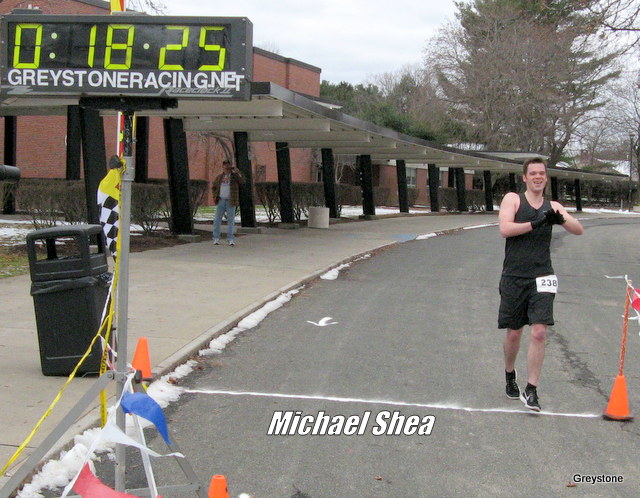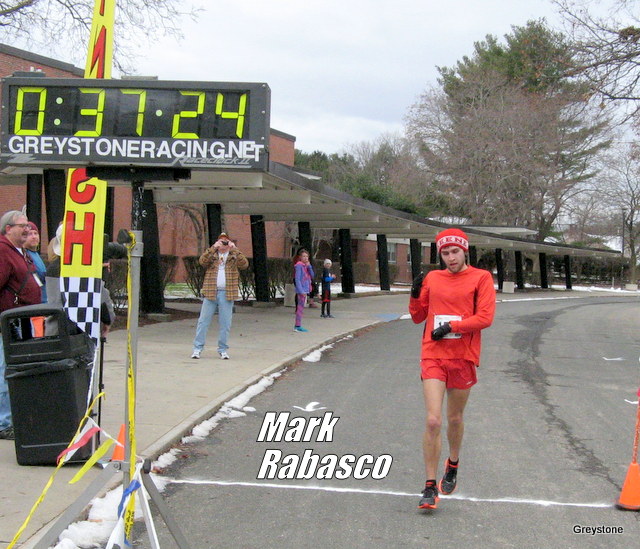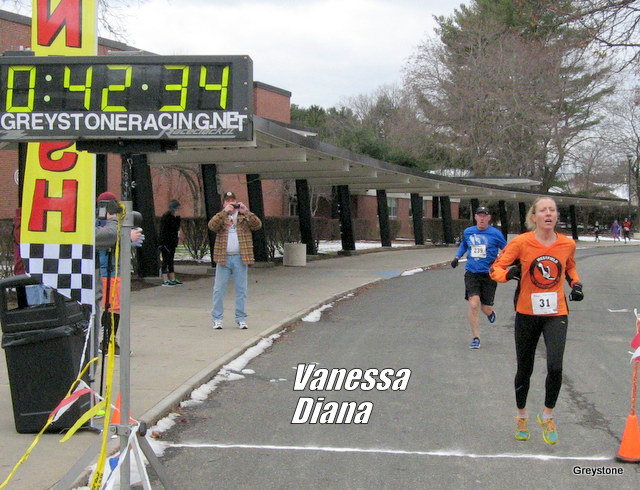 12/19/15
There was a record turnout at the 17th Annual Norfolk Pub 10-Mile Road Race.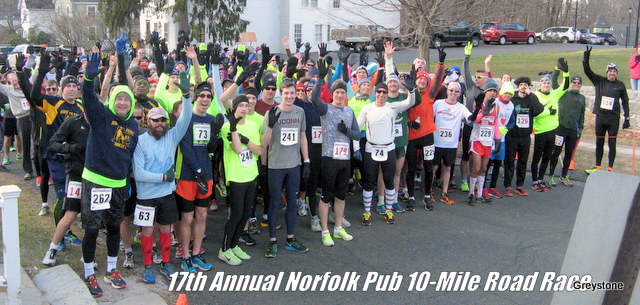 Despite temperatures returning to normal, the crowds came out to Norfolk to test their fitness against 10-Miles of hills, country roads, and bone chilling wind. This was a fairly mild Norfolk, as weather goes, and the course was in great condition. The Brookfield Track Team got a great distance workout and the women race was fantastic. There were several times for the women that earned the "Top Fifteen" list of all-time.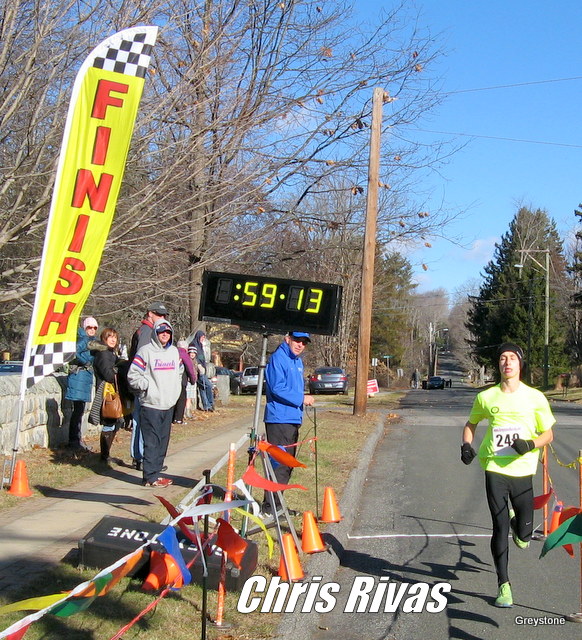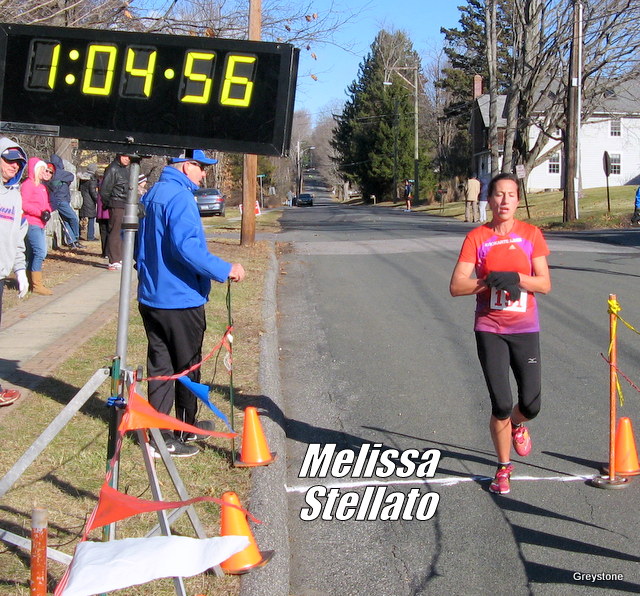 Melissa Stellato defended her title and took over two minutes off from her time in 2014. Her time today puts her in the top 5 women's time for the Norfolk Pub 10-Mile. Claudia Camargo has the first 4...Annemarie Tuxbury moved into the 11th spot for all-time while Sara Belles is 16th of all-time. Outstanding! There were some great times in the older divisions with 60-year old, Steve Scott running 1:12:39 and 53-Year old, Jim Zoldy running 1:04:38. Jim has had several excellent races at Norfolk over the years. It was great to see everyone. Thank you to all the runners, the spectators, volunteers, and the Town of Norfolk. Results are posted!
Great day for the Norfolk Pub 10-Miler. Small dusting of snow. Some wind. Temperature around 28 degrees. Some sun. Race-day registration opens at 9:00 AM. Race starts at 11:00 AM. Get your run on!
12/18/15
It looks like the weather conditions will be good for Norfolk. Mostly sunny, dry (possible snow flurry), calm (occasional breeze), and temperatures from the teens to the mid 30's.
The pre registrations for Norfolk are in; take a look at the list! Parking/Registration/Start/Finish is at the Town Hall.
12/17/15
Just a few hours left to pre register on-line for the Norfolk Pub 10-Mile Road Race. On-line registration closes at 1:00 AM on Friday. I will be posting the pre registration list on this web site Friday. There will be race-day registration from 9:00 AM to 10:45 AM. The early start for runners planning on running 1:50:00 or slower is at 10:30 AM.
12/12/15
It is interesting to see the formidable Dave Dunham's name move to the bottom of the list and wonder if Jeff Niedeck's Master record will hold for another year. There is Open, Master and Grand Master prize money. Will a woman ever break 60 minutes at Norfolk? Claudia Camargo (Nero) dominated from 2004 to 2007 and Shannon McHale's masters record seems pretty safe...
Top Fifteen Times for Men in Norfolk Pub 10-Miler (CT00003DR). Greystone offers $100.00 for a new course record and $50.00 for a new Master's record!
1. Chris Zablocki 23, 53:09, 5:19's, 1st in 2011
2. Chris Zablocki 24, 53:35, 5:22's, 1st in 2012
3. William Sanders 24, 53:54, 5:24's, 2nd in 2011
4. Chad Johnson 26, 54:40, 5:28's, 1st in 2001
5. Peter Oviatt 32, 55:38, 5:34's, 2nd in 2001
6. Marc Robaczynski 37, 55:58, 5:36's, 3rd in 2011
7. Kevin Curley 26, 56:21, 5:39's, 1st in 2006
8. Eric Blake 24, 56:37, 5:40's, 1st in 2003
9. Eric Blake 26, 56:54, 5:42's, 1st in 2005
10. Brian Nelson 31, 57:16, 5:44's, 4th in 2011
11. Jon French 24, 57:24, 5:45's, 1st in 2007
12. Zack Schwartz 21, 57:42, 5:47's, 1st in 2009
13. Brian Nelson 30, 57:44, 5:47's, 1st in 2010
14. Joseph LeMay 38, 57:47, 5:47's, 1st in 2004
15. Dave Dunham 36, 57:57, 5:48's, 1st in 2000
16. Jeff Niedeck 45, 58:24, 5:51's, 2nd in 2009 (Master's Record)
Top Fifteen Times for Women in Norfolk Pub 10-Miler (CT00003DR). Greystone offers $100.00 for a new course record and $50.00 for a new Master's record!
1. Claudia Camargo 35, 1:00:33, 6:04's, 3rd in 2006
2. Claudia Camargo 36, 1:01:58, 6:12's, 4th in 2007
3. Claudia Camargo 33, 1:03:51, 6:24's, 5th in 2004
4. Claudia Camargo 34, 1:04:46, 6:29's, 4th in 2005
5. Shannon Mchale 40, 1:05:07, 6:31's, 18th in 2011 (Master's Record)
6. Melissa Stellato 32, 1:05:32, 6:34's, 7th in 2014
7. Bess Ritter 24, 1:06:32, 6:40's in 2011
8. Melissa Stellato 31, 1:06:59, 6:42's, 10th in 2013
9. Donna Kay-Ness 50, 1:07:31, 6:46's in 2013
10. Brittany Heninger 23, 1:08:23, 6:51's in 2011
11. Liz Fagan 28, 1:09:06, 6:55's in 2003
12. Kate Lapinski 41, 1:09:17, 6:56's in 2006
13. Brittany Heninger 21, 1:09:44, 6:59's in 2009
14. Brittany Heninger 22, 1:10:00, 7:00's in 2010
15. Brittany Heninger 26, 1:10:02, 7:01's, 17th in 2014
Saturday, December 19, is the big day! On-Line Registration is still open and you can register at the race!
Parking , registration, the start, and finish are located at the Town Hall on Maple Ave. Race-Day registration closes at 10:45 AM. Gun time is 11:00 AM. Current USATF mebership is required for cash awards. Awards (must be present to win) will take place at The Wood creek Bar and Grill at approximately 1:15 PM. See you there!
12/11/15
Yes, there will be a wave start at the Norfolk Pub 10-Mile. For those runners who plan on running 1:50:00 or more, you may start in the first wave at 10:30, Runners in the first wave are not elligible for overall awards and awards in age-groups below 60 years old. The competitive wave starts at 11:00 AM. All runners in the first wave must check in with the starter to verify their start time. See Course Map. Stay tuned.
12/8/15
Are you ready for the "Toughest Ten Miler in New England"? The Norfolk Pub 10-Mile Road Race is Saturday, December 19th at 11:00 AM. Check out the race page.
12/5/15

A great crowd turned out for the 33rd Annual Jingle Bell Run 5K in Litchfield, CT. Brendan LeClair went thru 1-Mile in 5:05 and thru the 2-Mile in 10:43. It was 18-year old LeClair for the win but 14-year-old, Josh Mangini was hot on his sleigh. For the women, it was Brittany Heninger with a new course record. Heninger went thru the 1-Mile in 5:48 and the 2-Mile in 11:44. Conor Courtney was the first Litchfield male and Sherri Odell, the first Litchfield female. They both took home a christmas tree. The overall winners took home a gallon of local maple syrup. Many thanks to the runners, the sponsors, the organizers, and the retired spectators from the local retirement home that lined the finish stretch with bells and whistels! Results are posted.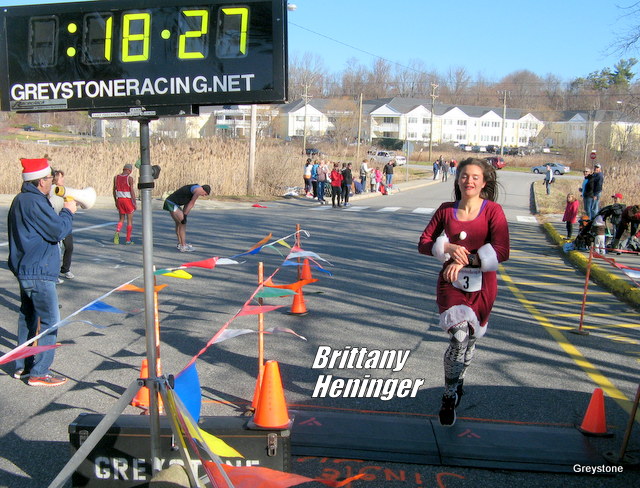 12/2/15
The weather for this Saturday is predicted to be ideal for the 33rd Annual Jingle Bell Run 5K in Litchfield, CT. The race starts at 11:00 AM and is chip timed. There is race-day registration starting at 9:30 AM at the intermediate school on Plum Hill Road. The course is flat and very fast! There are nine different age divisions as well as three additional divisions for costumes... Go Santa!