Breaking News!!
2/26/15
The preregistration list for the 31st Annual Polar Bear 7.6-Mile Race Around Lake Wauramaug is available. View List.
2/25/15
Several races are running this weekend. Sunday is the day. The Polar Bear 7.6 Mile Run starts at 11:00 AM. Registration opens at 9:00 AM. I inspected the course yesterday. The roads are clear, but narrow, due to the snow banks and there are some frost heaves. Parking is limited. Please try to comute with fellow runners.
The 3rd Annual Big Chili 5K kicks off at 10:00 AM on Sunday. I inspected the course yesterday. It's fairly flat and fast as the start and finish are located at the Danbury Sports Dome and the course loops into the edged of Bethel. Plenty of parking and registration opens at 8:30 AM.
Watch out for slick spots and have fun!
2/20/15
The Polar Bear Run, scheduled for this Sunday, February 22, 2015, has been postponed due to predicted bad weather. The new race date is now Sunday, March 1, 2015. Same time, same place, new date.
2/19/15
A large variety of race applications are now available for download and/or on-line registration from the Greystone Race Application Page.
1/1/15

Happy New Year!
Record turnout for the 7th Annual Gordy's First Race 5K and 10K: results are posted.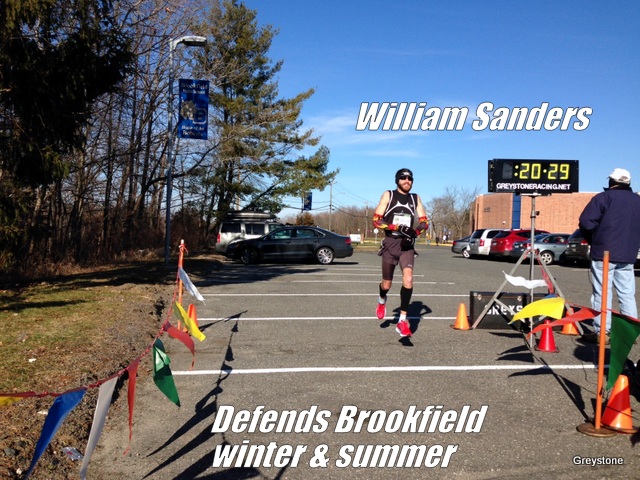 Running off of an USATF/Connecticut 2014 Cross-Country MVP season, Sanders tunes up for Boston, and perhaps a title defense of the Polar Bear in February: the 2015 USATF Connecticut Cup Championship.
Congratulations to Sara Belles for victory in the women's rae and a top 7-overall finish! Results for the 28th Annual New Year's Day Brookfield Lions Run for Sight 4-Miler are posted.
12/20/14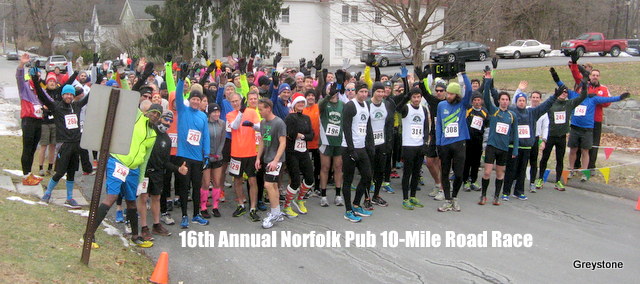 Record turnout on a rather balmy day at the "Ice Box of Connecticut".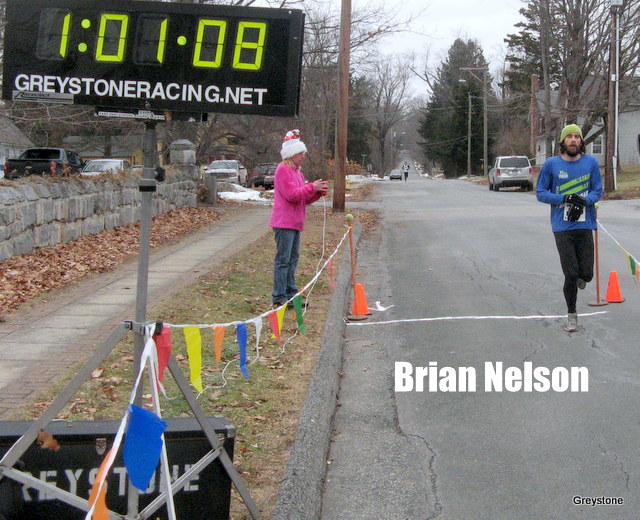 12/18/14
It looks like the weather is going to be ideal for the Norfolk Pub 10-Miler. The turnout should be fantastic. We are in need of volunteers for parking, water tables, and the finish line. If you are interested, please let us know at the registration table inside the town hall, or send an email to info@greystoneracing.net . Thanks!
12/17/14
Less than 72 hours to the start of the Norfolk Pub 10-Miler!
Parking is limited. Please park up at the Town Hall. Race-day registration opens at 9:00 AM.
Those competitors that predict a finish time of 1:50 or more may participate in an early start at 10:30 AM.
12/16/14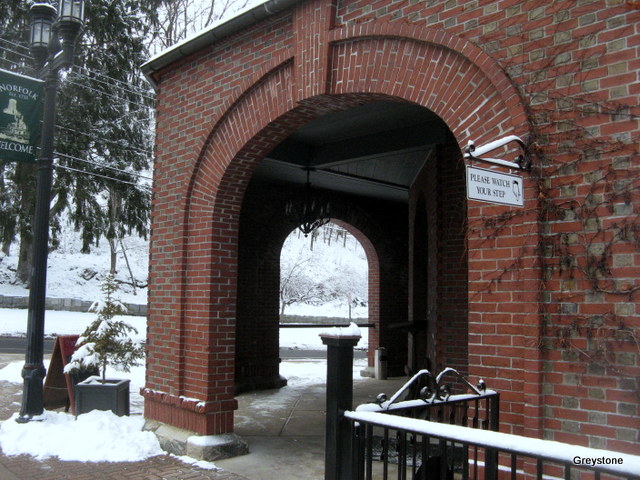 The preregistration list for the Norfolk Pub 10-Miler is posted!.
12/15/15
With the Norfolk Pub 10-Miler just a few days away, I've posted an expose about the course. Check out the course preview.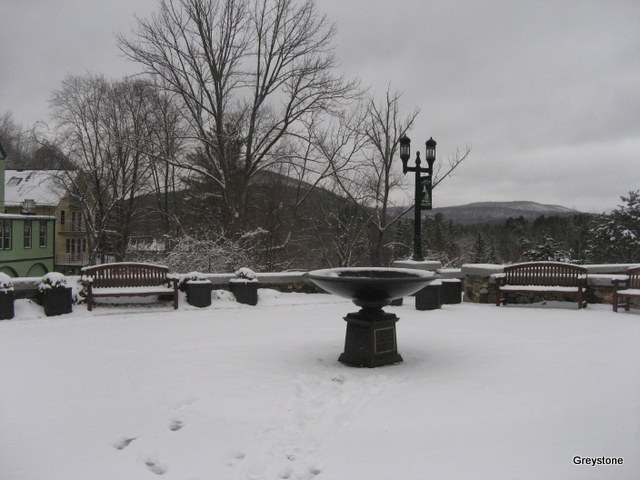 12/11/14
It is interesting to see the formidable Dave Dunham's name move to the bottom of the list and wonder if Jeff Niedeck's Master record will hold for another year. There is Open, Master and Grand Master prize money. Will a woman ever break 60 minutes at Norfolk? Claudia Camargo (Nero) dominated from 2004 to 2007 and Shannon McHale's masters record seems pretty safe...
Top Fifteen Times for Men in Norfolk Pub 10-Miler (CT00003DR). Greystone offers $100.00 for a new course record and $50.00 for a new Master's record!
1. Chris Zablocki 23, 53:09, 5:19's, 1st in 2011
2. Chris Zablocki 24, 53:35, 5:22's, 1st in 2012
3. William Sanders 24, 53:54, 5:24's, 2nd in 2011
4. Chad Johnson 26, 54:40, 5:28's, 1st in 2001
5. Peter Oviatt 32, 55:38, 5:34's, 2nd in 2001
6. Marc Robaczynski 37, 55:58, 5:36's, 3rd in 2011
7. Kevin Curley 26, 56:21, 5:39's, 1st in 2006
8. Eric Blake 24, 56:37, 5:40's, 1st in 2003
9. Eric Blake 26, 56:54, 5:42's, 1st in 2005
10. Brian Nelson 31, 57:16, 5:44's, 4th in 2011
11. Jon French 24, 57:24, 5:45's, 1st in 2007
12. Zack Schwartz 21, 57:42, 5:47's, 1st in 2009
13. Brian Nelson 30, 57:44, 5:47's, 1st in 2010
14. Joseph LeMay 38, 57:47, 5:47's, 1st in 2004
15. Dave Dunham 36, 57:57, 5:48's, 1st in 2000
16. Jeff Niedeck 45, 58:24, 5:51's, 2nd in 2009 (Master's Record)
Top Fifteen Times for Women in Norfolk Pub 10-Miler (CT00003DR). Greystone offers $100.00 for a new course record and $50.00 for a new Master's record!
1. Claudia Camargo 35, 1:00:33, 6:04's, 3rd in 2006
2. Claudia Camargo 36, 1:01:58, 6:12's, 4th in 2007
3. Claudia Camargo 33, 1:03:51, 6:24's, 5th in 2004
4. Claudia Camargo 34, 1:04:46, 6:29's, 4th in 2005
5. Shannon Mchale 40, 1:05:07, 6:31's, 18th in 2011 (Master's Record)
6. Bess Ritter 24, 1:06:32, 6:40's in 2011
7. Melissa Stellato 31, 1:06:59, 6:42's, 10th in 2013
8. Donna Kay-Ness 50, 1:07:31, 6:46's in 2013
9. Brittany Heninger 23, 1:08:23, 6:51's in 2011
10. Liz Fagan 28, 1:09:06, 6:55's in 2003
11. Kate Lapinski 41, 1:09:17, 6:56's in 2006
12. Brittany Heninger 21, 1:09:44, 6:59's in 2009
13. Brittany Heninger 22, 1:10:00, 7:00's in 2010
14. Beth Krasemann 38, 1:10:08, 7:01's in 2011
15. Beth Krasemann 37, 1:10:22, 7:03's in 2010
Saturday, December 20, is the big day! You can register at the race!
Parking , registration, the start, and finish are located at the Town Hall on Maple Ave. Race-Day registration closes at 10:45 AM. Gun time is 11:00 AM. Current USATF mebership is required for cash awards. Awards (must be present to win) will take place at The Wood creek Bar and Grill at approximately 1:00 PM. See you there!
12/10/14
Tens days to the Norfolk Pub 10-Miler! Four days left to take advantage of the preregistration price discount...
This year the 2014 Norfolk Pub 10-Miler will offer an optional early start for those competitors that predict a finish time of 1 hour 50 minutes or more. The early start will be at 10:30 AM. Awards will take place at the pub, promtly at 1:00 PM.
The race application for the 31st Annual Polar Bear Run is posted. The 2015 Polar Bear has been selected as the USATF Connecticut Cup Championship!
12/6/14

Rain didn't dampen these spirits! After several years, Litchfield Parks and Rec decided to change the course for the Jingle Bell Run. It was a good move. The new course is flat and fast and everyone seemed to like it. The leaders passed the 2-Mile in 10:50 on a wet, chilly, day. The new course has potential for sub 16 minutes and on a warmer, dry day, I would expect an inordinate number of personal records.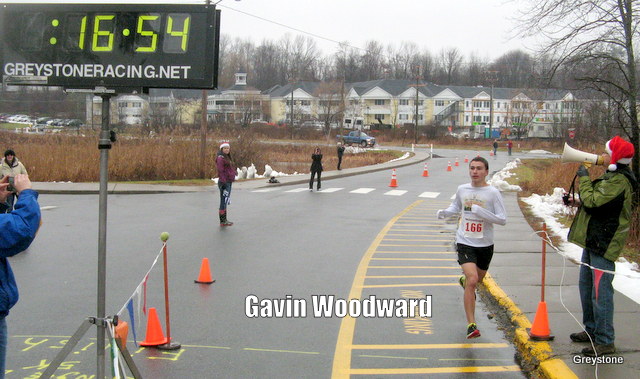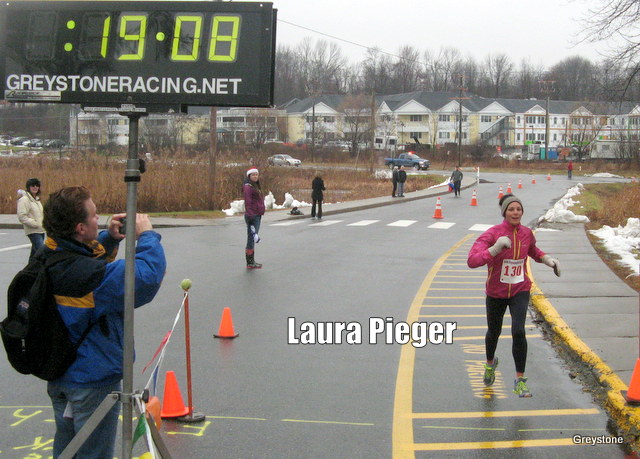 For Pieger, this was another solid victory in a great 2014 season. Many thanks to the organizers, the volunteers, sponsors, runners, and the guy pushing the reindeer head...Don't worry kids; it wasn't a real reindeer head. Results for the 32nd Annual Litchfield Jingle Bell Run 5K are posted. See you at the Norfolk Pub 10-Miler!
12/3/14
This Saturday is the Litchfield Jingle Bell 5K. This year features a new course and a new start time. The race starts at 11:00 AM. Registration opens at 9:00 AM at the intermediate school on Plumb Hill Rd. The start is on Constitution Rd and the new course avoids all the hills. The new course is flat and fast! There is still time to preregister at Litchfield Parks and Rec, and there is race-day registration. Don't forget the holiday costume division...See you there!
11/30/14

A little blood, a little mud: Cross-Country. It was a record crowd for the grand finale of the 2014 USATF/CT Cross-Country Grand Prix. Teams were charged up and the runners raced. This Newington course is a great course for spectator viewing and for the runners racing. It's a change from the woods to the field. The Lupus Foundation of Connecticut did a fantastic job in course marking, course monitoring, and crowd control.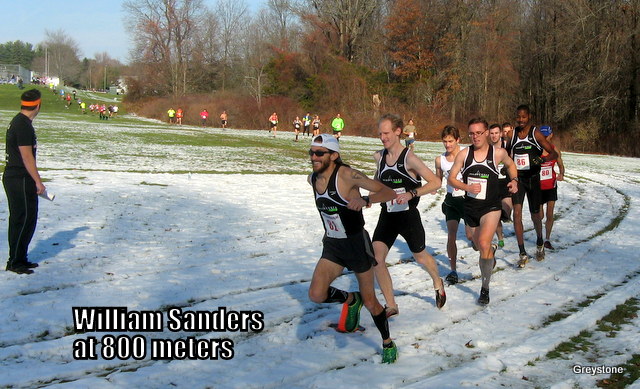 A rare appearance from the roadster, Sanders as he leads his team, Sound Runner, to a resounding victory.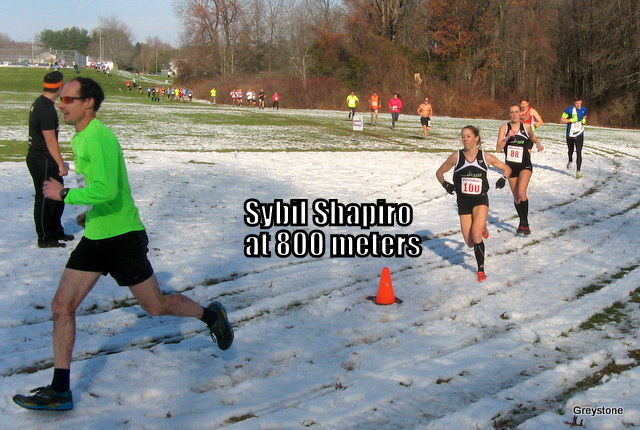 Sound Runner fielded a women's team, and they did not disappoint. Results from the 3rd Annual Huffing Off Stuffing Cross-Country 5K are posted.
11/26/14
Happy Thanksgiving!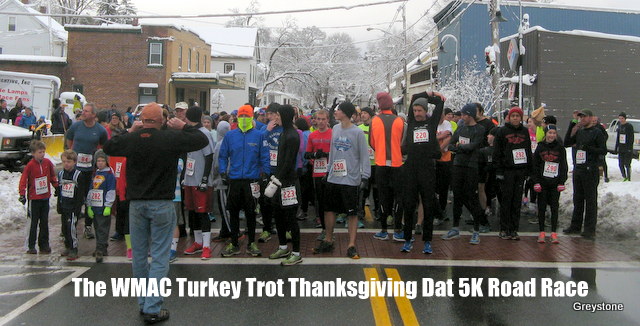 Despite the 12 inches of newly fallen snow, it was a national field of runners at the Western Massachusetts Athletic Club's annual event. Four Berkshire boys take the top spots. The top three finishers passed the first, and the fastest, mile in 4:55.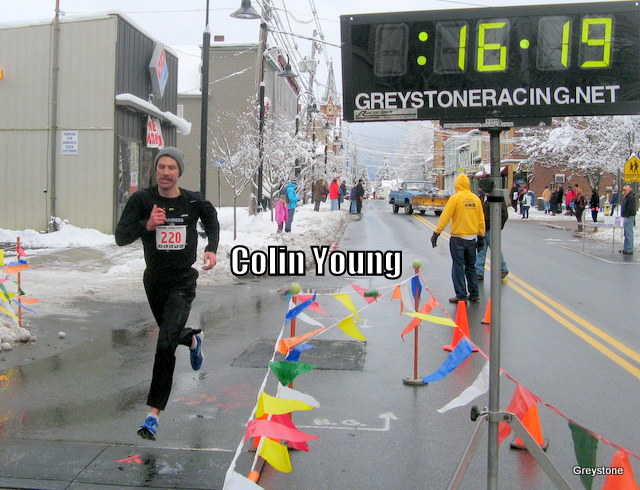 It was a Connecticut girl taking top honors in the women's race.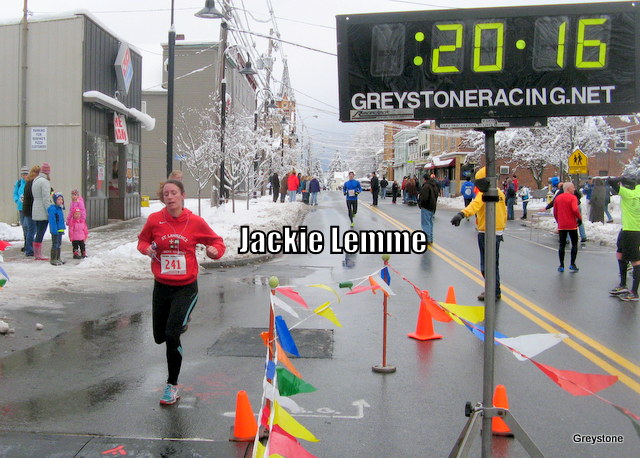 Thank you to all the races we have timed and to all the runners who printed neatly in 2014. Results for the WMAC Turkey Trot Thanksgiving Day 5K Road Race from Adams, Massachusetts are posted!
11/23/14
Christina Wickson runs a great double! Yesterday, Wickson competed in the Hartford Track Club's Cross-Country Challenge 8K at the MDC Reservoir in West Hartford. The race was the 3rd of the USATF-Connecticut's Cross-Country Grand Prix Series. The fourth, and final race is Sunday, November 30th in Newington. Not only was Wickson the first USATF/CT Female, but she was the first overall female and she lead her women's team, Woodbridge-Brookfield, to victory...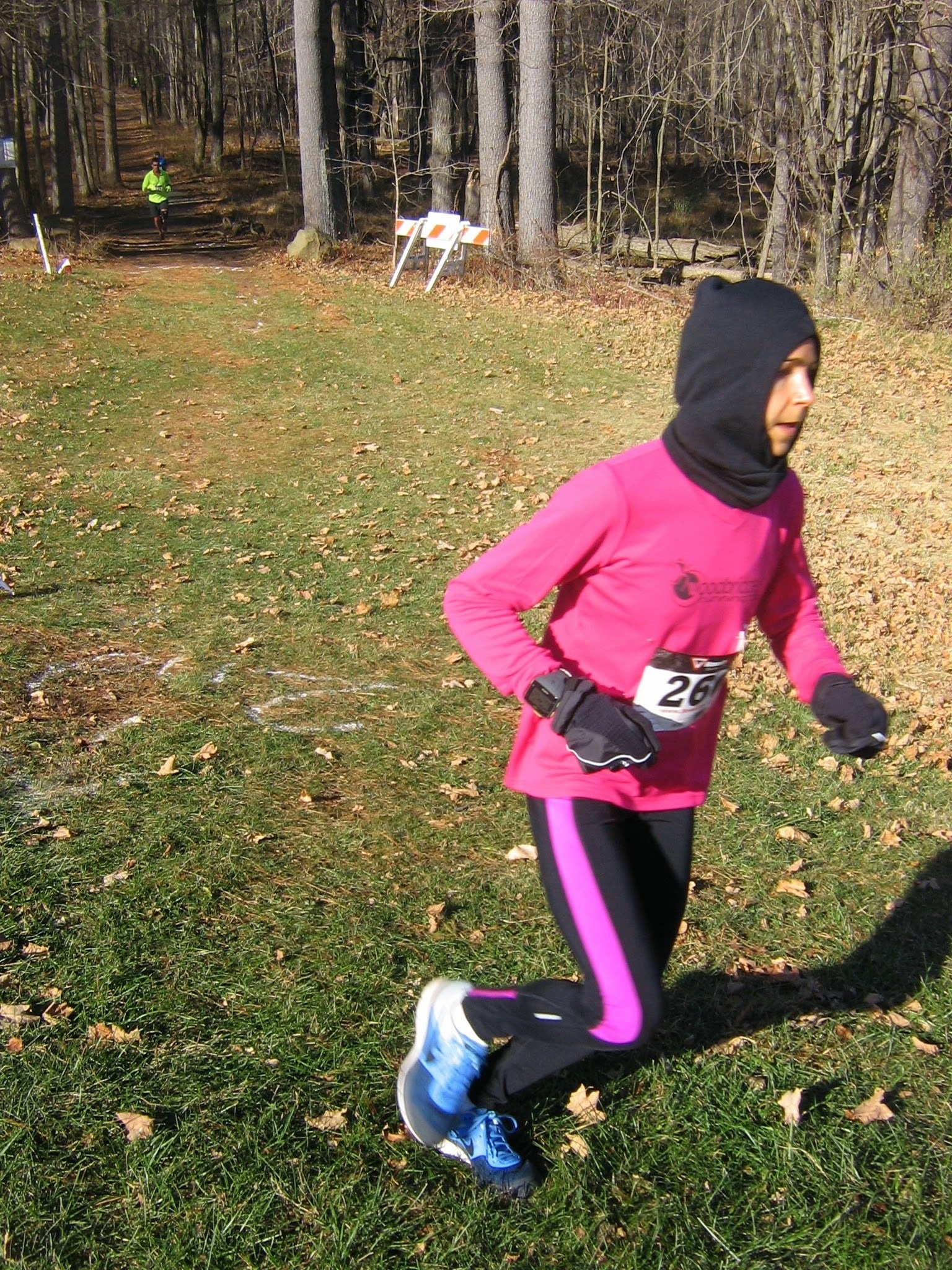 After yesterday's win, Wickson follows up with a faster time and a very impressive win in Waterbury today! Wickson is this weekend's MVP. Congratulations Christina (photo courtesy of David Reik).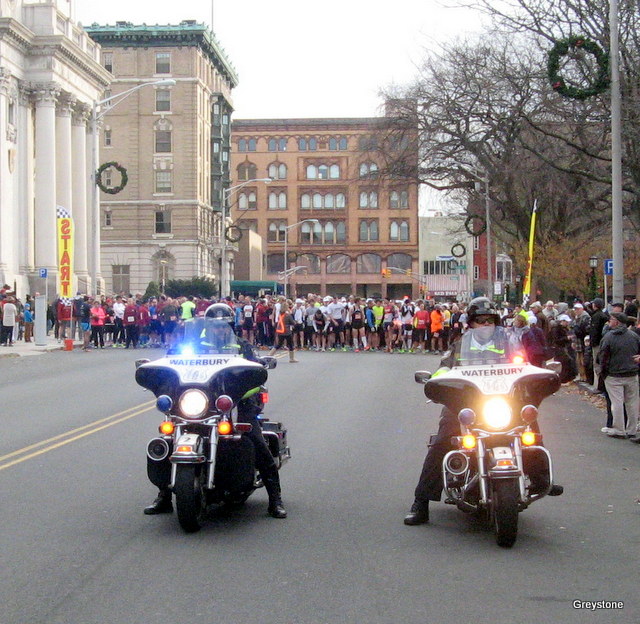 It's the beginning of the Holidays!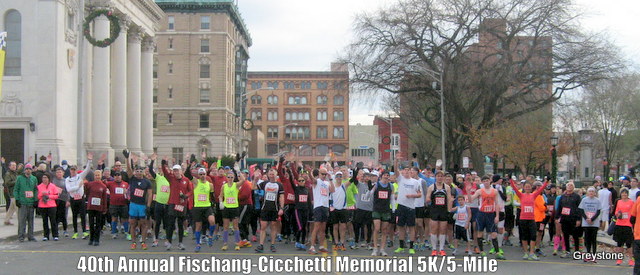 Another great race! Downtown Waterbury. Ideal weather conditions. Fast times. A lot of smiles!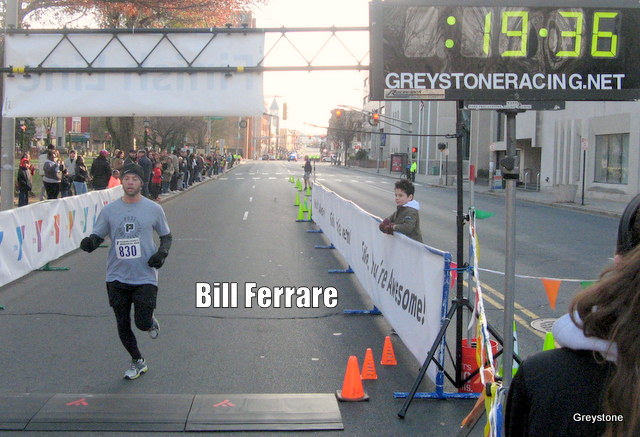 5K winners..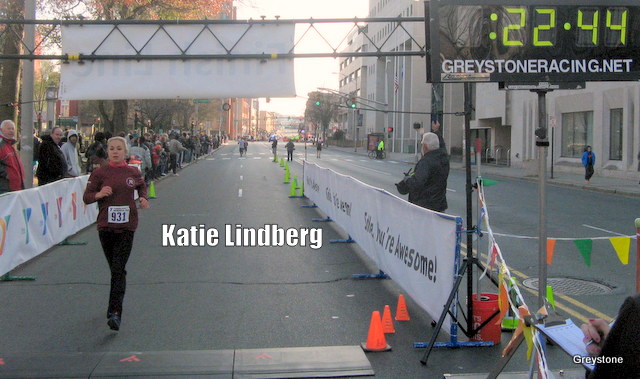 The 5-Mile winner!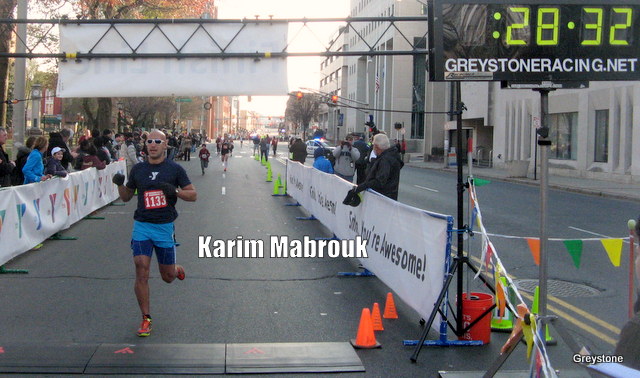 Results for the 40th Annual Fischang-Cicchetti Memorial 5K/5-Mile Road Race are posted! Thank you to all the runners, the cow-bell spectators, the YMCA of Waterbury, and to veryone for making this great event happen 40 years in a row.
11/16/14

The crowd was so big at the Age Before Beauty, I could barely fit them in... What a great day for a cross-country race! There was a record turnout of runners and a record turnout of teams. The competition was strong and the times were very fast. Despite the front runners adding length to the course, they almost broke the course record.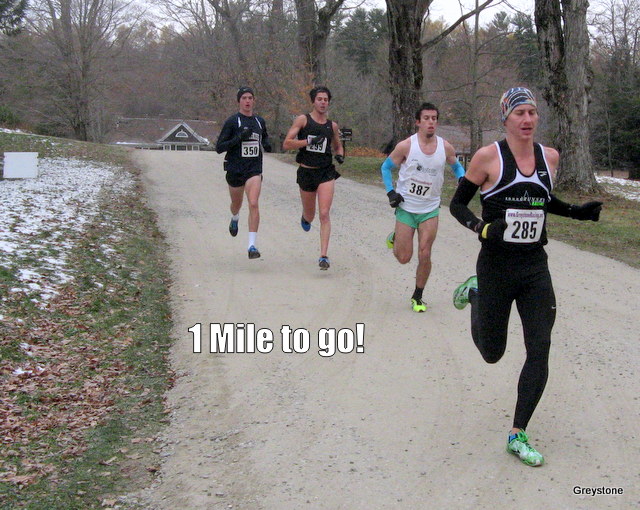 The men's race was won by one second. The women's race was won by two seconds.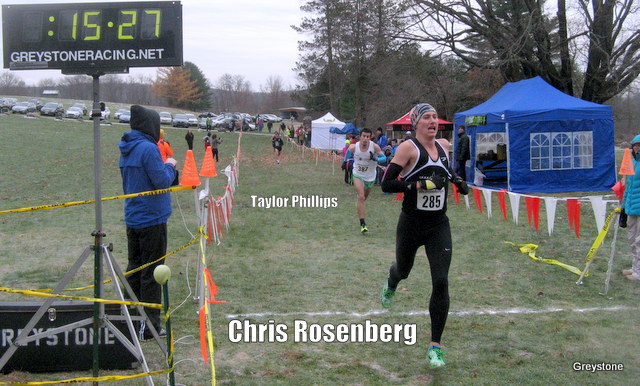 Chris Rosenbrg lead his team, Sound Runner, to a first place victory in the Men's Open competition. They're taking home $150.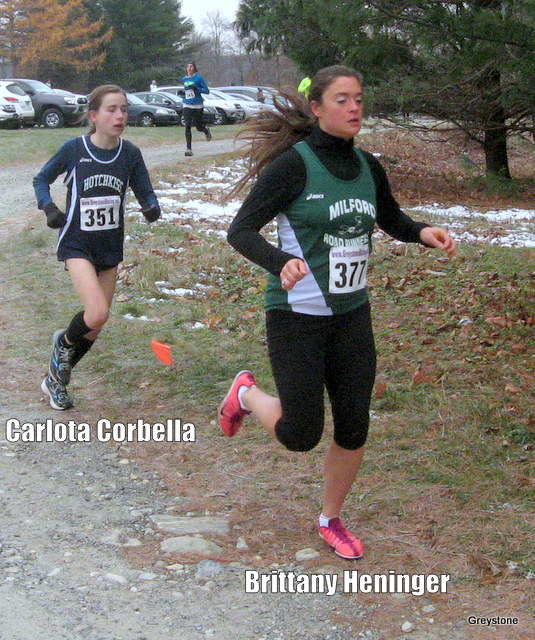 Brittany Heninger lead the entire race, until the last 300 meters. Through 1 mile in 6:04, up the hill and through the second mile in 12:38, Carlota Corbella edged Heninger by two seconds and set a new course record! The old record 18:19, was held by Meredith Remigino from 2013. Open team results are posted. Master results will be posted soon along with a whole bunch of photos. Thank you to Dave Driscoll, White Memorial, Katie Pratt, Bob Gemske, John Keilty, Pete Hawley, Brittany Heninger, and the many runners who helped to make this a great event. Results for the 9th Annual Age Before Beauty Cross-Country 5K are posted!